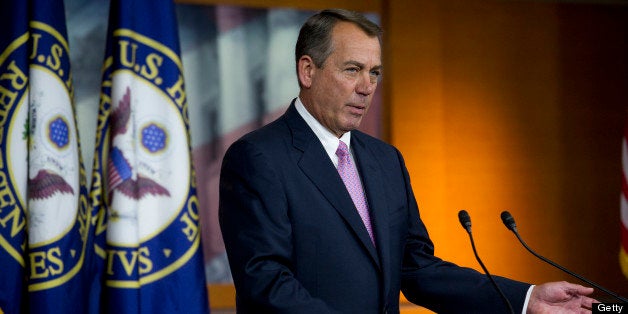 So Sunday, CBS News' Bob Schieffer greeted House Speaker John Boehner (R-Ohio) with this grim statistic on "Face The Nation." Now, let's have some Real Talk: you actually aren't going to shame John Boehner with the news that his House Of Representatives isn't passing a ton of laws. That's not what the GOP base expects from its lawmakers. But the speaker can't sit there on teevee and say that his metric for success is how many consecutive hours they spend twiggling their fudge tunnels with their thumbs, either, so Boehner reached for a different measurement:
BOEHNER: Well, Bob, we should not be judged on how many new laws we create. We ought to be judged on how many laws we repeal. We've got more laws than the administration could ever enforce.
Based on this metric, Boehner's tenure is even more of a failure than judging him by the paltry number of bills the House has passed that have become laws. Though House Republicans have voted to repeal the whole of Obamacare nearly 40 times and the law's employer and individual mandates once, those repeals will never be law.

They've never even been voted on by the Senate -- and likely never will.
Of course, despite all this, I actually think that if John Boehner had his druthers, his House of Representatives would be a lot more productive. The problem is that his House colleagues would take Boehner's druthers out to the loading dock and set them on fire. It was Boehner, if you recall, who made an effort to midwife a "grand bargain" with the White House. His lean and hungry colleague, Rep. Eric Cantor (R-Va.), killed it off. And Boehner pretty much operates each day in a caucus that's not shy about having knives out for him. Noam Schieber offered up a fairly compelling, sympathetic take on Boehner back in March, arguing that he was keeping the House from going into a coma through a lot of high-wire improvisation and hand-holding and psyche-smoothing.
And so, the House managed to pass a renewal of the Violence Against Women Act, and some Hurricane Sandy relief, measures that I'm pretty sure found Boehner weighing the long-term survival of his party's brand against his caucus' near-term antipathy to governing. To get these things done, he had to break the Hastert Rule. There was some indication that he might have done so again to get comprehensive immigration reform over the goal line, but his too-raucous caucus finally got wise, and the clock's run out on that strategy.
This story appears in Issue 60 of our weekly iPad magazine, Huffington, in the iTunes App store, available Friday, August 2.
Calling all HuffPost superfans!
Sign up for membership to become a founding member and help shape HuffPost's next chapter
BEFORE YOU GO
PHOTO GALLERY
John Boehner Cries