WASHINGTON -- In an interview with CBS' "60 Minutes" on Sunday night, House Speaker John Boehner (R-Ohio) turned to autobiography to explain his opposition to raising the federal minimum wage.
"I've had every kinda rotten job you can imagine growin' up and gettin' myself through school," the speaker declared. "I wouldn't have had a chance at half those jobs if the federal government had kept imposing higher minimum wage."
It's not uncommon for Boehner to reference his journey from working at the family bar to holding the House's highest office when explaining his governing philosophy. But it turns out those blue-collar roots don't necessarily make the cleanest case when it comes to justifying the speaker's opposition to a federal minimum wage hike.
That's because when Boehner was first taking on those "rotten jobs," the minimum wage was actually at its historic high. And when the wage later dipped relative to inflation, Congress passed a series of hikes that raised it some more.
According to Department of Labor statistics, the minimum wage stood at $1.60 an hour in 1968 –- the highest it has ever been when adjusted for inflation. In the spring of that year, Boehner graduated from high school and enlisted in the U.S. Navy. He was honorably discharged eight weeks later because of a bad back and went into the workforce.
At first, Boehner went into sales -- selling plastics, specifically -- after his brief stint with the Navy ended. In 1971, he enrolled in Xavier University. According to a recent Politico profile, Boehner took a number of odd jobs while attending school there, among them "a series of humbling janitorial and construction jobs." He would graduate in 1977.
During Boehner's time in college -- when he was at those humbling jobs -- the minimum wage went up three times. In May 1974, it was raised to $2.00 an hour. In January 1975, it went to $2.10 an hour. And in January 1976, the wage went up again, to $2.30 an hour. (This threefold increase in the federal minimum wage did not affect farm workers, but Boehner wasn't working on a farm.)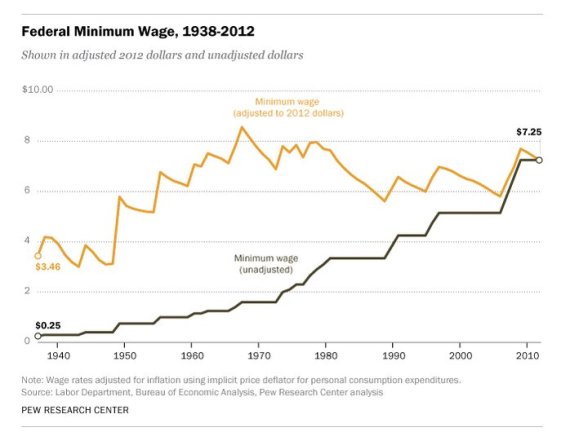 So what to make of Boehner's claim on "60 Minutes"? For those currently pushing for a federal minimum wage hike, the speaker's comments are the ideal bit of fodder: proof that the doomsayers exaggerate the policy's impact, and may have even benefitted from minimum wage hikes themselves.
"Last night, Republican leaders told workers and families across the country that the Party of No will unfortunately be back in full force this Congress when it comes to policies that would grow the middle class, like increasing the minimum wage to give millions of workers a raise," said Sen. Patty Murray (D-Wash.), referring to the "60 Minutes" interview.
"I truly hope they will reconsider and work with Democrats so that we can break through the gridlock and dysfunction and deliver results for our constituents," added Murray, who is the ranking member of the Senate Committee on Health, Education, Labor and Pensions. "Families want higher wages and greater opportunity -- and they deserve more than "no" from their elected officials in Washington, D.C."
Reached for comment, Boehner's office referred The Huffington Post to the nonpartisan Congressional Budget Office, which has projected that an estimated 500,000 fewer people would be in the workforce if the current wage of $7.25 per hour rose to $10.10.
As for the speaker's own history...
"Obviously, a higher minimum wage doesn't completely eliminate every job for every janitor or bulldozer driver in America –- but it does mean there are fewer jobs and fewer opportunities," said Boehner spokesman Michael Steel. "Boehner, as a former small businessman, knows from experience what the Congressional Budget Office confirmed last year: the president's minimum wage proposal would destroy hundreds of thousands of American jobs."