WASHINGTON -- Even as he joked "I just hope I survive," House Speaker John Boehner (R-Ohio) declined to defend Mitt Romney's now-infamous 47 percent remarks Thursday, and insisted the Republican ticket can still win.
Asked repeatedly about Romney's secretly videotaped admissions that he doesn't care about the 47 percent of people who he said pay no income taxes and therefore won't vote for him, Boehner demurred, instead saying the election is about jobs.
"Everybody is going to try to make this election about everything other than what it is," Boehner said. "The American people are asking, 'Where are the jobs?'"
While he declined to defend Romney's comments, he pointed out that he has connections to people who are less fortunate.
"I've had family members who lost their jobs in this downturn. Two of my brothers, two of my brother in laws. I know what's happening out there and I know how difficult this economy is," he said. He then suggested that Romney's remarks fell into the territory of a typical gaffe.
"You're going to have both campaigns on both sides that say things that get off the message. The message is let's stay focused on jobs," he said.
And he insisted that the widespread feeling that Romney is doomed is flat out wrong.
"You look at all this polling, all this hand-wringing by Washington insiders trying to make this race look like it's over for the president, who's going to win. It's really kind of interesting," he said, noting that while many polls show Obama jumping ahead, the veteran Gallup survey has it nearly dead even. "They've got this as a one-point race."
Boehner contended that Obama has done all he can at this point.
"Think about this as a card game. The president has played his cards," he said. "His economic policies have failed. His foreign policy has failed. His energy policy has failed. His cards are played. Mitt Romney has a plan to get our economy on track."
He also insisted that Romney has the machine in place to win the ground game that is even better than the highly regarded turnout operation of President George W. Bush's two winning campaigns.
"So this race is far from over," Boehner said, before making a joke that is likely to be featured in campaign ads by Democrats hoping to retake control of the House. "I'm looking forward to the next 46 days. I just hope I survive."
Michael McAuliff covers Congress and politics for The Huffington Post. Talk to him on Facebook.

Before You Go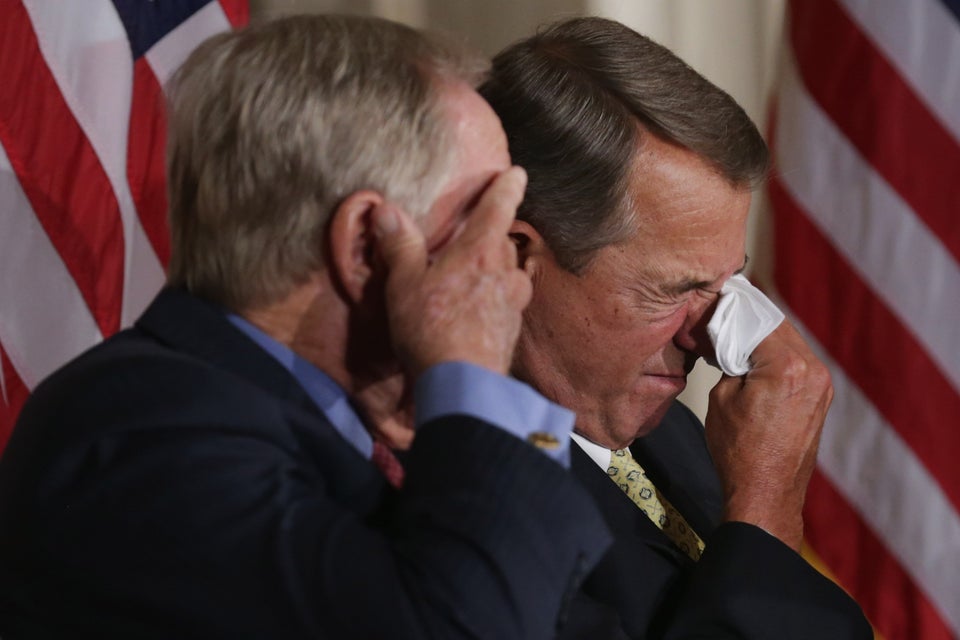 John Boehner Cries
Popular in the Community