House Speaker John Boehner (R-Ohio) mocked President Barack Obama in a floor speech Monday, hours before a potential government shutdown -- marking a rare move and a public sign of the two leaders' increasingly soured relationship.
"I didn't come here to shut down the government," Boehner said, moments before the House voted on the GOP's latest continuing resolution, which includes a one-year delay of Obamacare's individual mandate. "The American people don't want a shutdown, and neither do I."
The Ohio Republican defended his party against the charge that it is willing to shut down the government over the president's signature health care law, before referencing a recent phone call with Obama.
"I talked to the president earlier tonight: 'I'm not gonna negotiate, I'm not gonna negotiate, I'm not gonna do this,'" Boehner said, mimicking Obama.
His speech was met with applause from Republicans in the chamber.
The president called Boehner earlier in the evening, as the clock continued to tick toward a government shutdown. The two spoke for nearly 10 minutes, Boehner's office confirmed, albeit without any breakthrough on funding the government.
"The president made clear that Congress has two jobs to do: pay the bills on time and pass a budget on time," the White House said in a statement. "Failure to fulfill those responsibilities is harmful to our economy, small businesses and middle class families across the country."
Boehner spokesman Brendan Buck said, "The speaker told the president that Obamacare is costing jobs and that American families are being denied basic fairness when big businesses are getting exemptions that they are not."
Buck also tweeted a photo of his boss on the phone with Obama:
Obama delivered a statement from the White House Monday afternoon, in which he called on House Republicans to drop their demands for concessions related to Obamacare in exchange for keeping the government open.
"You don't get to extract a ransom for doing your job, for doing what you're supposed to be doing anyway ... just because there's a law there that you don't like," he said.
Before You Go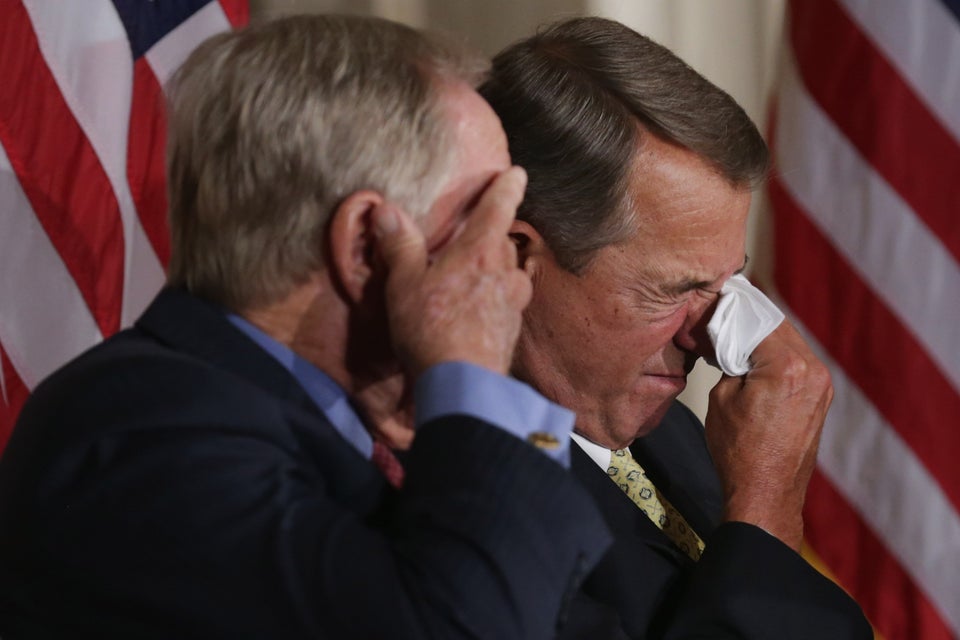 John Boehner Cries
Popular in the Community