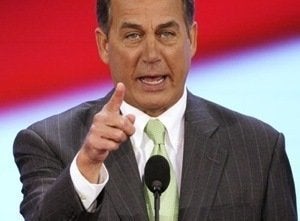 House Minority Leader John Boehner assailed President Obama on Thursday as "childish" and charged him with "making excuses and whining."
The shots from Boehner came at a press conference the GOP leader held on Thursday to talk about financial reform and the state of the U.S. economy.
"For someone who asked to be held to a higher standard, President Obama spends an awful lot of time making excuses and whining about others," Boehner said. "The American people want leadership from this White House and not childish partisanship."
It was latest development in an escalating war of words between the Ohio Republican and the White House.
The top House Republican also took aim at Democrats in delivering his remarks. "With the President failing to lead, Democrats here on Capitol Hill are rushing out of town to watch fireworks and eat macaroni salad instead of getting the American people's work done," he said.
Boehner's dig at Democrats' metaphorical July 4th plans is perhaps ironic in light of a second battle the ranking Republican is waging on a different front against MSNBC host Joe Scarborough. The Republican congressman-turned-talk show host said earlier this week that sources tell him Boehner appears to be more concerned with working the Washington bar scene than dealing with policy and political issues.
As for Boehner's ongoing verbal spat with the Obama administration, the fiery exchange began earlier this week after White House Press Secretary Robert Gibbs criticized the House Minority Leader as "out of touch" for suggesting the retirement age should be raised over time to 70.
"It's the clearest expression yet from the Republicans of what they believe - that the system in place for regulating Wall Street works fine and is in need of minor reforms - if any at all," said a Democratic operative, according to CNN. "You can bet Boehner's comments will be heavily featured in DNC ads this fall."
WATCH: John Boehner Calls Obama 'Childish,' Says He's 'Whining' And 'Making Excuses'
Calling all HuffPost superfans!
Sign up for membership to become a founding member and help shape HuffPost's next chapter