WASHINGTON -- House Speaker John Boehner (R-Ohio) on Wednesday rejected calls from several conservatives to impeach President Barack Obama.
Speaking to reporters on Capitol Hill, Boehner was asked about former GOP vice presidential nominee Sarah Palin's assertion that House Republicans should impeach Obama rather than sue him, as they are trying to do. Boehner responded by simply saying, "I disagree."
He repeated those words in response to a follow-up question about some members of his conference privately calling for Obama's impeachment.
Boehner is currently pursuing a lawsuit against Obama over his use of executive actions to sidestep Congress. He is expected to bring legislation to the floor later this month that would authorize the House General Counsel to sue the Obama administration and "compel" the president to enforce existing law. The speaker has said the potential legal action is not about impeachment, despite speculation that it may be a prelude to impeachment proceedings in the House.
Palin derided the lawsuit on Tuesday and reiterated her belief that Republicans should push for impeachment instead. "You don't bring a lawsuit to a gunfight, and there's no room for lawyers on our front lines," Palin said on Fox News' "Hannity."
Erick Erickson, editor of the conservative blog RedState.com, also ridiculed Boehner over the lawsuit, referring to it as a "political stunt." Like Palin, Erickson argued that the speaker should "man up" and fight the president, though he stopped short of arguing Republicans should impeach Obama.
Most House Republicans appear to disagree with their critics on the right and are throwing their support behind Boehner's lawsuit. Even some of the lower chamber's most conservative members conceded to The Huffington Post on Tuesday that impeachment is an unrealistic goal.
Frustrated by a gridlocked Congress, Obama declared 2014 a "year of action" and has issued executive orders on immigration, the federal minimum wage and federal pay discrimination. He is also planning to use his executive authority to take action to reduce carbon emissions from coal-fired power plants and implement workplace protections for the LGBT community. Obama's defenders have pointed out that the president has pursued relatively few executive orders compared to his predecessors.
CLARIFICATION: This article was edited after publication to clarify that Erick Erickson does not believe Obama should be impeached.
Before You Go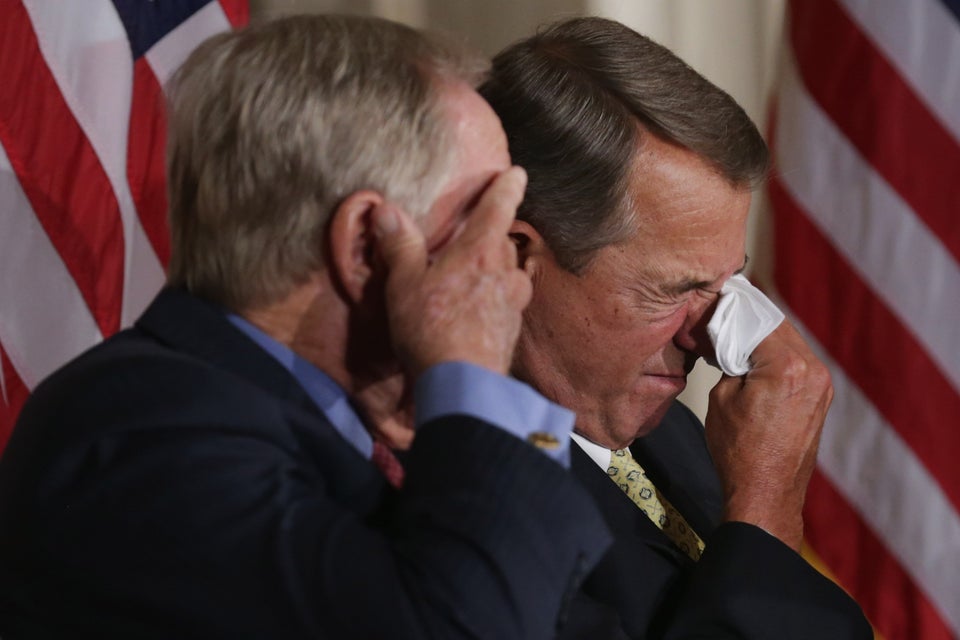 John Boehner Cries
Popular in the Community