House Speaker John Boehner (R-Ohio) confirmed on Wednesday that he's planning to sue President Barack Obama -- again.
In an interview with Fox News' Bret Baier, Boehner said he was finalizing the details of a House legal challenge to Obama's decision to bypass Congress and use executive action to provide deportation relief for millions of undocumented immigrants.
"The president's overreach when he took executive action to deal with the immigration problem in our country, frankly, is a violation of our Constitution. It's a violation of his oath of office," Boehner said. "We believe that filing of a lawsuit to try and stop the president from violating the Constitution is an important step for our institution."
Boehner's comments confirmed what he reportedly told House Republicans behind closed doors earlier this week. A source told The Huffington Post then that the plan focused on a resolution to allow the House to either file its own lawsuit, join a suit filed by 26 other states or take other legal action.
On Wednesday, Boehner also responded to criticism from the spokesman for House Minority Leader Nancy Pelosi (D-Calif.) that the lawsuit was "an embarrassing admission of failure" for Republicans.
"It's about the Constitution. It's about the rule of law. We're a coequal branch of our government, and the president doesn't have the ability to just change law all by himself," the speaker said.
In November, House Republicans filed a lawsuit against the Obama administration for delaying the employer mandate under the Affordable Care Act, but only after two different law firms declined to represent them.
Asked about the possibility of a lawsuit on Wednesday, Principal Deputy White House Press Secretary Eric Schultz said the president has the authority to take executive action on immigration.
"I would just say that House Republicans seem to be relying more and more on the courts these days to challenge the president's authority. We believe that we acted within the full bounds of the authority ... and we'll be defending that," Schultz said.
Even some conservative legal scholars have said that the president's executive action on immigration was within his constitutional authority.
The possibility of a challenging legal case didn't seem to deter Boehner, who didn't waver from his main argument on Wednesday.
"This isn't about immigration. This is about the president violating the Constitution, violating his oath of office and frankly not upholding the rule of law," he told Baier.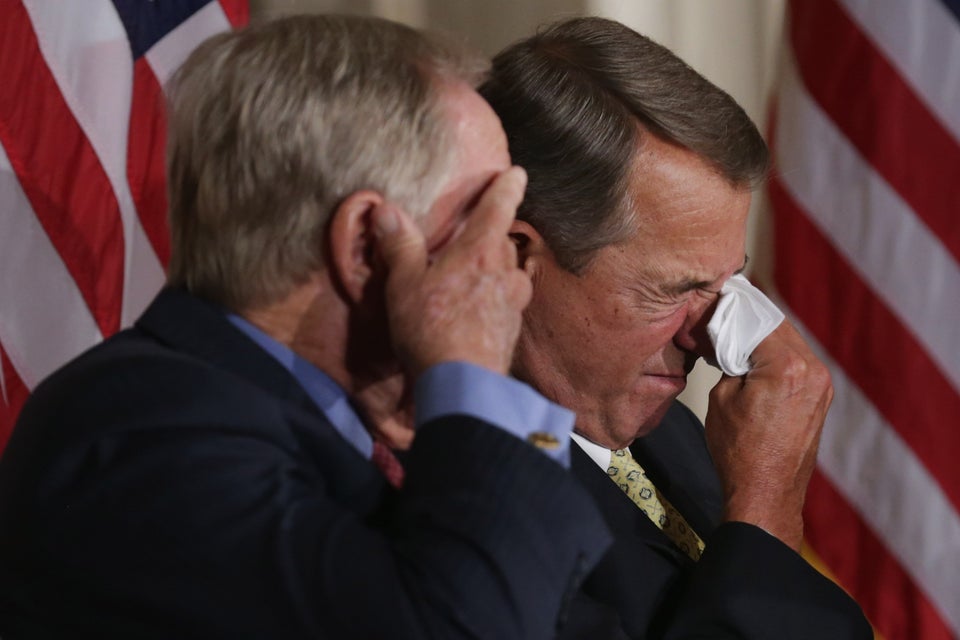 John Boehner Cries
Popular in the Community