WASHINGTON -- House Speaker John Boehner (R-Ohio) scrambled Thursday to defend a plan to subsidize risky Wall Street derivatives trading. The controversial provision of a bill to avert a government shutdown has sparked tremendous pushback from Democrats.
House Minority Leader Nancy Pelosi (D-Calif.) has been urging her caucus to vote against any funding bill that includes the Wall Street language. As a result, Democrats nearly tanked the omnibus during a procedural vote on the House floor, with not one of their members joining Republicans to advance the bill.
The measure would repeal a key provision of the 2010 Dodd-Frank financial reform law that removed government backing for contracts called "swaps" that were at the heart of the 2008 financial meltdown. Pelosi is also pressing Democrats to reject a provision that would increase the amount of money wealthy donors could contribute to political parties.
"The public awareness among our base is very high on this swap and on this money," Pelosi told her whip team at a private meeting Thursday morning, sources told HuffPost. "And all of the idealism that people have who support us -- both as small donors and as major supporters -- has always been about reducing the role of money in politics."
The Congressional Progressive Caucus was also actively whipping votes against any funding bill that includes those two provisions, and arm-twisting is expected to continue until it comes up for a vote. Boehner does not have the support of many conservative Republicans, for the package, forcing him to woo Democrats in order to pass the bill.
At a press conference, Boehner told reporters he disagreed with the characterization that the proposed changes to Dodd-Frank were a "giveaway" to Wall Street that will ultimately hurt consumers.
"I don't believe that to be the case at all," Boehner said.
He also pointed to a standalone vote on the same provision last year that passed the House with the support of 70 Democrats.
"It was agreed to in this bill on a bipartisan, bicameral agreement," Boehner said, "and so while some members may have objected to this issue or that issue, nobody did this unilaterally. We've done this in a bipartisan fashion, and frankly it's a good bill."
Pressed again on why big banks should have fewer restrictions on derivatives trading, Boehner reiterated that that description was inaccurate. He showed little sympathy for those decrying the provisions, pointing out that they had been cleared by Democratic negotiators.
"Democrats have signed off on putting this Dodd-Frank language on swaps in this bill," Boehner said.
Rep. Jim Himes (D-Conn.), who introduced the 2013 swaps bill (it was written by a Citigroup lobbyist), made arguments similar to Boehner's in his own backroom efforts to win over corporate-friendly New Democrats, according to Democratic staffers. Himes presented lawmakers with analyses of a similar 2012 bill, signed by Rep. Barney Frank (D-Mass.), that approved such a measure.
Himes denied to HuffPost that he was "whipping" the bill.
Frank did support the earlier, 2012 swaps bill, but has since become a staunch opponent. On Wednesday, he spoke angrily about the "absolutely outrageous" tactic of slipping such a controversial position into a broader funding bill. Frank urged House Democrats to vote down the bill, saying it would take about "an hour" for the House to vote on another package that does not include the Wall Street language.
Over in the Senate, progressive Democrats continued to rail against the provision while holding on to the hope that their colleagues in the House would successfully remove it.
Sen. Sherrod Brown (D-Ohio), who said he will likely vote against the bill, said his office learned about the inclusion of the language "third-hand."
"We always are watching Wall Street lobbyists. This was language written for the six banks. It's more billions of dollars in subsidies to Wall Street. It's morally reprehensible, and I don't understand how House Republicans think that this isn't going to just accelerate the chances of a bailout in the future."
Brown said he didn't have the power to hold up the bill this late in the session, with the clock ticking toward a shutdown of the federal government at midnight Friday. He also conceded that if the omnibus clears the House in its current form, it would be hard for Senate Democrats to strip out the language.
"The only way that Wall Street and their Republican allies think they can make this happen is by doing it in the dead of the night and sticking it in a bill like this, because the public will never stand for it," he said.
Also on Thursday, Sen. David Vitter (R-La.), a staunchly conservative Republican, joined Brown in penning a letter to Boehner, calling for the removal of the provision.
"If Wall Street banks want to gamble, Congress should force them to pay for their losses, and not put taxpayers on the hook for another bailout," the letter reads.
Before You Go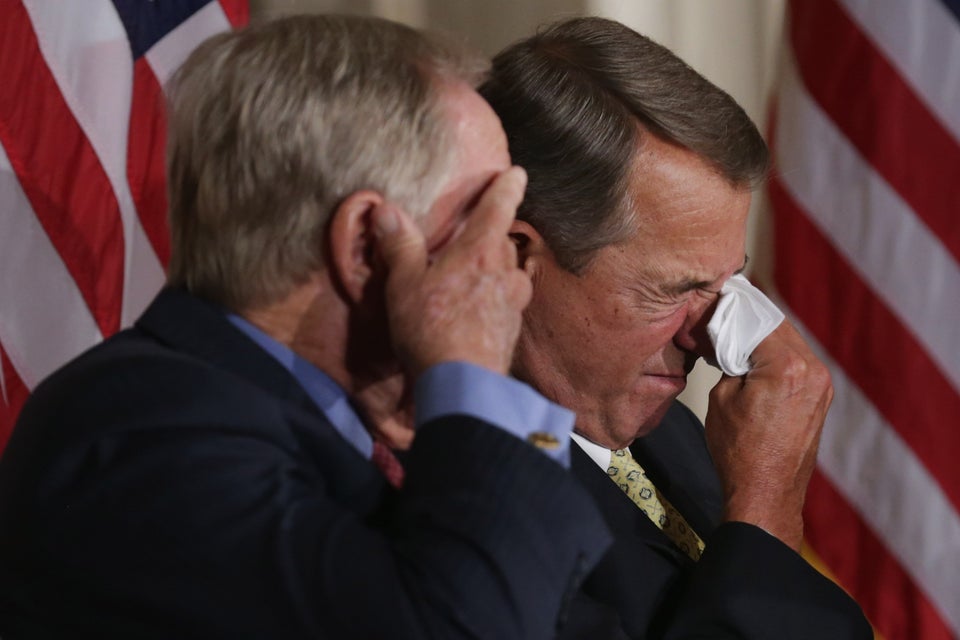 John Boehner Cries
Popular in the Community