 WASHINGTON -- House Speaker John Boehner (R-Ohio) contended Friday that he was not worried about his future as speaker of the House after his members rejected his "Plan B" fiscal cliff bill.
But the failure did leave him sounding very concerned about how his caucus and President Barack Obama could ever come together to find the grand bargain on taxes and spending that Boehner and others think the nation desperately needs.
"How we get there, God only knows," he said.
Boehner had proposed a fallback measure to keep tax rates in place for all incomes below $1 million after Jan. 1, when the Bush-era tax rates expire under current law.
But the Tea Party-dominated House rebelled, deciding that raising any taxes was simply too much, and it spurned Boehner's plan Thursday night, even after the GOP leadership had predicted only hours before that the plan would pass.
Asked at a Capitol Hill news conference about the future of his speakership in light of the collapse of his plan, Boehner at first dodged, saying a deal on spending needs to be reached.
But asked again if he was concerned, he said, "No, I'm not."
"Listen, you have all heard me say this, and I have told my colleagues this. If you do the right things every day for the right reasons, the right things will happen," he added.
Boehner said that the problem was not him -- it was simply that his members and their supporters had come to see his plan as a tax hike.
"While we may have not been able to get the votes last night to avert 99.81 percent of the tax increases, I don't think -- they weren't taking that out on me," he continued. "They were dealing with the perception that somebody might accuse them of raising taxes."
Boehner's failure to bring his Plan B measure to a vote leaves him with few options, as the nation moves to the brink of the fiscal cliff, when the tax hikes are paired with automatic, deep spending cuts from the "sequester" that Congress passed last year in the debt-ceiling deal.
Boehner can either cut a deal with Obama, bring up the Senate bill that extends tax cuts for those making under $250,000 a year, or go over the cliff.
Some Republicans have already conceded that if the country goes over the cliff, Americans will likely place the blame on the GOP caucus, a scenario that would force them to accept the middle class tax break sought by Democrats. And while Boehner maintained that he did not agree with the president's latest proposal -- which seeks about $1.3 trillion in revenues and some $900 billion in spending cuts -- he ducked a question on whether he would be willing to give that proposal a vote.
"We see a situation where -- because of the political divide in the country, because of the divide here in Washington -- trying to bridge these differences has been difficult," Boehner said. "If it were easy, I guarantee you this would have been done decades before."
He also insisted that he continues to be engaged in negotiations with the president. When a reporter told Boehner he sounded as though he was walking away from talks with Obama, he responded, "No, no no."
"Listen, I did not say that. Nobody ought to read anything into this," Boehner said. "We've got differences, but the problem -- the country has got big spending problems, and we've got to get serious about addressing them."
A Senate Democratic aide quipped that the solution is actually easy, if Boehner would just bring up the Senate's bill for a vote.
"That was a man begging to be bailed out," the staffer said. "He still needs to pass our bill."
Before You Go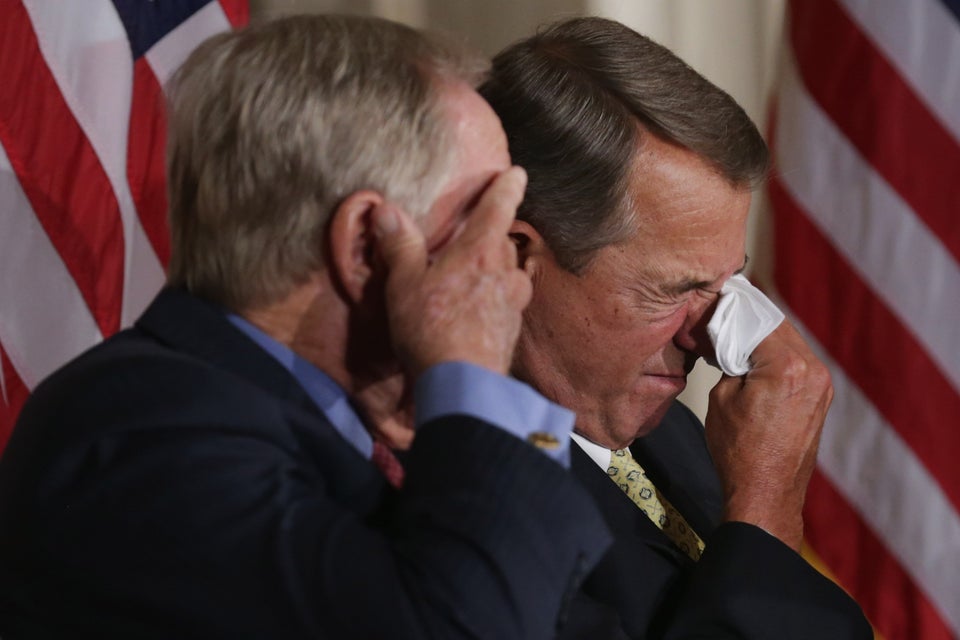 John Boehner Cries
Popular in the Community