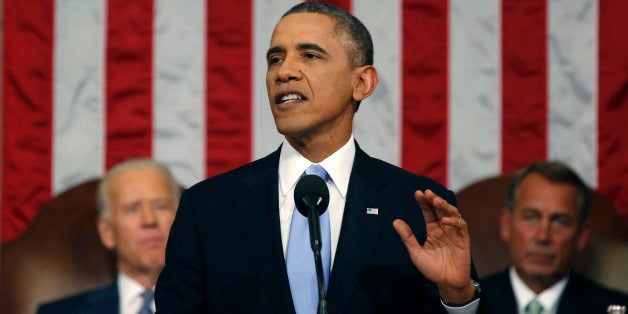 One day after President Barack Obama and House Speaker John Boehner (R-Ohio) had their first one-on-one meeting in more than a year, a new poll finds the commander-in-chief to be viewed more favorably than the top Republican.
Wednesday's Gallup poll shows that 32 percent of Americans view Boehner favorably, while 50 percent view him unfavorably. Those numbers mark a slight uptick since October 2013's government shutdown pushed his party's favorability rating to record-low levels, and Boehner's own favorability down to 27 percent.
On the flip side, Wednesday's poll had 52 percent viewing Obama in a favorable light, compared to 46 percent on the unfavorable side.
From Gallup's Justin McCarthy:
At this point, Americans see Obama in a much more favorable light than they see Boehner, giving the president considerable power in the court of public opinion as the two leaders joust on a series of issues and policy proposals facing the country. This has been typical of president-speaker relationships, with presidents commanding much higher favorability from the nation that elected them to the job. Boehner is no exception to this, and lower favorability usually comes with his role in the political process.
HuffPost Pollster's latest compilation of 80 publicly available polls shows that 23 percent view Boehner favorably, while 55 percent view him unfavorably. That marks a significant spike since just after the November 2012 election, when only 40.4 percent viewed Boehner unfavorably.
As for Obama, HuffPost Pollster's latest compilation of 787 publicly available polls has 50.5 percent viewing the president in an unfavorable light, compared to 44.4 percent holding a favorable opinion. Those numbers also mark a spike since November 2012, when only 44.9 percent viewed Obama unfavorably.
Correction: A previous version of this story incorrectly stated that February 2014's HuffPost Pollster compilation for Obama's favorability rating was about on par with November 2012. The numbers have been adjusted to reflect a six percent jump in the unfavorable rating for the president over that time span.
REAL LIFE. REAL NEWS. REAL VOICES.
Help us tell more of the stories that matter from voices that too often remain unheard.
BEFORE YOU GO
PHOTO GALLERY
John Boehner Cries