 The residual anger of House GOP members that was holding over from the conclusion of the 112th Congress -- a combination of what some saw as a cave on the "fiscal cliff" and a smattering of outrage over the failure to bring a Hurricane Sandy relief bill to floor -- was supposed to bring a lot of drama to this first day of the 113th Congress and the reelection of House Speaker John Boehner (R-Ohio). According to some people who were wrong, anyway, like Breitbart's new reporter Matt Boyle, who drove the rumor-mongering herd all week and reached a tidy conclusion today that an "uprising" was in the offing:
The plan the conservatives will likely follow is to force at least two, maybe several elections until a suitable alternative steps up to unite the party. If enough Republicans -- 17 at a minimum -- vote for someone besides Boehner as Speaker during the first election shortly after noon today, it will go to a second vote. Some groups have confirmed that more than 20 House Republicans plan to vote for somebody else as Speaker.

If that happens, the House will vote in several consecutive elections until a majority of every member voting agrees on a Speaker.
Nope! There was a brief, mad moment where the number of votes for other people combined with the number of people who hadn't voted hit the 17 mark, but in short order that number was brought down by late-in-arriving votes from Reps. Marsha Blackburn (R-Tenn.), Michele Bachmann (R-Minn.) and Scott Garrett (R-N.J.). As the National Review's Robert Costa, who tick-tocked the vote with succinct clarity, put it, "To be clear, there were never 17 clear defections. That # included the no votes."
So, there was no second ballot. And there was no clear champion for an "anti-Boehner" wing of the party to glom onto anyway. Rep. Eric Cantor (R-Va.) -- who's been cast as the behind-the-scenes Boehner underminer since ... well, since Boehner was sworn in the first time -- garnered three votes. That's two more than outgoing Florida Rep. Allen West (R) got.
So where did Boyle get the idea that a palace coup was imminent? It looks like a major source was American Majority Action spokesman Ron Meyer, who shows up high up in Boyle's January First piece, speculating on Boehner's coming downfall. Meyer also took this rumor to the Martin Bashir Show yesterday afternoon, with an even more bonkers rumor -- that Boehner was going to call it quits and resign ahead of the vote. The conversation that ensued was magical:
BASHIR: Ron, we noted that House Majority Leader Eric Cantor in typical honest-Iago fashion voted against the Speaker's deal with the President. Are there Republicans who want to see him oust Mr. Boehner from the Speaker's chair as well?

MEYER: Well, Martin, I always like to save some breaking news for you when I come on.

BASHIR: I'm grateful to you for that. What do you have?

MEYER: I have huge breaking news tonight. There are serious rumors that at the conference tonight at 5:00 John Boehner will announce to the conference that he's resigning as Speaker of the House. There are multiple senior sources that I have talked to tonight that have said that this is going to happen.

BASHIR: Ron, I wouldn't wish to question your sanity, but I find that very hard to believe.

MEYER: I know. Listen, I find it hard to believe. I was put at a one in four chance today we'd be able to kick him out tomorrow. There are a serious group of members thinking about it.

BASHIR: Do they have someone as an alternative in mind?

MEYER: Eric Cantor is probably the --

BASHIR: Is this a coup performed and led by the party of Eric Cantor?

MEYER: I haven't talked to Eric Cantor's people ...

BASHIR: You have to put evidence forward. You put forward a rumor ... please substantiate it.

MEYER: Well, no, I'm not going to name names, just watch tonight.
Ha, yes, "just watch tonight?" I passed. He had me at "I haven't talked to Eric Cantor's people."
Before You Go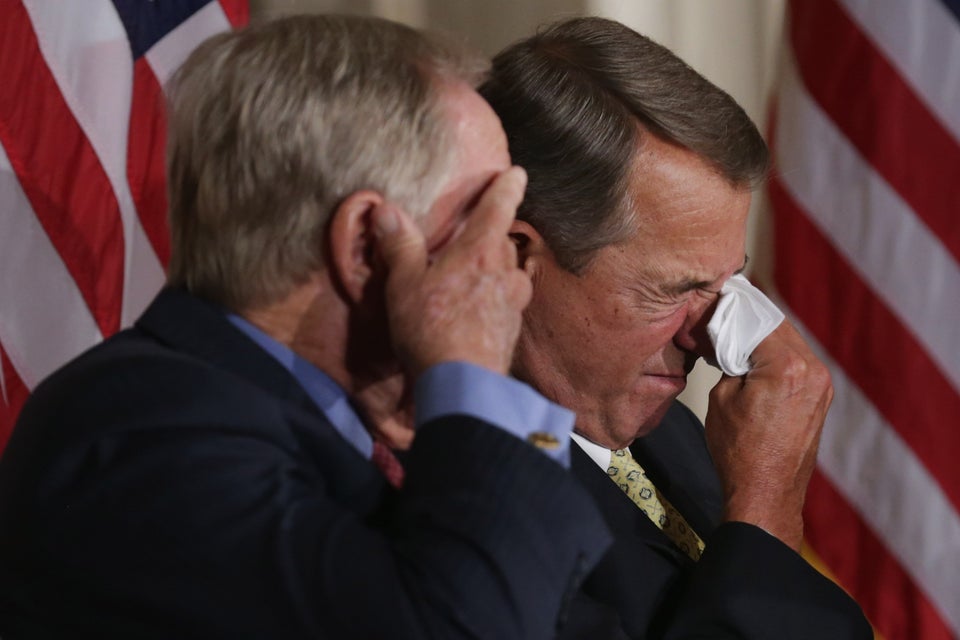 John Boehner Cries
Popular in the Community