John Boehner said Monday he plans to seek reelection as House speaker after the 2014 midterm elections.
"I frankly think I'm in better shape with my own caucus than I have been any time in the last three years," Boehner said. "I think they understand me better."
Boehner was also confident he would win a third term as speaker should he run. "It won't even be close," he said.
Rumors that Boehner planned to retire were fueled by the impending departure of some of his closest allies, as well as his decision to buy property in Florida. Boehner told the Enquirer that his purchase of a condominium on Florida's Marco Island "has nothing to do" with his future.
Boehner recently filed paperwork to run for reelection for his House seat, but stopped short of telling the Enquirer whether he'd serve out a full term if reelected. "I fully expect to serve," he said.
Boehner was narrowly reelected as speaker in 2013, days after several members of the House GOP's right flank were left frustrated by his handling of the fiscal cliff. It wasn't until last fall's government shutdown that Boehner's standing among the tea party improved, with many conservatives commending the speaker for heeding their demands and refusing to throw in the towel despite immense public pressure.
Several outside conservative groups remain opposed to his speakership, but in recent months Boehner has gone on offense and accused the likes of the Heritage Foundation and Club for Growth of misleading both his members and Republican voters.
This article has been updated with additional remarks from Boehner's interview with the Enquirer.
Before You Go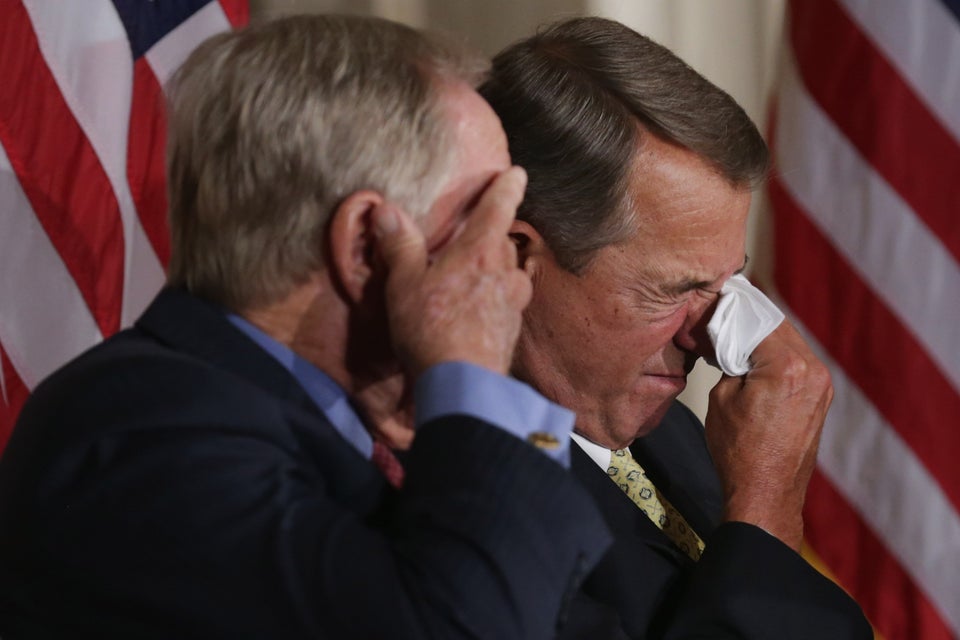 John Boehner Cries
Popular in the Community