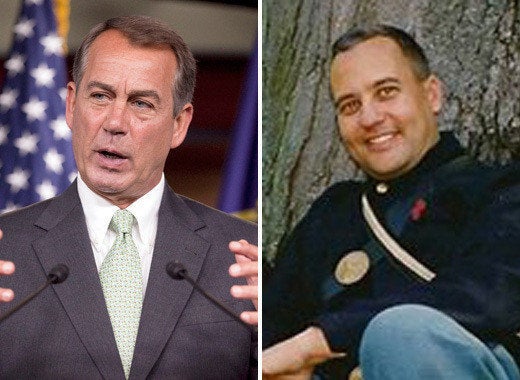 WASHINGTON -- House Minority Leader John Boehner will campaign this weekend with Rich Iott, the Ohio Republican congressional candidate who found himself embroiled in controversy several weeks ago when photos surfaced of him dressed in a Nazi SS uniform.
The Iott campaign confirmed to the Huffington Post that the two will appear together at the Lucas County Republican Party headquarters. It is, if nothing else, a risky stop for Boehner to make just days before the election.
Iott's chances at winning the seat were seemingly downgraded after photos of him dressed in Nazi garb surfaced. But Boehner's visit suggests that Republicans feel the seat is within their grasp. Iott claimed that he was merely partaking in a historical reenactment and not out of latent sympathies for the Third Reich. Still, his candidacy became somewhat symbolic for the extremities of the GOP.
Boehner, through it all, stood by his fellow Ohioan. The House Minority Leader didn't seek a return of the campaign funds he had sent to Iott. The campaign swing on Saturday is, however, a step towards an even fuller embrace of Iott's candidacy. A spokesman for Boehner did not immediately return a request for comment, but the Democratic Congressional Campaign Committee did.
"Not only has John Boehner recruited, embraced, and financed a disgraced Nazi enthusiast running for Congress, but now Boehner is pouring gasoline on the fire by throwing a campaign rally for him," said DCCC spokesman Ryan Rudominer. "Thumbing his nose at our nation's veterans, women, and people of the Jewish faith, all the while refusing to stand up for basic American values in order to try and win an election, apparently this is what Boehner meant when he said, 'We're not going to be any different than what we've been.'"
UPDATE: Don Seymour, a Boehner spokesman, emails the Huffington Post with the following:
Leader Boehner will be rallying Republican volunteers at the Lucas County Victory Center to support the local Republican Party's get-out-the-vote efforts. Boehner has been on the road headlining rallies for Republican candidates in Ohio and across the country, and he'll continue his busy campaign schedule into the final weekend before Tuesday's referendum on Democrats' jobs-killing policies.