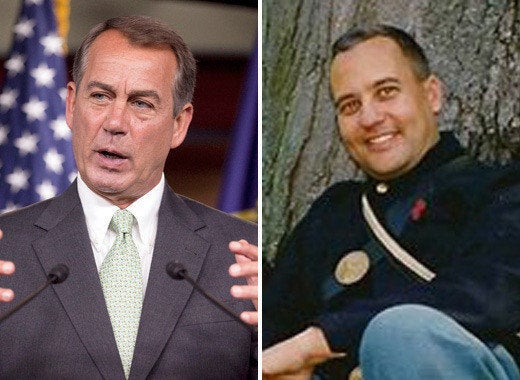 House Minority Leader John Boehner's political action committee -- Freedom Project -- has reportedly contributed thousands of dollars to the campaign of Republican congressional candidate Rich Iott, who recently came under fire after footage surfaced of him taking part in World War II reenactments dressed in a Nazi uniform.
According to Politico, quarterly donation documents filed with the Federal Election Commission on Wednesday show that Boehner's PAC gave $5,000 to Iott, who is running to oust Democratic incumbent Rep. Marcy Kaptur from Ohio's 9th district House seat.
Don Seymour, a spokesman for the Freedom Project, told POLITICO Boehner would make no effort to recoup the money.

Iott spokesman Matt Parker said there would be no reason for Boehner to withdraw his help.
Joshua Green at the Atlantic first reported on the conservative contender's participation in the WWII reenactments:
Iott, whose district lies in Northwest Ohio, was involved with a group that calls itself Wiking, whose members are devoted to re-enacting the exploits of an actual Nazi division, the 5th SS Panzer Division Wiking, which fought mainly on the Eastern Front during World War II. Iott's participation in the Wiking group is not mentioned on his campaign's website, and his name and photographs were removed from the Wiking website.
Iott told Green that despite his decision to take part in the reenactment, he is not an adherent of Nazism. The GOP hopeful explained, "It's purely historical interest in World War II."
A spokesman for Boehner's PAC told Politico on Wednesday that the organization doesn't intend to recover the funds it donated to Iott's campaign.
"It sends a chilling message to all Americans, especially to our veterans and to those of the Jewish faith, that John Boehner and the Republican leadership in Washington would actively seek out a candidate like this and embrace him," said Democratic Congressional Campaign Committee spokesman Ryan Rudominer.
Meanwhile, House Minority Whip Eric Cantor, who is the lone Jewish Republican serving in the House, made a point to distance himself from Iott and the political firestorm that erupted around the controversy.
Calling all HuffPost superfans!
Sign up for membership to become a founding member and help shape HuffPost's next chapter