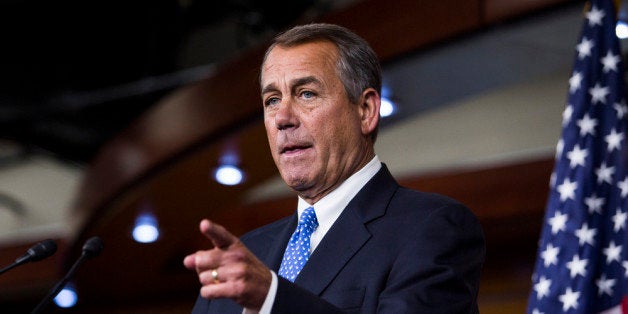 In the article, Castro reflects on his first year in Congress and expresses his disappointment in the House's inability to pass immigration reform last year.
Castro himself calls King one of the "less tactful Republicans," who "seemed to even go out of their way to express disdain for immigrants." Boehner condemned King's statements in a July press conference, calling them "deeply offensive and wrong."
In his piece, Castro offers a candid opinion of Boehner and the circumstances under which the comment was made:
The Democratic caricature of the speaker is that he's an overly tan, overly emotional cat-herder who has lost control of his flock, but in person, he comes across as approachable and down-to-earth, and you can see how he earned the trust of his colleagues and became their leader. On a day not too long after Boehner's political body check of Steve King for his immigration comments, the speaker was milling around the aisle walkway in the middle section of the House floor where the Democratic and Republican territories meet. Another Texas Democrat and I were standing a few feet away, and as the speaker passed us we thanked him for denouncing King's offensive comments. He slowed his stride and then paused to turn toward us. "What an asshole," he said. My thoughts exactly, Mr. Speaker.
Boehner's office declined to comment on Castro's account.
King has made blocking comprehensive immigration reform one of his top priorities, arguing that the issue divides the Republican Party.
Castro, a second-generation Mexican American, represents Texas' 20th District, and in his piece distinguishes his constituency from King's:
King himself does not represent many Hispanics; his district is nearly 96 percent white. I know that there are many places in America like that, places where the number of people with brown skin makes them easy to miss, where the gardeners disappear between rush hours to the "bad" part of town and the construction workers toil invisibly in the burning sun, hoping the boss will actually pay what he said he would. There are places like that. But there aren't many in Texas. In Texas the faces of immigration are inescapable.
"Let's understand something: I want us to deal with this issue," he said. "But I want to deal with it in a common-sense, step-by-step way."
He did not say when he might allow a vote on the House's version of the bill.
Calling all HuffPost superfans!
Sign up for membership to become a founding member and help shape HuffPost's next chapter
BEFORE YOU GO
PHOTO GALLERY
New House Members Of The 113th Congress