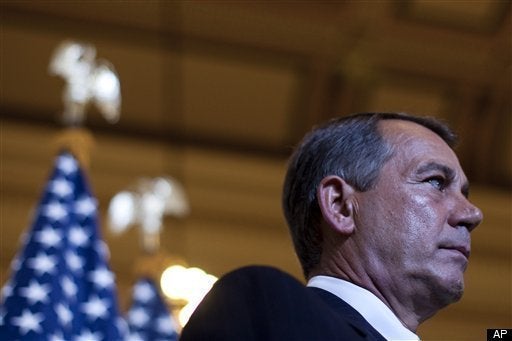 Addressing the seemingly constant chatter about the orangey-tan color of his skin, House Minority Leader John Boehner told the Wall Street Journal in an interview published Thursday that his eye-catching complexion is one hundred percent natural.
"I have never been in a tanning bed or used a tanning product," explained the ranking Republican. He said that his mother and four of his twelve siblings also have the sun-kissed glow.
The explanation comes as only the latest in a string of recent instances where Boehner has found himself playing defense against questions and jokes made about the color of his skin.
Earlier this month during an appearance on ABC's "Good Morning America," the House leader was asked about a survey from Public Policy Polling indicating that 30 percent voters in his home state of Ohio think he "spends too much time on his tan."
(14 percent of respondents signaled a belief he spends "about the right amount of time" working on his glow, while 4 percent said whatever he's doing isn't enough.)
Boehner told GMA host George Stephanopoulos that his critics "probably didn't see me yesterday when I was out cutting my grass or riding my mountain bike."
Another possible explanation could be Boehner's love of golf and the reportedly high frequency at which he hits the links.
One of the most high profile shots taken at Boehner's tan came during the White House Correspondents' Dinner last year. President Obama joked that the pair actually "have a lot of in common," given that Boehner is "a person of color, although not a color that appears in the natural world."
Popular in the Community