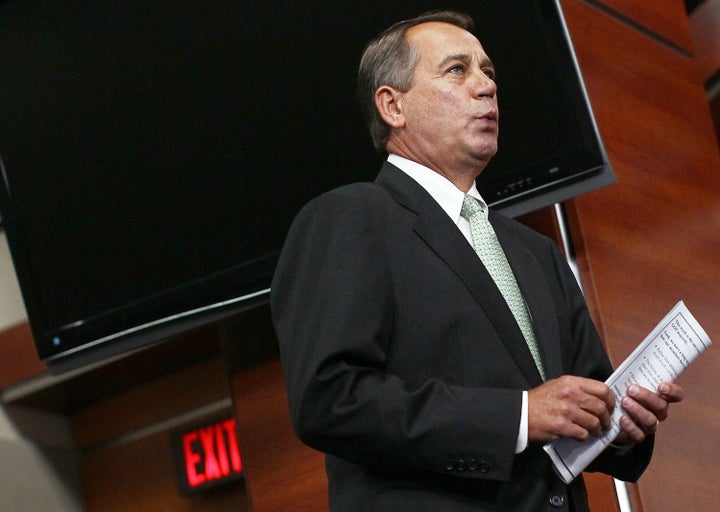 WASHINGTON -- House Speaker John Boehner said Thursday that any bipartisan agreement reached by the congressional deficit-reduction supercommittee will need to include some new tax revenue.
Most Congressional Republicans have signed a "taxpayer protection pledge" -- devised by the Grover Norquist-led group Americans for Tax Reform -- vowing not to raise taxes. When asked about Norquist on Thursday, Boehner dismissed him as "some random person in America" but later revised his comments to say that "Norquist, like millions of Americans, believes that raising taxes is not good for our economy."
According to CBS News, Boehner insisted that Republicans would only compromise on tax revenue if Democrats were willing to take significant steps to shore up entitlement programs.
"Without real reform on the entitlement side, I'm not even going to put any new revenue on the table," Boehner said. Entitlement programs include Social Security, Medicare and Medicaid.
Any new tax revenue would not come from raising rates, he said, but from overhauling the tax code, sweeping out loopholes and deductions in order to reduce individual and corporate rates.
"I do think that our efforts to have a flatter, fairer tax system, with our targets being 25 percent top rates for corporations, 25 percent top rates for individuals, is achievable," Boehner said. "That means you clean out all the garbage. I think it's very important that it get done."
Boehner says he remains committed to helping the deficit panel succeed and that Congress should approve its recommendations if it produces a plan to curb the government's gush of red ink. He expressed confidence on Thursday that the group would meet its goal.
"I didn't agree to set this thing up with any idea that it wouldn't succeed," Boehner said. "I'd love to exceed the goal, but we have to meet the goal, and I'm going to put every ounce of effort in to make sure that we do."
Shortly after meeting with reporters, Boehner met again with supercommittee Republicans.
The panel has three weeks to come up with recommendations that would be given an automatic vote by both House and Senate.
The deficit panel appears deadlocked over demands by Democrats that it raise substantial new revenue. Republicans are united against the idea, though a GOP proposal last week counted new Medicare premiums and larger contributions from federal workers to their retirement as revenue. Republicans also assumed about $200 billion in revenue would come from the economic growth associated with reforming the loophole-cluttered tax code.
In a surprise development, the three GOP senators in the so-called Gang of Six group that forged a bipartisan deficit proposal including about $2 trillion in new revenues signed on to a letter drafted by conservative stalwart Jim DeMint, R-S.C., that called on the supercommittee to propose a solution with "no net tax increase."
Boehner discussed a potential deficit deal with President Barack Obama this summer that would have allowed up to $800 billion in new revenues as part of a comprehensive tax overhaul bill that would have eliminated many tax breaks and used the savings to lower income tax rates.
However, the Boehner-Obama talks fell apart.
Boehner said Thursday that "all kinds of discussions" are going on now.
"I think there's room for revenue but there's clearly a limit to the revenues that may be available," Boehner said.
Support HuffPost
The Stakes Have Never Been Higher
Popular in the Community