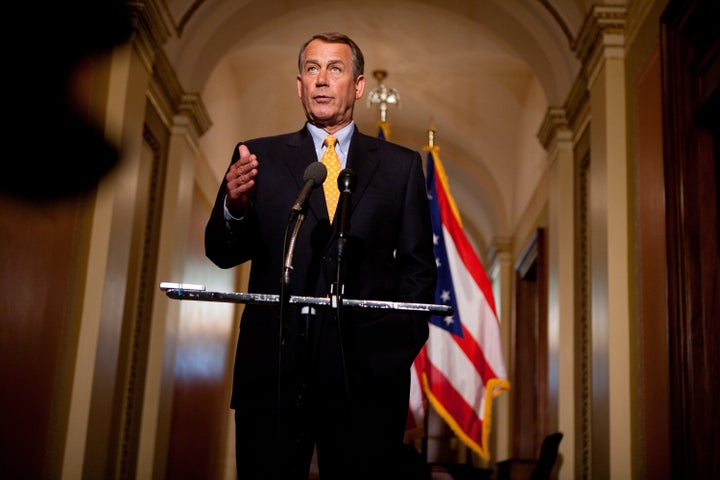 Congressional lawmakers aligned with the conservative coalition of activists have found themselves at the center of an ongoing war of words over attempts to strike a financial deal. There's been criticism from members on both sides of the aisle on the way in which the outspoken opinion of Boehner's fiscally conservative colleagues has been regarded.
Boehner, R-Ohio, wants the overwhelming majority of those votes to come from his fellow Republicans, even if dozens of easily attainable Democratic votes could help carry the budget bill to victory.

The goal complicates Boehner's task, and possibly could push the bill farther to the right. It motivates him to battle for the votes of conservative Republicans who are demanding deeper spending cuts, and greater changes to social issues such as abortion access, than the Democratic-controlled Senate and President Barack Obama say they can accept.
Senate Majority Leader Harry Reid said on Wednesday, "The Republican leadership has a Tea Party screaming so loudly in its right ear, that it can't hear what the vast majority of the country demands." The Nevada Democrat, who has repeatedly taken issue with the role of the Tea Party in talks aimed at achieving an agreement, recently responded "the answer is yes" when asked if Republican leaders were "afraid of the movement."
Meanwhile, Bloomberg reported on Tuesday on a shift in posture demonstrated by Rep. Michael Grimm (R-N.Y.) amid the possibility of a government shutdown. The Tea Party helped catapult the GOP congressman to victory last November.
As November's election neared, though, Grimm declined to call himself a "Tea Party candidate" in an interview with the Daily Caller website.

Now, Grimm says he supports the basic Tea Party principles of fiscal responsibility while opposing those embracing a shutdown. ... "By listening to these groups we would be shortchanging America," he said.
When Stephanopoulos pressed Boehner on his suggestion that there's "no light between" himself and the Tea Party, the House Speaker said, "None." He added, "What they want is they want us to cut spending. They want us to deal with this crushing debt that's going to crush the future for our kids and grandkids. There's no daylight there."
The exchange comes as part of a longer exclusive interview with Boehner set to air on Thursday morning's edition of "Good Morning America."
Popular in the Community