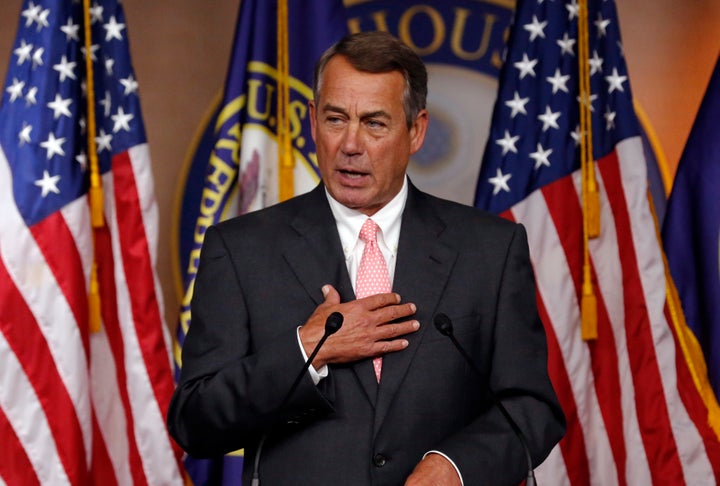 Like most lawmakers in Washington, John Boehner really, really doesn't like Ted Cruz.
The former House speaker sat down for an interview at Stanford University on Wednesday where he discussed his previous job and the 2016 election. When asked about his thoughts on the Texas senator vying for the GOP presidential nomination, Boehner made a face and let it fly.
"Lucifer in the flesh," the former speaker said of Cruz, according to The Stanford Daily. "I have Democrat friends and Republican friends. I get along with almost everyone, but I have never worked with a more miserable son of a bitch in my life."
It's not the first time Boehner has called Cruz "Lucifer." He has also referred to the senator, who led the failed effort to defund Obamacare during the speaker's tenure, as a "jackass."
Boehner was more amiable to the remaining presidential contenders. He called Ohio Gov. John Kasich a "friend," and said he would vote for Donald Trump if the businessman becomes the party's nominee. The former speaker has said he would not vote for Cruz, even if he were the nominee.
Asked about Boehner's remarks on Thursday, Cruz said the speaker "allowed his inner Trump to come out." He then used the comments to attack the GOP front-runner.
"John Boehner in his remarks described Donald Trump as his texting and golfing buddy. So if you want someone that's a texting and golfing buddy, if you're happy with John Boehner, speaker of the House, you want a president like John Boehner -- Donald Trump is your man," Cruz told reporters at a press conference in Indiana.
But as to his working relationship with Boehner, which the speaker described as decidedly unpleasant, Cruz pleaded ignorance.
"I've never worked with John Boehner. Truth of the matter is I don't know the man," he said. "I've met John Boehner two or three times in my life. If i have said 50 words in my life to John Boehner I would be surprised and every one has consisted of pleasantries. 'Good to see you, Mr. Speaker.' I've never had any substantive conversation with John Boehner in any respect."
"When John Boehner calls me Lucifer, he's not directing that at me, he's directing that at you," he said, referring to the conservative movement that wanted Congress to defund Obamacare.
But the Texas conservative isn't the only one guilty of spinning tales. Boehner himself once praised Cruz -- albeit in a very public setting during his tenure as speaker.
"A good guy. I don't always agree with him, but he's a good guy," Boehner said of Cruz in a January 2014 interview on NBC's "The Tonight Show."
This post has been updated with Cruz's response.