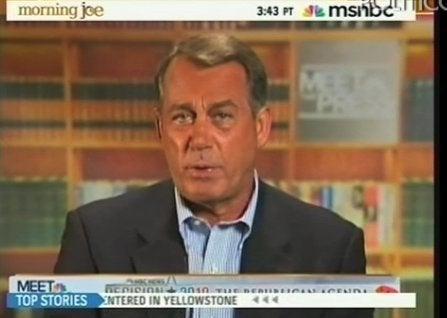 The "Morning Joe" team had some fun Monday morning at Rep. John Boehner's expense, mocking the Ohio Republican's orange-glow tan in his appearance on "Meet the Press" Sunday.
"It's distracting now," co-host Willie Geist said of Boehner's tan.
"He's a chameleon," Joe Scarborough said. "He's using his special Vader powers to blend into the fake bookcases there."
"He could've called for the abolition of the Bill of Rights and none of us would know," Mark Halperin chimed in.
"He was talking about having a discussion about undoing one of the most historic, important amendments, and we're just looking at the tan," Scarborough added. "That shade of orange."
Related
Popular in the Community