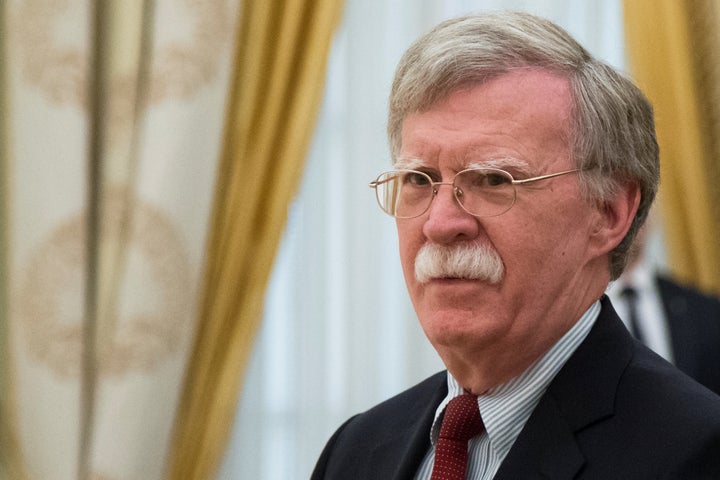 On ABC's "This Week," White House national security adviser John Bolton tried to put a positive spin on the indictments stemming from special counsel Robert Mueller's investigation, a probe that Trump has called a "rigged witch hunt" and bad for the U.S.
Bolton claimed that the charges bolster Trump's negotiating power when he meets with Russian leader Vladimir Putin in Helsinki this week.
"I would say in fact it strengthens his hand," Bolton said. "It shows that the justice system, the Department of Justice, are aware of these Russian efforts at election meddling. I think the president can put this on the table and say this is a serious matter, we need to talk about it."
On Friday, Trump suggested that the indictments were more embarrassing than helpful. "I think that we're being hurt very badly by the — I would call it the witch hunt," he declared during a press conference with British Prime Minister Theresa May.
Trump expressed antipathy toward confronting Putin about the 2016 attack on the United States' election. "I know you'll ask, 'Will we be talking about meddling?' And I will absolutely bring that up," he said, but noted: "There won't be a Perry Mason here, I don't think, but you never know what happens, right? But I will absolutely, firmly ask the question."
Bolton said Trump would talk about the issue with Putin.
"That's what one of the purposes of this meeting is, so the president can see eye to eye with President Putin and ask him about it," Bolton said.
But Bolton did not think Trump should demand bringing the indicted Russians to the U.S.
"I think it's pretty silly for the president to demand something that he can't get legally … for the president to demand something that isn't going to happen. [It] puts the president in a weak position, and I think the president has made it very clear he intends to approach this discussion from a position of strength," Bolton said.
In an interview with CBS News' Jeff Glor, which was excerpted on "Face the Nation," Trump admitted the idea of extradition hadn't even crossed his mind. "Well I might, I hadn't thought of that, but I certainly, I'll be asking about it," Trump said.
Trump then directed his anger not at Russia but at the Democratic National Committee for being hacked.
"I think the DNC should have been ashamed of themselves for allowing themselves to be hacked," he told Glor. "They had bad defenses and they were able to be hacked."
See Bolton's entire interview below:
Popular in the Community