President Donald Trump's appointment of John Bolton as national security adviser has left North Korea policy experts deeply troubled and confused just weeks after many expressed optimism about an upcoming summit with dictator Kim Jong Un.
"This news is hard to process," Van Jackson, a senior lecturer at Victoria University of Wellington in New Zealand, said in an email. "What I can say at the moment is that Bolton isn't just a run-of-the-mill hawk; he's a kind of warmonger. He's never seen a foreign policy problem that couldn't be solved by bombing."
"Between Pompeo and Bolton, you're looking at a neocon foreign policy jacked up on steroids."
The shake-up also comes just two weeks after South Korean officials said Trump had accepted an invitation to meet with Kim sometime over the next few months in what would be the first meeting ever between the Kim regime and a sitting U.S. president.
It's unclear how Bolton's appointment will affect the planned meeting, the details of which have yet to be announced, and he refrained from commenting on the prospects of the summit in an interview with Fox News on Thursday.
Jeffrey Lewis, the director of the East Asia nonproliferation program at the Middlebury Institute, described Bolton's approach to national security as "border fetishism" that would jeopardize any future deal by the U.S.
Bolton is "someone who has an absurdly narrow conception of American national security, based on an extremist definition of sovereignty," he told HuffPost. "This is a man who looks at any international agreement not as countries working together but as a loss of American sovereignty and power."
With regard to the future of the Iran nuclear deal, Lewis said simply: "This is bad."
"Bolton undertook a dedicated campaign to destroy the U.S. nuclear deal with North Korea, which he's been very clear about ― he doesn't even hide it. So my guess is that Bolton will undertake precisely the same campaign [with the Iran deal], and, in this case, he will reinforce all of the president's worst tendencies," he said. "It's a good deal, and Bolton's probably going to do a lot of damage to it."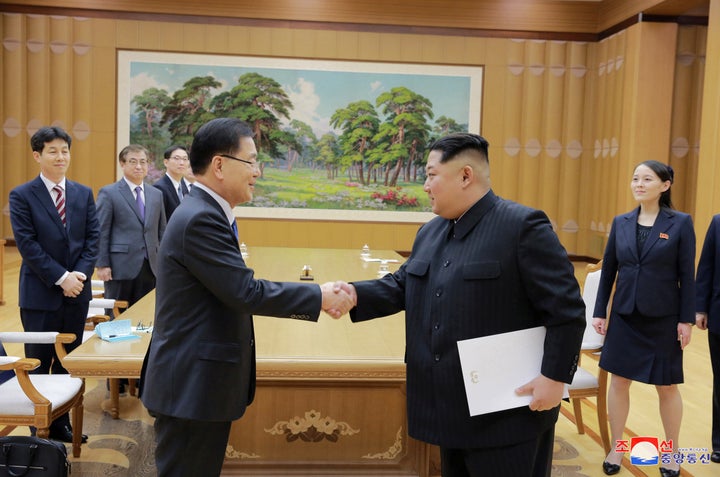 Alexandra Bell, the senior policy director at The Center for Arms Control and Non-Proliferation, said the timing of the Bolton announcement may give credence to skeptics who felt the acceptance of a meeting with Kim was merely a stunt meant to beef up support for military intervention.
"A week and a half ago, people were concerned that this was simply a box-checking exercise that would enable the Trump administration to say: 'We tried and it didn't work,'" Bell said. "I am concerned that those people may have had a point."
"Between Pompeo and Bolton, you're looking at a neocon foreign policy jacked up on steroids."
The news of Bolton's appointment will likely do little to persuade the North Koreans to abandon their nuclear weapon program, analysts warn.
"He's never met a country he hasn't wanted to destroy."
Just last month, Bolton wrote a highly controversial editorial in The Wall Street Journal in which he laid out the case for a preemptive strike against the North, a position he has long touted.
"His op-ed last month advocating for, and justifying, a preemptive strike against North Korea says it all," Vipin Narang, a professor of international relations at MIT, told HuffPost. "How do you convince Kim Jong Un to even freeze testing ― let alone countenance any disarmament ― when this is America's national security adviser?"
"He's never met a country he hasn't wanted to destroy," Narang continued.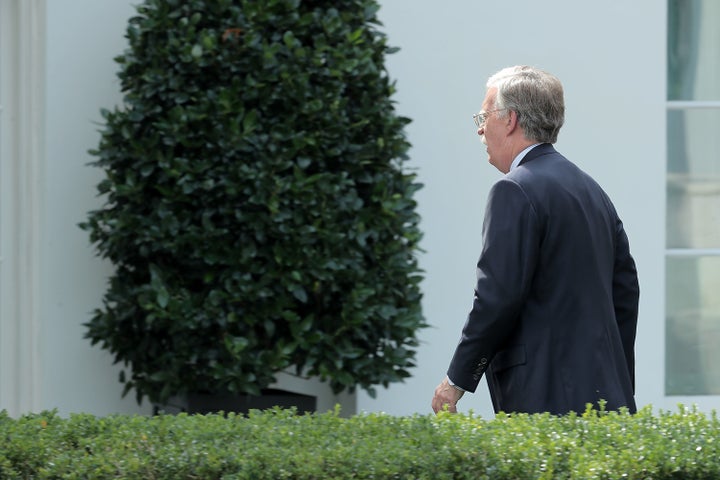 Stephen Schwartz, an independent nuclear policy consultant, expressed particular concern over Bolton's "track record" of consistent support for military action over diplomacy.
"We've got an apparent summit in the works, but we don't really have anybody to plan it because all the experts have basically fled or been forced out of the State Department, and now you've got somebody coming in who has no interest in diplomacy," Schwartz said. "If you pair that attitude with a president who's willfully ignorant and lacks impulse control, it becomes a very dangerous situation with regard to Iran and North Korea."
One thing is clear, experts say: When Bolton takes up his post on April 9, the White House will be home to one of the most polarizing diplomatic picks in history, even by Trump administration standards.
"The problem with this president is that he won't accept 'No' for an answer," Schwartz continued. "Now, with John Bolton as the national security advisor, if the summit fails and [Trump] comes back and says, 'We tried that, now what do we do?' Bolton will say, 'I know! We should attack North Korea!'"