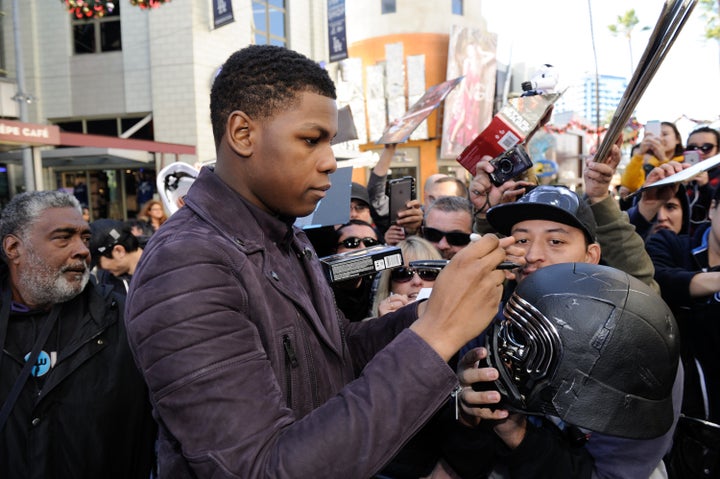 Here lies John Boyega's Anonymity, 1992-2015.
With "The Force Awakens" opening in theaters on Thursday night, the "Star Wars" actor has, at most, 72 hours to relish the possibility that large crowds might not maul him the instant he steps outside. By this weekend, the few bets that remain are off. 
Boyega and his co-star Daisy Ridley, both 23, are the faces of a new generation of "Star Wars" heroes. After months of magazine covers and television appearances, anyone who doesn't already know their names soon will. And those who have pored over every ounce of minutiae since the first teaser premiered last November have only a handful of blissful days to hold onto their unsullied anticipation. As we well know, expectations for "The Phantom Menace" were astronomical in the lead-up to its 1999 release, with fans buying tickets for movies like "The Waterboy" and "Meet Joe Black" just so they could glimpse the two-minute trailer. That gusto didn't curb the scathing reputation the prequels quickly garnered. 
The frenzy has been even louder this time around, at least courtesy of an Internet whose influence was far more muted in the late '90s. So, nowadays, how does one prepare to go from little-known actor to global blockbuster superstar? One doesn't, apparently.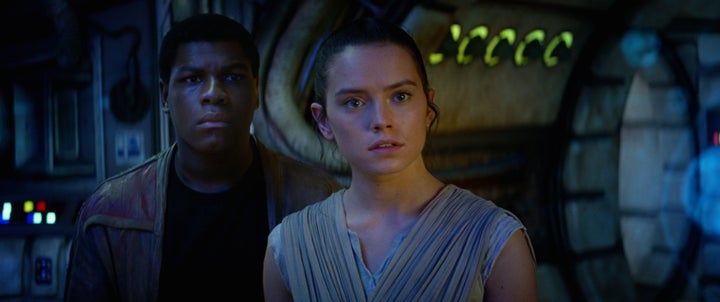 "I hadn't thought of that until you just asked," the British actor told The Huffington Post a couple of weeks ago with undue modesty, agreeing that it's "very strange" to be the subject of popular merchandise and glossy cover stories for something no one has seen. "It just goes to show the power of 'Star Wars,' doesn't it? [Fans] don't know what they're going to get, and they're still just like, 'OK, we support this! It's great!' And that's always good, but that just means you need to come correct when the film opens."
Assuming "The Force Awakens" delivers on J.J. Abrams' promise, the slow decline of Boyega's public anonymity is ideal for the star of what could become the highest-grossing -- and most scrutinized -- movie of all time. He was at a store in London shortly after the Internet exploded in enthusiasm over the first teaser, in which a frenzied Boyega, dressed in a Stormtrooper suit sans helmet, is the first person to appear. He overheard two women in front of him in line "having a really intense debate" about whether the movie would be good. Boyega deliberated over whether to clear his throat to catch their attention. He decided to do it.
"I literally was just like, 'So funny you guys say that,'" Boyega recalled. "And they were like, 'What?' They didn't know who I was! I literally just walked away because it was very embarrassing."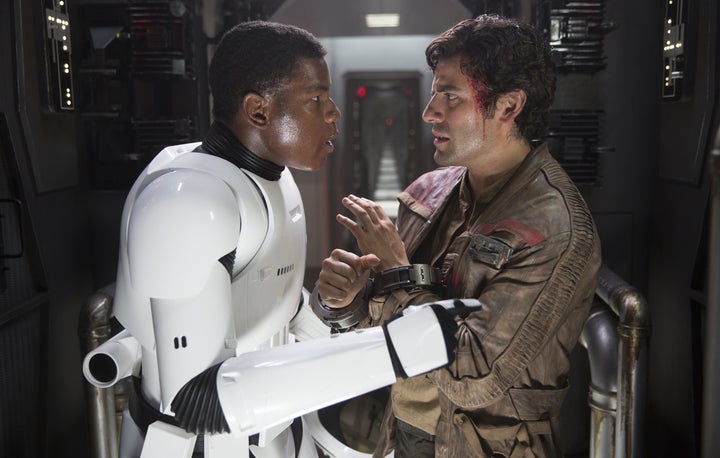 A year later, Boyega is afforded far less obscurity for his role as Finn, a reformed Stormtrooper who doubles as the Luke Skywalker of "The Force Awakens." (Or at least the Luke Skywalker archetype: Mark Hamill is set to reprise his role as the original "Star Wars" hero, though his absence from all promotional materials has left fans speculating about what may have become of Darth Vader's son.) Still, the young actor, who appeared in the 2011 British sci-fi comedy "Attack the Block" and will next star in the adaptation of Dave Eggers' The Circle, hasn't felt the need to seek advice about how long Finn will live in the shadow of his career (aka forever). He has an easy source, too, in Harrison Ford, who returns to the role of Han Solo after spending three decades ridding himself of the character.
"I haven't really wanted to ask that because that, for me, is a given," Boyega said. "It just depends on how important I make it in my head. For me, it's not that important because it's 'Star Wars.' It's a given that that's going to be a major question throughout your whole career. I'm looking at Harrison at his young age and people are still asking him about it. And it's like, 'Cool.' But for me, as long as I get to express art through different films and different stories, I'm fine with people wanting to bring up the 'Star Wars' thing." 
Whether or not Boyega comprehends exactly what he's in for come Friday, at which point critics and fans will have begun to opine en masse, he insists there's a reason to be hopeful. Before Monday's Los Angeles premiere, he was one of the few people who could confirm that all those toys snatched up sight-unseen were justified. 
"If I was Disney, I'd probably be thinking to myself, 'Well, they better like it,'" Boyega said. "And they will. They will. I've watched the movie, and it's safe to say that all the hype is definitely worth it."
"Star Wars: The Force Awakens" opens Dec. 18, in case you didn't already know. 
PHOTO GALLERY
'Star Wars: The Force Awakens'
Calling all HuffPost superfans!
Sign up for membership to become a founding member and help shape HuffPost's next chapter