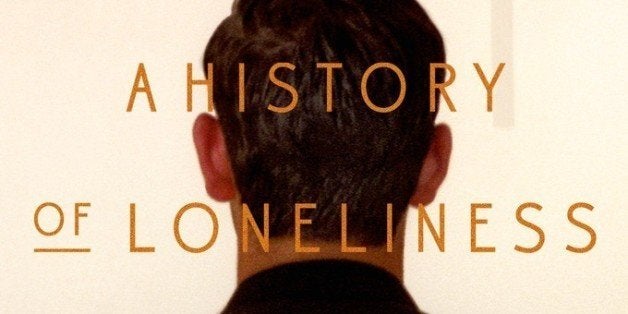 The Book We're Talking About is a weekly review combining plot description and analysis with fun tidbits about the book.
What we think:
When he enrolls in seminary school at 17, Odran Yates counts himself as "one of the lucky ones." Many of his peers, including his frank and cynical bunkmate Tom Cardle, were forced into a secular life by devout -- and sometimes abusive -- family members. But Odran sees the vocation of priesthood if not as a calling, then at least as a comfort. His mother might've declared his destiny after having a vision while watching a late night talk show, but Odran takes no issue with the demands the life calls for -- namely celibacy, an inconvenience often unnamed during his school years.
Odran's near-complete aversion to romantic intimacy is understandable given his upbringing. His parents, who met at a dance hall, had a marriage consumed by his father's thwarted acting ambitions. The resulting alcoholism and fighting were brusquely silenced by tragedy when Mr. Yates deliberately drowned himself and Odran's four-year-old brother while on vacation.
This, and an adolescent encounter with a much-older priest, are discussed with strained levity by narrator Odran, who describes his abuser's death in glib Irish dialect: "Well, he died a few weeks later. He was crossing over to St. Stephen's Green from Dawson Street and wasn't looking where he was going, and didn't he only get hit by a number 11 bus on its way to Drumcondra."
Odran, then, handles grief by compartmentalizing. In fact, in his adult life his primary source of satisfaction comes from keeping things in order. For 20 years he happily teaches English and mans the library at a boys' school rather than working in a parish -- the traditional priestly employ.
Order is disturbed when a fellow teacher is sent away due to molestation charges, and similar rumors begin to surface about Odran's longtime friend Tom, who's been repeatedly moved from parish to parish. Unable to bear the reality of someone close to him committing stupefyingly awful crimes, our narrator never consciously makes the connection; here, John Boyne reveals his novel's thesis to be how powerful and detrimental repression can be. Attempting to justify his crimes, Tom wails about the injustices of seminary school: "They told me that everything that made me human is shameful and dirty."
But Odran (and therefore Boyne) never chalks up the pandemic of pedophiliac Irish priests to mere religious repression, nor does he brush off the crimes with the excuse of grief-addled childhoods. He considers a disdainful attitude towards women on the part of not only his father but of high-ranking clergymen; he ruminates on his own concealed lust, and the trouble it gets him into while studying in Rome; he thinks about his and his peers' violent upbringings. While much of the narrative involved Odran racking his shelves of memories for an explanation, he never arrives at a satisfying one. Instead, in a confrontation between the narrator and an accused Tom, he asserts: "Nothing that happened to you... makes anything you did acceptable."
While Boyne could've slipped easily into dogmatic rants while considering these issues, he instead analyzes both the merits and pitfalls of the church's impact on individuals deftly and clearly. There are moments when his language takes on a Biblical melodrama -- a tone he rightly employs in his Young Adult novels as well -- but rarely to the detriment of the story, which begins suitably with an epigraph by E.M. Forester: "Life is easy to chronicle, but difficult to practice." The quote is wielded throughout the story as a criticism, not only of religious leaders who dole out rules about facets of life they've never experienced, but also of writers, reporters, teachers and parents -- anyone whose been given the power to shape opinions, and chooses to do so without compassion.
What other reviewers think:
The Guardian: "This is a harsh, unsparing novel. Here is the church stripped bare of trust and affection between priests and people, with no credit given to its work for the poor and dispossessed. The portrait of Irish society is equally lacerating."
The Irish Times: "The History of Loneliness is a troubling book about a continuingly difficult and disturbing subject. Readers of Boyne's fiction who have followed him around the world now have a chance to see how he has applied his skills to a subject very close to home."
Who wrote it?
John Boyne is a number of fiction books for adults and young adults, including The Boy in the Striped Pajamas. Although he calls Ireland home, this is the first time he's written directly about the country.
Who will read it?
Those interested in fiction concerning religious themes, or fiction that is smartly critical of organized religion. And, of course, fans of Irish literature.
Opening lines:
"I did not become ashamed of being Irish until I was well into the middle years of my life. I might start with the evening I showed up at my sister's home for dinner and she had no recollection of issuing the invitation; I believe that was the night when she first showed signs of losing her mind."
Notable passage:
"I closed my eyes for a moment and exhaled. A vision passed before my eyes: the library at Terenure College, a place where I would have given anything to be at that moment. Chaos in the stacks. Someone shelving William Goldings's Rites of Passage trilogy in the wrong order. Claire Kilroy's novels mixed up with Claire Keegan's stories. It was at moments like this that I wished I were there to fix things instead of here, having to dig deep to discover some personal problem that I would probably be unable to solve."

Calling all HuffPost superfans!
Sign up for membership to become a founding member and help shape HuffPost's next chapter
BEFORE YOU GO