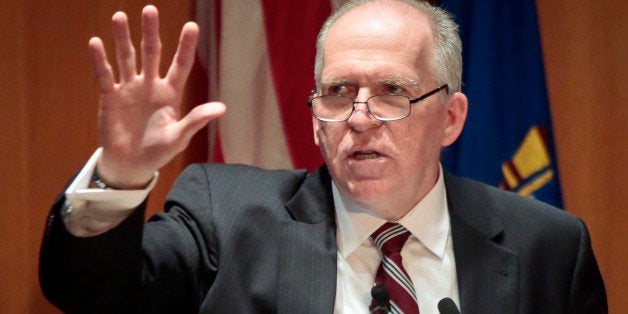 On May 19, 2012, the Fordham University Board of Trustees awarded John Brennan, an alumnus and then deputy national security advisor, with an honorary degree. Fordham's decision to honor Brennan was controversial at the Catholic university. A petition started by Fordham students described how Brennan supported torture as an instrument of interrogation, defended drones that killed hundreds of civilians, advocated for the U.S. government to send suspected criminals to nations where torture was legal, and believed in retroactive immunity for telecommunications companies that illegally spied on U.S. citizens. Fr. Joseph McShane, SJ, Fordham's president, responded to student and faculty concerns by granting some community members the opportunity to dialogue with Brennan. Still, the award was given. At commencement, hundreds of students wore orange ribbons and several turned their backs on Brennan's speech. Student-led activism protested the clear human rights violations that occurred under Brennan's leadership.
Three years after Brennan's award, Fordham's leadership has yet to substantively address the concerns raised. Moreover, Fordham's decision to honor Brennan has become even more indefensible in light of the report on the CIA released by the U.S. Senate in December 2014, which details how the CIA deceived the American public about the brutalities committed against suspected terrorists including forced standing, sleep deprivation, waterboarding, "anal feeding," and "anal rehydration." More shocking than the report, however, was John Brennan's response. In an unprecedented and smug press conference, Brennan acknowledged the truth behind the Senate's report and defended the CIA by claiming that torture had provided useful intelligence, however uncertain that intelligence was.
Though Brennan's defense of the CIA claimed that "There were no easy answers" to U.S. security problems, the teaching of the Catholic Church is clear that torture is never morally justified. In the church's catechism, torture is classified (together with terrorism) as a sin against the integrity of the human body. "Torture which uses physical or moral violence to extract confessions, punish the guilty, frighten opponents, or satisfy hatred is contrary to respect for the person and for human dignity." In 2008, the US Council of Bishops confirmed this teaching in their document, "Torture is a Moral Issue," which draws upon the rich tradition of Christian theology to consider how a nation can defend itself in ways that "consistently demonstrate respect for human dignity, and that put the Gospel into practice." Unlike Brennan, the bishops believe that torture can never be justified by the exigencies of national security. In 2014, Pope Francis condemned torture as a "very grave, mortal sin." The Christian, he said, is called with Christ to "love those who do not love us." True spiritual life comes through self-sacrifice and charity, not the abuse of others.
Fordham University's award of an honorary degree to John Brennan, an unapologetic advocate of torture, is a scandal for Christians, a dark moment in the university's history, and a betrayal of its Catholic commitment to human dignity. Brennan refuses to admit his wrongdoing, and Fordham's administration refuses to admit its mistake. Fordham's Jesuit identity, which according to its mission statement supports "the promotion of justice, (and) the protection of human rights," is at stake, as is its credibility in the "moral and religious development of its students."
The Fordham community, however, has not remained silent. In February 2015, a group of faculty and students organized Fordham Against Torture to raise awareness of U.S. complicity in war crimes and to engage the community in political actions that embody Christian commitments to justice. One of the group's first actions was to organize a petition to revoke the honorary degree awarded to John Brennan. As of April 7, more than 700 have signed the petition, including 446 students, 113 faculty and instructors, and 73 alumni. On March 24, Fordham Against Torture organized a day-long Teach-In on Torture, Human Rights, and Restorative Justice that featured presentations by leading scholars. Nearly 100 attended the workshops that focused on the ways that torture dehumanizes its victims. Discussions on Catholic social teaching highlighted the participants' commitments to Christian tradition as a resource for countering violence and torture. On April 23, Fordham Against Torture will sponsor a Day of Remembrance by encouraging the Fordham community to wear orange in solidarity with the victims of torture.
The honorary degree awarded to John Brennan speaks against Fordham's claims to uphold Catholic and Jesuit values. The Fordham Board of Trustees must act soon by revoking Brennan's honorary degree. A Catholic university must proclaim the value and dignity of all human life. Torture attacks the integrity of its victims, who are created in the image of God. By commending John Brennan with an honorary degree, Fordham has commended a brazen human rights offender whose words and actions go against the values that Fordham claims to foster.
Related
Popular in the Community