LANGLEY, Va. -- In an unusual media address at CIA headquarters Thursday, CIA Director John Brennan conceded that his agency had been unprepared to operate the torture program it ran in the years following 9/11. But Brennan continued to defend the CIA against charges that the use of harsh interrogation techniques failed to produce valuable intelligence from terror suspects.
"We were not prepared. We had little experience housing detainees, and precious few of our officers were trained interrogators," Brennan said.
But he added: "Our reviews indicate that the detention and interrogation program produced useful intelligence that helped the United States thwart terror attack plans, capture terrorists, and save lives."
"Whatever your views are on EITs, our nation and in particular this agency did a lot of things right to keep this country strong and secure," Brennan said, referring to enhanced interrogation techniques, the agency's term for harsh tactics that would generally be considered torture.
Senate Intelligence Committee chair Dianne Feinstein (D-Calif.) said she was surprised at the agency's self-reflective stance.
"CIA Director Brennan's comments were not what I expected," she said in a statement. "They showed that CIA leadership is prepared to prevent this from ever happening again -- which is all-important."
Brennan's address came two days after the Senate Intelligence Committee released a damning report on the agency's Bush-era detention and interrogation program, which involved shipping suspected terrorists to overseas prisons, where they were subjected to torturous interrogations.
The 500-page Senate document provides explosive public revelations about the program, and portrays a rogue CIA intent on manipulating or evading nearly all of its oversight mechanisms. The report, which included gut-wrenching details about the treatment of detainees, has sparked intense national debate about the ethics and the efficacy of torture.
Brennan reiterated Thursday that the CIA agrees with several of the Senate committee's charges, including that the agency mismanaged the program, that certain field officers went beyond the legal boundaries of interrogation techniques and that misinformation was occasionally provided to lawmakers and the White House.
But on a broad level, Brennan said, there was no malicious intent behind these abuses.
"The overwhelming majority of officers involved in the program at CIA carried out their responsibilities faithfully and in accordance with the legal and policy guidance they were provided," he said. "In fact, some of these officers raised objections and concerns with the program and with its implementation, which is crucial to ensuring that the system works as it should and that we are able to adjust as needed."
The agency director made clear that the spies disagreed with the intelligence panel about the effectiveness of torture. The Senate investigators unquestionably conclude that the use of the techniques -- which included sleep deprivation, near-drowning of detainees through waterboarding and shackling detainees to bars and ceilings -- did not produce valuable intelligence.
But Brennan put forth a fuzzier reality, saying that detainees subjected to these techniques did provide valuable information. Whether or not that was specifically due to the tactics, he said, is impossible to determine.
"We have not concluded that it was the use of EITs within that program that allowed us to obtain useful information from detainees subjected to them. The cause and effect relationship between the use of EITs and useful information subsequently provided by the detainee is, in my view, unknowable," he said.
Brennan's more ambiguous stance was welcomed by Feinstein, who said it represented a departure from past agency claims.
"This is a welcome change from the CIA's position in the past that information was obtained as a direct result of EITs," she said. "I disagree that it is 'unknowable' whether information needed to stop terrorist attacks could be obtained from other sources. The report shows that such information in fact was obtained through other means, both traditional CIA human intelligence and from other agencies."
"Nonetheless, it is an important development that Director Brennan does not attribute counterterrorism successes to coercive interrogations," Feinstein added.
Although Brennan admitted that CIA officers in some instances used unauthorized techniques that he called "abhorrent," he stopped short of defining the gruesome abuses as torture, saying he'd leave that determination to others.
"I will leave to others to how they might want to label those activities," he said of the misconduct. "But for me, it was something that is certainly regrettable."
The spy chief conceded that many times, the agency's abuses and its failure to hold personnel accountable dented America's national credibility.
"We simply failed to live up to the standards that we set for ourselves and that the American people expect of us," Brennan said.
Feinstein, meanwhile, took to Twitter during the address to respond in real time to Brennan's speech, offering counterpoints tagged with the tongue-in-cheek hashtag #ReadTheReport.
Brennan also took jabs at the Senate panel's failure to conduct a single interview throughout its investigation, even of those CIA officers it accuses of misconduct.
"I think by just a review of the documentary evidence ... you lose the opportunity to really understand what was taking place at the time, it loses that context," he said. "I think it's lamentable that the committee did not avail itself of the opportunity to be able to interact with CIA personnel."
The greater portion of the committee's 6,700-page report remains classified.
This story will be updated.
Before You Go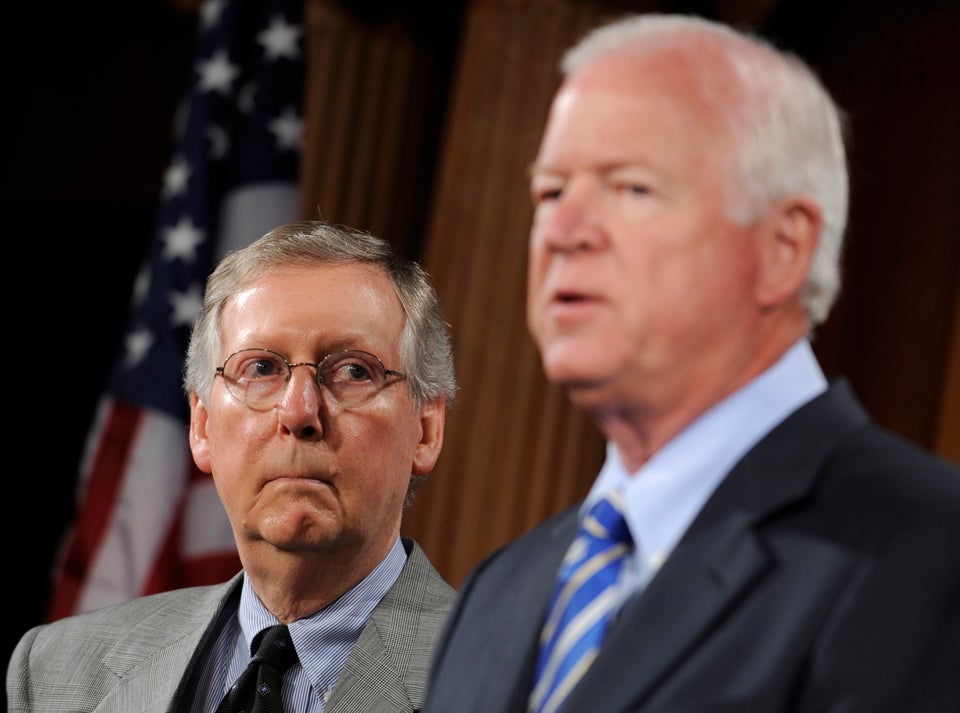 Politicians React To CIA Torture Report
Popular in the Community