AUSTIN, Texas ― U.S. Rep. John Carter (R-Round Rock) won his reelection bid on Tuesday against Democrat MJ Hegar, a military hero whose compelling personal story helped her wage a well-funded challenge in a longshot red district.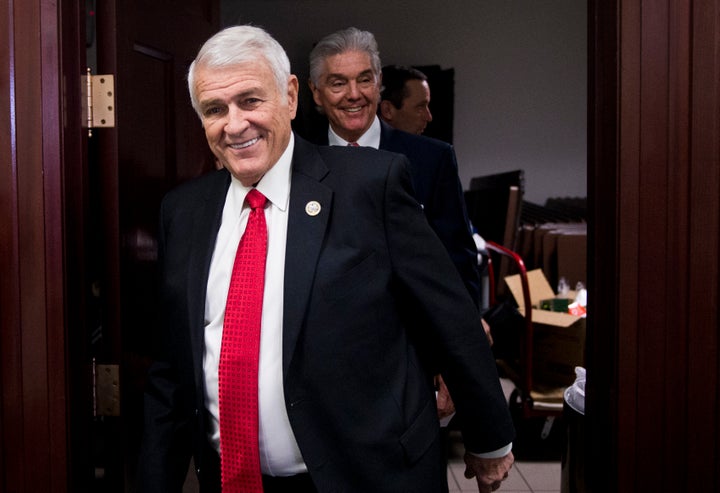 But Central Texas' 31st Congressional District, which includes suburbs north of Austin and Killeen, a city near the Fort Hood military base, was always going to be tough for a Democrat. Carter, an eight-term Republican incumbent, prevailed against his Democratic challenger in 2016 by more than 20 percentage points. Voters in the district went for President Donald Trump that same year by a margin of more than 12 percentage points. And last month, a New York Times/Siena College poll showed Carter with a formidable 15-point lead over Hegar.
Democrats, nonetheless, were gunning for an upset with the underdog Hegar, who hoped to win voters over with her character, rather than just her party, and sought to portray Carter as absent from the district. While she didn't win, she appears to have dramatically closed the gap compared to prior Democratic challengers: As of Wednesday morning, with 105 of 106 precincts reporting, Carter had prevailed by just over 3 points, according to The New York Times.
Earlier Tuesday evening, at a Mexican restaurant in north Austin, Hegar supporters filling the large outdoor patio were upbeat, drinking margaritas, munching queso, and cheering for Democratic Senate candidate Beto O'Rourke on the TV. But as the night wore on — and the Texas Senate race was called for Republican Ted Cruz — the crowd thinned and hopes that a blue wave would touch the 31st district dampened.
Still, when Hegar appeared at the end of the night to speak, she focused on the victories, including "the coalitions that we've built between groups of people [who] didn't think they had anything in common" and "the thousands of unlikely voters who finally felt that their civic engagement mattered."
Hegar told HuffPost last month that she wanted to see more people elected to office who've faced the challenges lawmakers are supposed to be fixing. That group includes people who've worked minimum-wage jobs, worried about health care costs, counted on Social Security and struggled to feed their families. These are things that "my opponent hasn't done and that this political class hasn't had to do," she said.
"Hegar told HuffPost last month that she wanted to see more people elected to office who've faced the challenges lawmakers are supposed to be fixing."
"I don't know who these out of touch members of Congress are that Ms. Hegar is referring to, but Congressman Carter certainly isn't one of them," Carter's campaign spokesman, Bruce Harvie, countered in an email at the time.
Hegar told HuffPost she had to quit her job to run, which was was a "huge financial hardship" on her family.
On Tuesday, she thanked her husband, Brandon. "I can't believe you let me do this," she joked, calling him "the only breadwinner and also the person changing the dirty diapers and doing the laundry and cooking."
Ultimately, Hegar couldn't carry the upswell of national attention she received — energized by hopes for a blue wave in Texas — to the voters back home. But she managed to make a reliably red district look competitive again.
Her campaign had helped Carter know that "he is answerable to his constituents," she said Tuesday, and "he is not in a safe seat."

This story has been updated with the vote count as of Wednesday morning.
Popular in the Community