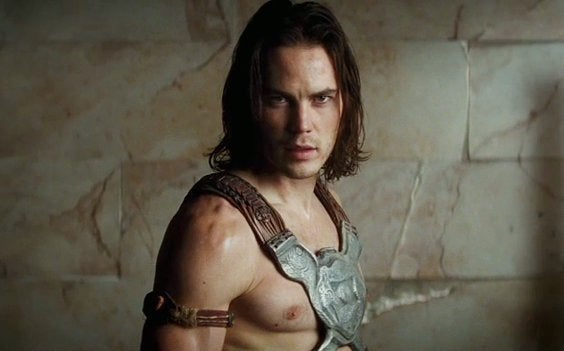 Finally, John Carter has arrived. Well, on Barsoom, anyway.
The highly anticipated action adventure film from Disney -- the first live action film from Academy Award-winning Pixar veteran Andrew Stanton -- has released its first trailer, and it does not disappoint. Starring Taylor Kitsch, best known for his work in "Friday Night Lights," as the titular character, it sweeps together elements of the 19th century, ancient times and futuristic aliens to create a gorgeous adaptation of Edgar Rice Burroughs's novel, "A Princess of Mars."
It's a huge role for Kitsch, his first major feature lead. He played a war photographer in the recent indie, "The Bang Bang Club," one of four leads there, and had a role in "John Tucker Must Die" and "X-Men Origins: Wolverine." Most fans know him as the troubled small town fullback in "Friday Night Lights," Tim Riggins, and with that show now over, it's time for the 30 year old to break out. He nearly did so with "The Bourne Legacy," as one of the finalists for the role that went to Jeremy Renner, but this may be an even better opportunity.
He'll be seen after "John Carter" as one of the leads in the upcoming board game adaptation, "Battleship."
Here's the full synopsis -- check out the gorgeous trailer beneath it.
From Academy Award®–winning filmmaker Andrew Stanton comes "John Carter"—a sweeping action-adventure set on the mysterious and exotic planet of Barsoom (Mars). "John Carter" is based on a classic novel by Edgar Rice Burroughs, whose highly imaginative adventures served as inspiration for many filmmakers, both past and present. The film tells the story of war-weary, former military captain John Carter (Taylor Kitsch), who is inexplicably transported to Mars where he becomes reluctantly embroiled in a conflict of epic proportions amongst the inhabitants of the planet, including Tars Tarkas (Willem Dafoe) and the captivating Princess Dejah Thoris (Lynn Collins). In a world on the brink of collapse, Carter rediscovers his humanity when he realizes that the survival of Barsoom and its people rests in his hands.
REAL LIFE. REAL NEWS. REAL VOICES.
Help us tell more of the stories that matter from voices that too often remain unheard.