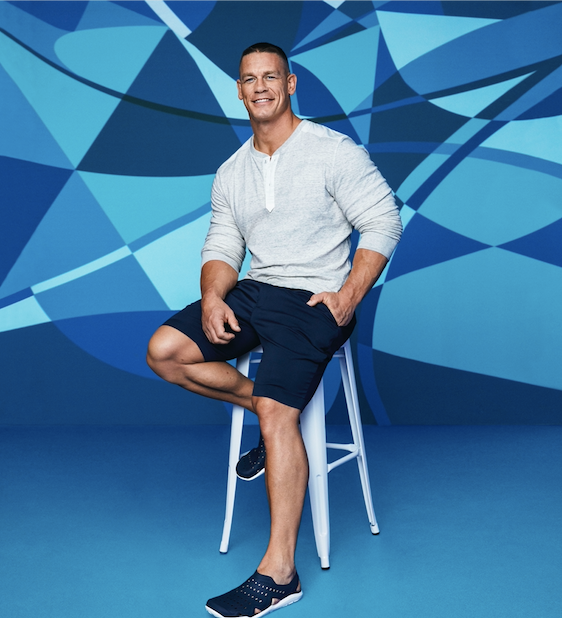 Wrestler John Cena has made a career out of being a tough guy. As one of WWE's superstars he's known for getting rough in the ring and dominating his opponents. But, it wasn't always that way for the pro. In fact, Cena revealed to me recently that he was actually bullied in school and is taking action to prevent it from happening to other kids by joining the Crocs' "Come As You Are" campaign.
Q: How did this campaign speak to you personally?
John Cena: Honestly, I love the slogan. It's "come as you are," which is such a powerful statement. I get hit hard with a lot of resentment for who I am and how I act and what I do, and I think that is a really strong message to send. This is encouraging people to just say, "F" it, come as you are it's okay to be who you are and you don't have to conform to someone just because they say negative things about you or not approve of how you are.
Q: Part of the campaign is about feeling comfortable in your own shoes. Was there ever a time when you didn't feel comfortable in your own shoes?
JC: I really never socially matched that well with kids as an adolescent or early teenager. Never once did I waver or try to conform like a group philosophy. I was always pretty much an oddball. But, I did feel comfortable in my shoes, I just got a lot of heat for it.
Q: Were you bullied as a child or in high school?
JC: Yes, I haven't really run into a lot of folks that say that they weren't bullied as a kid. Nowadays, especially with social media, there is a lot of bullying going on. But, I go back to my high school dynamic and there were like two kids who bullied people and they bullied everybody. So, yes, I was bullied, but that goes along with a lot of people. That is why I think the message of the campaign is so important. With social media, it's getting exponentially harder because you are essentially speaking to the whole world. Being a teenager is hard today.
Q: Now as a wrestler it's interesting that you have been showing your softer side lately. Is that something that is important to you?
JC: Yes. I am one of the few superstars in the WWE that has been bold enough to show loss and to show humility. Usually, we focus on trying to be as dominant as we possibly can because it is an environment where machismo just thrives. Showing those moments of weakness and vulnerability are hard, but it led to a lot of long term success. I mean the crowd acted very differently when they knew I was going to propose. They were part of the moment that honestly they deserve to be a part of. They are my family and the crowd dynamic changed a ton. I think that speaks volumes to how open I have been with them and how open they have been with me.
Q: Speaking of your engagement, how is the wedding planning going?
JC: We are already off to the races. We are trying to set down a date and all of that other stuff but that is more of a question for the boss, not for me. Honestly, I have looked at more wedding stuff in the past week than I prefer to admit but I will tell you – it is full speed ahead.
Q: Do you have your own Pinterest page?
JC: I haven't got the Pinterest page yet. I am not going to say I am not going that far because it could lead to that, but not yet.
Calling all HuffPost superfans!
Sign up for membership to become a founding member and help shape HuffPost's next chapter
This post was published on the now-closed HuffPost Contributor platform. Contributors control their own work and posted freely to our site. If you need to flag this entry as abusive,
send us an email
.