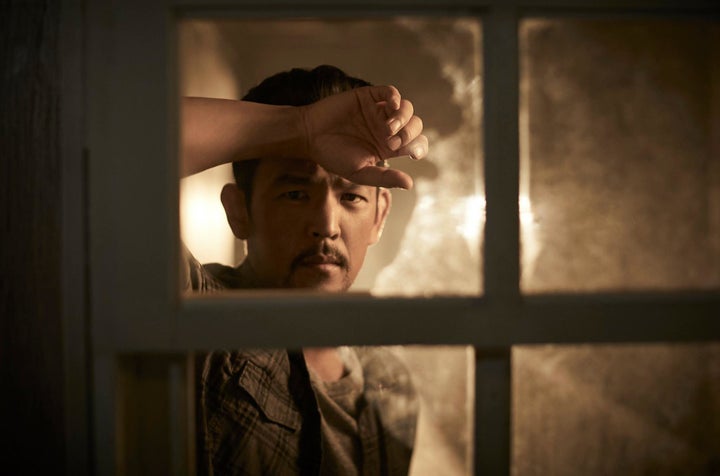 John Cho will make his debut in the horror genre later this month as a series regular on Fox's "The Exorcist." But, according to the actor, his presence on the show is part of a much bigger debut: one of an Asian actor playing a major part in a work of horror.
And the 45-year-old Korean-American actor wants to buck that trend.
"I thought it would be, I don't know, intrusive to have my face in it," Cho said of his part in the unholy remake.
Without really trying, Cho last year became the poster boy for the fight to have better Asian representation in Hollywood after digital strategist William Yu used the actor's name in the hashtag campaign #StarringJohnCho to draw attention to the issue.
Responding to the controversy of Asian roles being rewritten for white actors, Yu recast some of the industry's biggest blockbusters with Cho as the leading star. 
"I'm tired of hearing that a role can't be played by an Asian actor because people just don't see it. #StarringJohnCho is here to literally show you," Yu told NBC News in 2016. "Films with more diverse casts result in higher box office numbers and higher returns on investments for film companies, yet Hollywood won't cast lead actors to reflect this fact."
Early on in his career, Cho says he purposely declined roles that were based on, and subsequently perpetuated, unfair Asian stereotypes. But that showed him another problem that was happening in the film and TV industry.
"For a while, I was taking over parts that were written for a white person, and there was a time when I wore that as a badge of honor," Cho told EW. "And then I became disenchanted with that victory. I felt like, 'Oh, well, that just revealed another issue, which is that no one's writing parts that are Asian at all!'"
Despite some progress for Asian actors in Hollywood, a recent study revealed that changes in representation in the world of TV have been particularly slow ― something that affects the way that Asians are perceived in the American public off-screen. 
"This is something that Asian-Americans struggle with in general ― visibility. You're not recognized as someone who is fully present in society," the study's co-author Nancy Wang Yuen, Ph.D. told HuffPost.
"It's a literal silencing of Asians and it reinforces the stereotype that Asians aren't expressive, they're invisible, that they're not really there. But that's because [Hollywood's] not casting them."
Cho also thinks that Asian writers need to approach the idea of representation a little differently in their work. 
"I would get scripts from Asian writers, and a lot of it was fantastic, but I started seeing, too, that some of it was very reactionary," Cho told EW. "We were putting ourselves in a kind of corner, we were reacting to stereotypes all the time, and therefore being controlled by the stereotypes, too."
To avoid those limitations, Cho says he focuses on roles that are specifically made for Asian-Americans, but aren't "necessarily about being Asian-American as much." 
And if you look at Cho's resume, those types of roles do exist ― and in a variety of genres.
Cho has played the dude who calls Stifler's mom a "MILF" in "American Pie" series and the weed-loving Harold in the cult classic film series, "Harold & Kumar." He starred as Sulu in the 2009 remake of "Star Trek." And this year, he nabbed the starring role in the critically-acclaimed indie drama "Columbus," about a Korean-born man who visits his comatose father, an architect, in Indiana ― a role Cho says he's been waiting his whole life to play. 
Now, with "The Exorcist," Cho will get the chance to play a character in the only genre he has yet to work in ― horror ― playing a widowed former psychologist who runs a foster home. 
Calling all HuffPost superfans!
Sign up for membership to become a founding member and help shape HuffPost's next chapter
BEFORE YOU GO
PHOTO GALLERY
Asian History At The Oscars