Possibly in hopes of putting Trekkies' concerns to rest, actor John Cho said in a new interview that the subject of Sulu's sexuality is handled in the best possible taste in "Star Trek Beyond." 
The 44-year-old told The A.V. Club Tuesday that he had a number of pressing concerns about the decision to depict Sulu as a father in a same-sex relationship in the new movie, which hits theaters July 22. 
"I was concerned that Asians and Asian Americans might see it as a sort of continuing feminization of Asian men," Cho said. "Asian American men, Asian men have been basically eunuchs in American cinema and television, and I thought maybe it would be seen as a continuation of that."
Cho said he was worried that Takei, who originated the role of Sulu 50 years ago, would object to the character being in a same-sex relationship in the new film because "he couldn't come out [earlier] and that he had crafted a straight character."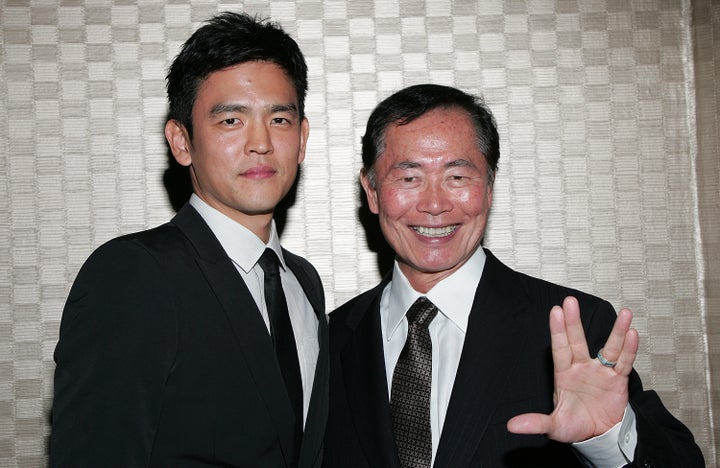 "Now, because he's an activist and he's out of the closet ― clearly, this is an homage a little bit to him," he said. "[I worried] he would object to us taking that from his life and say, 'Hey, I was a gay actor who created a straight character, and now you're making him gay because I've come out of the closet?' that we were just seeing him for his sexual orientation."
For the record, Takei told The Hollywood Reporter July 7 that while he was "delighted" by the decision to include a gay character in the "Star Trek" canon, he felt that the decision to have Sulu in a same-sex relationship was a "twisting" of what series creator Gene Roddenberry intended. 
The 79-year-old actor said he asked Cho to persuade "Star Trek Beyond" screenwriter Simon Pegg, who also plays Scotty in the film, and director Justin Lin to create an entirely new character who would identify as gay instead, but that those pleas went unheeded.  
Still, Cho said he feels Takei, as well as devoted "Star Trek" fans, will be pleased with Sulu's journey in the movie. "We're executing Roddenberry's intent, I think: infinite diversity in infinite combinations," he told The A.V. Club. 
"When I thought about it, I wanted two things: I wanted the parents to look as traditional as possible. And because he was gay, the Asian and Asian thing would ironically be super radical," he told the Associated Press. "I always felt it was harder being gay and Asian than any other combination. I thought the cultural stigma was the thickest on the Asian boys I knew. It would be appropriate that in the future it would look very much like what we tend to see in heterosexual families."
REAL LIFE. REAL NEWS. REAL VOICES.
Help us tell more of the stories that matter from voices that too often remain unheard.
BEFORE YOU GO
PHOTO GALLERY
Ranking Every 'Star Trek' Movie, From Best to Worst