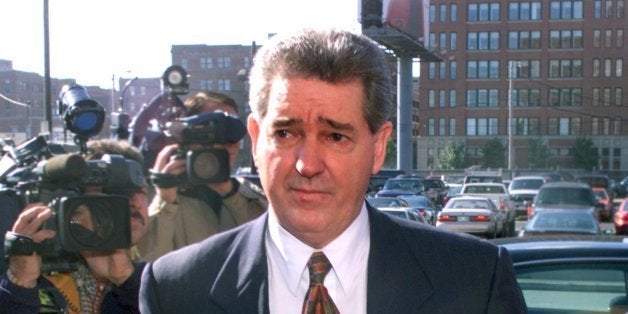 An imprisoned ex-FBI agent backs up claims by Boston gangster James "Whitey" Bulger that federal officials turned a blind eye to Bulger's violent crimes.
A new book about Bulger's 2013 trial contains a rare interview with John Connolly, the former agent, in which he alleges that Bulger and his righthand man Stephen "The Rifleman" Flemmi were shielded from a race-fixing indictment in 1979 by the local federal prosecutor because they ratted on rivals in the Italian Mafia.
The duo would go on to commit or order a series of murders in the 1980s as they maintained a vice-like grip over organized crime in the greater Boston area through their Winter Hill Gang.
In a written interview with Margaret McLean, co-author of the forthcoming "Whitey on Trial," Connolly alleges that high-ranking officials in the Department of Justice knew about Bulger's license to break the law.
"[Former U.S. Attorney Jeremiah] O'Sullivan and a colleague notified Assistant Attorney General Gerard McGuire that these 'reputed killers' were being protected from prosecution and being named as 'unindicted co-conspirators' in the race-fix case," Connolly said to McLean. "They protected Bulger and Flemmi to use them against the Mafia despite being aware that they were killers…They could've put Bulger and Flemmi away for 20 to 30 years had O'Sullivan indicted them at that time. Many of their murder victims would still be alive today."
According to Connolly, Bulger and Flemmi were such valuable informants that O'Sullivan penned a memo permitting them to carry out nonviolent crimes like shaking down bookies and loan sharks.
McLean and co-author Jon Leiberman wrote that they found a reference from the 2004 Congressional Committee on Government Reform to a 1979 memo by O'Sullivan concerning Bulger and Flemmi but that it's sealed under executive privilege now.
Lawyers for Bulger wanted to base their defense around the theory that the late O'Sullivan granted Bulger immunity, but U.S. District Judge Denise Casper prevented them from airing it in court.
Despite FBI files listing him as an informant, Bulger, 84, has denied that he provided information to the feds during his long run atop the Boston underworld. Last August, he was convicted of 31 counts, including 11 murders, in a sweeping racketeering indictment.
Flemmi pleaded guilty to 10 murders in 2004 and is serving a life sentence.
Connolly, 73, is serving 40 years for passing on information to Bulger and Flemmi that led to the 1982 murder of an associate they feared would testify against them.
The scandal-scarred ex-agent is fighting his murder conviction. In his interview with McLean, he tries to counter his image as a rogue, rule-breaking FBI agent who enabled Bulger's reign of terror.
His former supervisor, John Morris, testified at Bulger's trial that Connolly passed information to Bulger and Flemmi that led to some killings. Morris also testified that Connolly was partially responsible for protecting the gangsters from prosecution.
But Connolly tells McLean that his old boss lied to hide the rampant corruption within the Boston FBI and U.S. Attorney's office.
"John Morris was willing to say what I wasn't willing to say," Connolly said. "Morris was going to toe the party line and say what he needed to say in return for his freedom and never being charged with a crime."
With Bulger behind bars, McLean told HuffPost she believes Connolly and that it's important for the government to come clean about its relationship with the notorious mobster.
"The Department of Justice is still hiding things from us," she said. "We have a right to look at that."
Neither the prosecution nor the defense in Bulger's trial called Connolly to testify, though other witnesses repeatedly brought up his name.
"Testimony from John Connolly was not necessary to prove the allegations in the indictment," said Christina Sterling, spokeswoman for the U.S. Attorney in Boston. "As the verdict in this case clearly illustrates, there was already sufficient evidence to prove those charges beyond a reasonable doubt in 31 of the 32 counts in the indictment."
Bulger's attorney, Hank Brennan, told The Huffington Post he didn't put Connolly on the stand because of his insistence that Bulger was an informant.
"If he was eager to come and testify about the inherent corruption of the Justice Department, we would have insisted that John Connolly testify about the true nature of his relationship with James Bulger," Brennan said. "We never found any evidence that James Bulger gave assistance to Connolly."

REAL LIFE. REAL NEWS. REAL VOICES.
Help us tell more of the stories that matter from voices that too often remain unheard.
BEFORE YOU GO
PHOTO GALLERY
Who's Who In The Whitey Bulger Case