An attorney for Rep. John Conyers (D-Mich.) shot down calls for the congressman to resign amid sexual harassment allegations and instead pointed fingers at the accusers during a news conference on Thursday.
Attorney Arnold Reed, who spoke outside of Conyers' home after the 88-year-old was hospitalized for a stress-related illness, in particular questioned the claims brought by Conyers' former deputy chief of staff, Marion Brown.
"She had an opportunity 15 years ago to come out and she didn't but she is jumping on the bandwagon now?" Reed said of Brown, who has accused Conyers of sexual harassment while serving in the role from 2003 to 2014.
Reed, in particular, questioned the timing of her and other accusers' allegations against Conyers as well as a monetary settlement that Brown received after working for him.
"Suing her for defamation is not anything at this juncture that would accomplish anything, except give it further forum as to why it is she took the money and stayed on with the congressman for 11 years," he said.
Reed said that despite increasing calls from members of Congress for Conyers to resign, he won't be doing it Thursday or Friday.
"She sure as hell won't be the one to tell the congressman to leave," he said. "Individuals like the congressman have a right to due process and a right to defend themselves."
"At the end of the day, the congressman will rise and fall on his own merits," he said.
Reed went on to express displeasure that Conyers is being asked to resign while Sen. Al Franken (D-Minn.), who has been accused of sexual misconduct in recent weeks, isn't.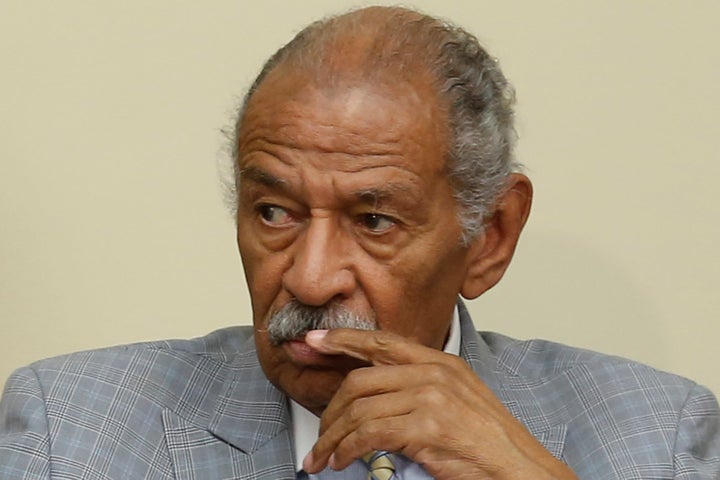 "I would suspect that Nancy Pelosi is going to have to explain what is the discernible difference between Al Franken and John Conyers? That is a question that she is going to have to answer."
News of Conyers' hospitalization came the same morning that Brown publicly spoke out about her allegations against him.
"Some of the things that he did ― it was sexual harassment, violating my body ... propositioning me for sex," she said on NBC's "Today" show. "He has touched me in different ways and it was very uncomfortable and very unprofessional."
Brown filed a complaint against Conyers in 2014 and the next year agreed to a settlement that included a nondisclosure agreement. She said she decided to break that agreement on Thursday "to stand up for all the women in the workforce that are voiceless."
Reed told HuffPost, "Nancy Pelosi can say what she wants to say," but Conyers will be the one to decide whether he stays in Congress.
"That decision is not Nancy Pelosi's to make. What she needs to do is be able to explain, when and if it comes to it, that [Minnesota Sen.] Al Franken's got, I believe four accusers, and at least one photo," Reed said. "What's the discernible difference between John Conyers and Al Franken? She's going to have to explain that."
Conyers on Sunday announced that he was stepping down as ranking member of the House Judiciary Committee while the House Ethics Committee investigates the allegations.
This story has been updated with quotes from Conyers' attorney.
Popular in the Community