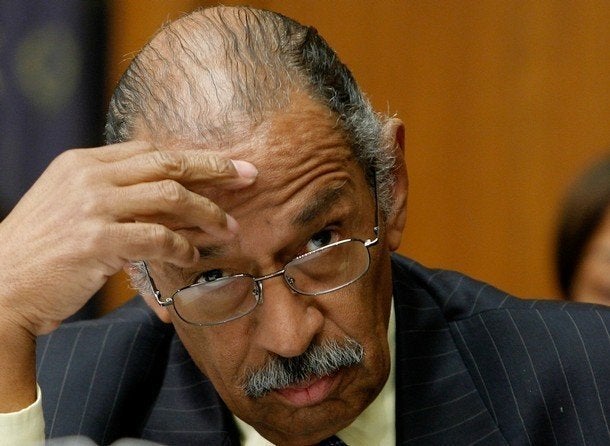 In the last 72 hours, Rep. John Conyers (D-MI) received a lot of phone calls. Today, we're asking him to be responsive and speak up.
It all began Tuesday on The Huffington Post, when we wrote about Conyers' proposal to forbid the government from requiring scientists who receive taxpayer funds for medical research to publish their findings openly on the Internet.
Conyers' bill opposing "open access" is the darling of the publishing industry because it would force the public to buy for-profit journals to get information that would otherwise be online for free. A new report by transparency group MAPLight.org shows that sponsors of this bill--led by Conyers--received twice as much money from the publishing industry as those on the relevant committee who are not sponsors.
We asked people who cared about this issue to do two things.
First, join the Change Congress donor strike -- pledging to fight the underlying cause of this corruption by not giving a penny more to politicians who don't support reforming our campaign finance system. Since Tuesday, over $100,000 in donations were withdrawn from opponents of reform--bringing the strike's current total to $981,000 (based on people's contributions last cycle).
To join this push for big-picture reform, click here.
Then, everyone who joined the donor strike received an email telling them how to contact Conyers and their local member of Congress to voice opposition to this bill, H.R. 801. That resulted in lots of people sending us notes like these:
"I joined the donor strike and committed to not support politicians who don't support campaign finance reform. Then, I called Rep. George Miller asking him to oppose the bill and called Rep. Conyers asking him to withdraw it." - Daniel L., CA

"I joined the Change Congress donor strike and called Rep. Joe Courtney and left a message asking him to oppose the Conyers bill. I am very disappointed in Conyers, whom I had always respected until now. This kind of pay-to-play politics is not the type of change we had hoped for." - Marjorie O., CT

"Rep. Conyers is usually on our side. But this does not sound good. It is certainly against the wishes of the voters who were for Obama's philosophy of open government." - Huffington Post commenter
Every hour for the last few days, notes like these have been rolling into our inboxes and posted on blogs across the Internet.
Representative Conyers, the public deserves to know you are paying attention and that you understand our concerns. Will you publicly defend this bill? Will you announce that you are withdrawing it? Either way, the public deserves an answer.
If you haven't yet taken action, it's not too late. Please join the donor strike to help solve the underlying problem of special-interest influence, and then call the congressional numbers you receive over email.
Thanks for helping to Change Congress.
Popular in the Community