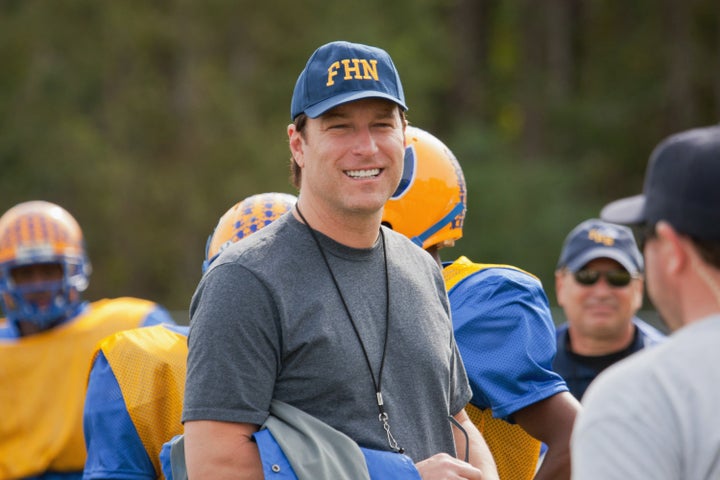 John Corbett is no stranger to TV; but with his memorable roles being "Sex and the City's" woodworking Aiden and Tara's patient husband on "United States of Tara" (R.I.P.), he's not exactly the first guy you think of when you hear "Hallmark" and "made-for-TV movie." But here he is, and fun fact: He went to them to ask for this role.
Corbett stars in "A Smile as Big as the Moon" (premieres Sun., Jan. 29, 9 p.m. EST on ABC) as a football coach and special education teacher determined to take his students to space camp. Based on a true story and the memoir of the same name by teacher Mike Kersjes with Joe Layden, many of the students in the movie were played by young actors with autism, Down syndrome and learning disabilities.
Corbett opened up about how, in some ways, these productions are better than big-budget movies, then shared his own amazement at seeing Apollo 11 and confessed that he almost had a very different life.
John Corbett in a Hallmark made-for-TV movie ...
This is a Hallmark Hall of Fame -- this isn't on the Hallmark Channel down there on 247. This is on like Channel 4! [Laughs]
So what drew you to this?
It's just a top-shelf project. I did a movie for Hallmark Hall of Fame a year and a half ago with Sam Elliott, a Christmas movie called "November Christmas." We did it in Halifax, Nova Scotia, and I was just amazed ... Look, I've done some low-budget movies and I've done some big-budget movies, and the big-budget movies were always kind of disorganized. So this was a nice medium-sized budget ... but it felt like you were making a $100 million movie the way these guys run their show over there at Hallmark. They've been doing it a long time. They know what they're doing. And I wanted to do it again.
So you approached them?
When I heard about this movie, I made some inquiries to find out how I could throw my hat into the ring. You gotta go to them sometimes! So I went to them and they said, "Yeah, we like Old Johnny. We'll bring him back to be the football coach who takes the special needs kids to space camp."
The premise is really so touching -- add that to the idea of going to space camp and, I mean, space is amazing.
I didn't really know what to expect, but as soon as you pull up to the building -- the U.S. Space and Rocket Center in Huntsville, Alabama -- there's a giant building with the Apollo 11, from the rocket where Neil [Armstrong], Buzz [Aldrin] and Mike Collins sat. It's an exact replica, down to the threads of every nut and bolt, so that the guys could work on this thing and perfect it. You see it as you're down the freeway, then you walk under that thing and you just think, "My Lord ... Look at the size of just one of those five rockets. It's as big as a building." It's just amazing to see that technology and where we were putting our thinking in the '60s.
For this movie, your main costars were kids. Did it take you back at all to watch them experience this? What did you want to be when you grew up?
You know, I like playing music and playing guitar, and I like to draw, so I thought I would end up just probably barely making a living, or probably having to have some other job, but being involved in one of those things that I really like to do. But that didn't work out like that. When I got out of high school, I didn't go to college -- I worked in a steel factory for six years. I made a pretty good living! It was a union job, it was 1980 or so and I was making $19 an hour. I actually got hurt in a steel factory in 1985 and so that changed my life. I went to a junior college and that's where I discovered acting. I'd never even seen a play by the time I was 24 years old. My life took another path, but yeah, I was happy working in that steel factory.
"A Smile as Big as the Moon" premieres Sunday, Jan. 29 at 9 p.m. EST on ABC.
Calling all HuffPost superfans!
Sign up for membership to become a founding member and help shape HuffPost's next chapter
BEFORE YOU GO