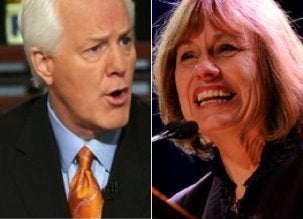 Texas Sen. John Cornyn, who chairs the National Republican Senatorial Committee, characterized Sharron Angle's Nevada Senate campaign as "a work in progress" this week.
Not quite the vote of confidence from a major national party leader Angle might have wanted.
Since winning the Republican nomination to take on Senate Majority Leader Harry Reid, Angle's campaign has hit a fair number of speed bumps. She's made repeated media-related gaffes and stood by her controversial views.
On Thursday, Cornyn offered an assessment of Angle's political operation:
"While running for election is not rocket science, it does require knowledgeable people," the Texas Senator told Hotline on Call. "It does require some discipline and that's always a struggle for any first time candidate. While she's not a first time candidate, I think when you're running against the incumbent Majority Leader ... it's the Super Bowl and they're gonna come at you with everything they've got and it would be a challenge for anybody to withstand the negative attacks."
Following Angle's primary win, Cornyn predicted that it would "take a few weeks" before the newly-minted Republican hopeful would be ready to face the media to answer questions about her candidacy and campaign.
"I think she needs to get staffed up and prepared," he said nearly a month ago.
The Washington Post reports that Angle acknowledges the volatility of her own campaign.
"We're going to have to roller coaster for a while," the GOP hopeful told her staff as the general election match-up got underway. "You saw it during the primary. We were up, we were down. But we always knew that it would all come together at the right time. And it did. And that's what we're looking forward to. . . . Don't lose your nerve in the beginning here, because we've got a pretty long road."
Popular in the Community