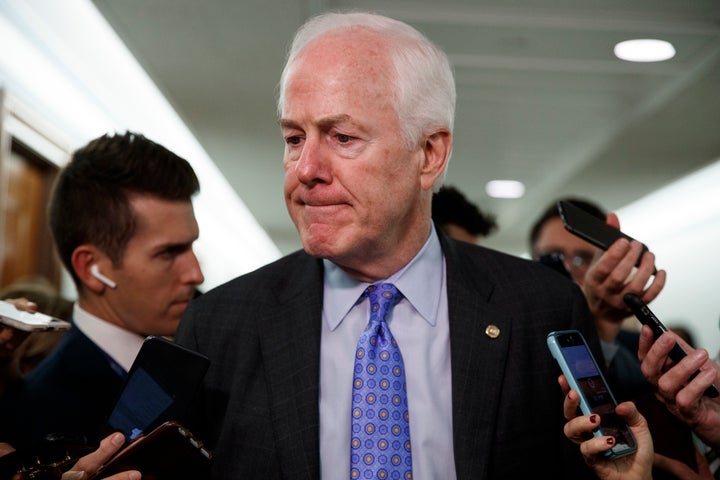 Texas has for decades been considered a Republican stronghold — but according to John Cornyn, longtime GOP senator from the Lone Star state, that can no longer be taken for granted.
Speaking to radio talk show host Hugh Hewitt on Monday, Cornyn, who has served as Senate majority whip since 2015, said his home state is not "a reliably red state" anymore ― but is instead an increasingly "purple" one.
Cornyn, who was first elected to the Senate in 2002, was discussing the hotly contested midterm Senate race between Republican incumbent Ted Cruz and Democratic Congressman Beto O'Rourke. Cruz managed to eke out a win by about 3 percentage points but his narrow victory cast a spotlight on a changing Texas, Cornyn said.
"Texas is no longer, I believe, a reliably red state," the senator told Hewitt. "We are on the precipice of turning purple, and we've got a lot of work to do to keep it red, because we lost, we got blown out in the urban areas" in the Cruz-O'Rourke race.
"We got beat in the suburbs, which used to be our traditional strongholds," he said. "And if it wasn't for the rural areas of the state, where Senator Cruz won handily, it might not have turned out the way it did."
When asked by Hewitt whether he believes O'Rourke might challenge him in 2020, when Cornyn is up for re-election, the senator said he believes O'Rourke has bigger fish to fry. 
"I think Beto's got stars in his eyes, and he's going to go for the big one," Cornyn quipped, referring to the presidency.
O'Rourke told reporters on Monday that he wasn't "ruling out" a possible 2020 presidential bid.  
Calling all HuffPost superfans!
Sign up for membership to become a founding member and help shape HuffPost's next chapter
BEFORE YOU GO