 Rep. Todd Akin (R-Mo.) repeatedly insisted he was not dropping his Senate bid on Monday, despite calls from a growing number of Republicans to reconsider his campaign in the wake of controversial comments he made about rape victims.
"I recognize that this is a difficult time for him, but over the next twenty-four hours, Congressman Akin should carefully consider what is best for him, his family, the Republican Party, and the values that he cares about and has fought for throughout his career in public service," added Cornyn.
In an interview with New Hampshire's WMUR on Monday, presumptive Republican presidential nominee Mitt Romney said Akin should "spend 24 hours considering what will best help the country at this critical time."
Sens. Scott Brown (R-Mass.) and Ron Johnson (R-Wis.) have both called on Akin to drop out, while Senate Minority Leader Mitch McConnell (R-Ky.) called Akin's comments "totally inexcusable," joining his fellow Republicans in suggesting that the congressman's exit from the race may be best for everyone.
"Although Representative Akin has apologized, I believe he should take time with his family to consider whether this statement will prevent him from effectively representing our party in this critical election," McConnell said.
Rep. Steve King (R-Iowa), who has endorsed Akin, declined to defend him during a town hall meeting Monday.
"I've never heard of a medical situation such as is implied or stated with his statement, and I wouldn't be willing to take a public position until such time as I look back into them and see what the facts are," he said.
Even the conservative National Review piled on, writing, "People who make such remarks on television are typically capable of making more like them, or rather incapable of exercising the judgment to refrain. We suspect that this same lack of judgment will cause Akin to blow past tomorrow evening's deadline for him to leave the race and allow the Republicans to select a better nominee. We hope the congressman, who surely wants to see a Senate with as much conservative strength as possible next year, will prove us wrong."
"I'm not a quitter," he said.
The deadline for Akin to withdraw is Tuesday at 5:00 p.m. He could also withdraw by court order by Sept. 25, although he would have to pay printing costs for new ballots.
Cornyn did not explicitly call on Akin to drop his bid for the Senate, but it's notable that he didn't stand behind his party's candidate, who is trying to unseat Sen. Claire McCaskill (D-Mo.). Missouri is a top target for Republicans in 2012, and they're hoping to win back the seat in order to help them gain a majority in the Senate.
CNN's Dana Bash said that a source told her that the NRSC won't provide Akin with any support if he stays in the race, and that he is endangering the GOP's chances at retaking the majority if he doesn't drop out.
The conservative group Crossroads GPS on Monday pulled its latest round of ads from the Missouri Senate race. According to Politico, the group had originally intended for the ads to start airing on Wednesday.
Some of Akin's only defenders Monday came from his social conservative base. Connie Mackey, a top official with the Family Research Council, told CNN the controversy was "a case of gotcha politics."
UPDATE: 4:15 p.m. -- Akin insisted he was staying in the race during a Monday afternoon appearance on Sean Hannity's radio show, despite the growing number of GOP leaders calling on him to step aside.
"I'm announcing today that we're going to stay in," he said.
Hannity was considerably tougher on Akin than was Huckabee earlier in the day, telling the congressman that with his remarks, he handed Democrats ammunition to use against all other Republican candidates.
"Here's my big fear, Congressman, if I could just be blunt with you," Hannity said. "Sometimes an election is bigger than one person, and I think you'd agree with that. To me, I am very concerned, and I know many other conservatives are as well because they have all written me today, that if you stay in the race and this becomes the defining issue of the race, and there is a timeline in place here, that this could then put the entire state of Missouri -- this Senate seat and even the top of the ticket -- in jeopardy in Missouri."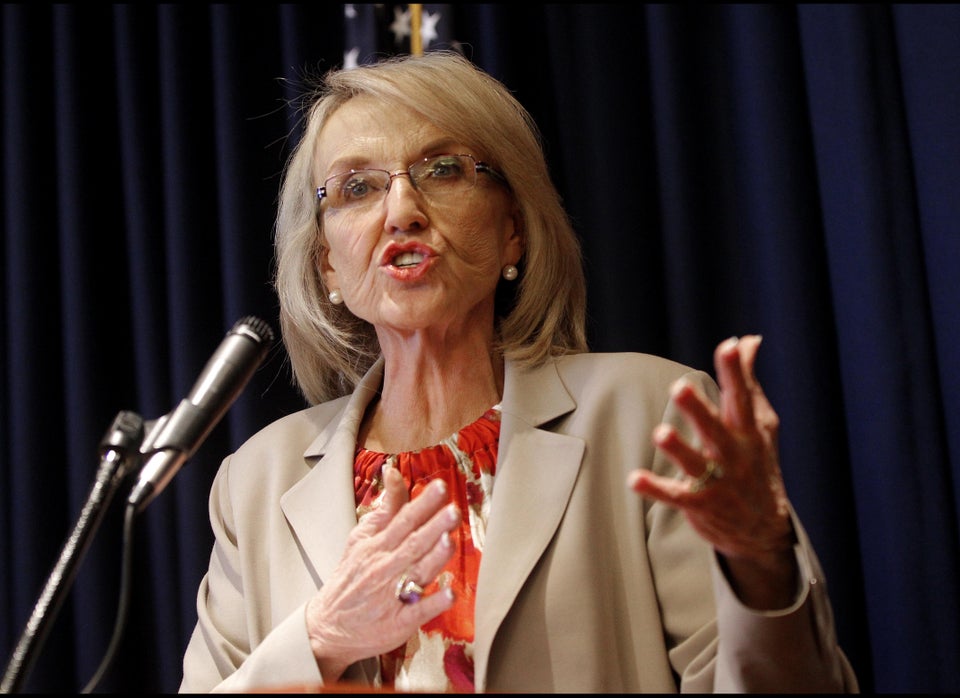 Political Reaction To Akin 'Rape' Comments
Popular in the Community