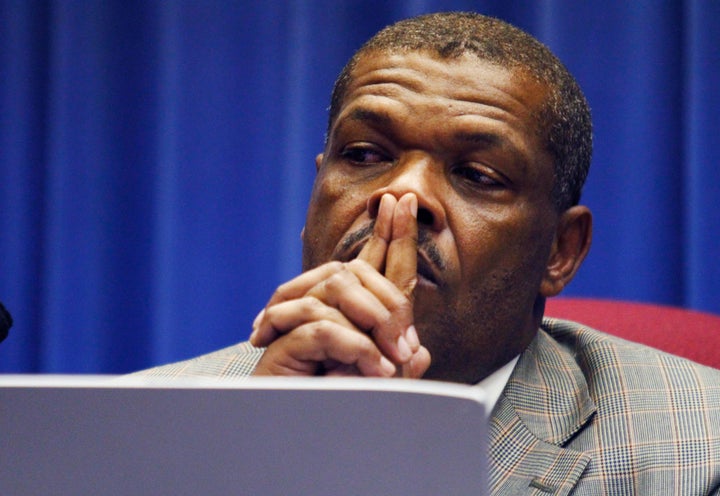 The abrupt departure of John Covington from his post as superintendent of Kansas City, Missouri's schools reveals how interpersonal disputes between school board members can get between strategic plans and the children they're meant to serve.
On Wednesday evening, Covington handed his resignation letter to the school board. A few minutes later, board member Arthur Benson did the same, saying that alleged malfeasance by board president Airick West had made Covington's job impossible.
Before his resignation, Covington filed an open records request into West's involvement in the selection of contracts for the district's $85 million construction plan. In a statement, Benson alleged that a bidder contacted West, who used information from the bidder to alter district policies. According to Benson, when Covington asked for their correspondences in order to detect potential conflicts of interest, West refused to provide them.
"West's interference in the Superintendent's administration of the educational and business affairs of the District was a direct violation of both the Superintendent's contract and of the promise made by this School Board to the community not to engage in micromanagement," Benson said in the statement.
West did not respond to requests for comment, though he did conduct a press conference after a closed-door meeting in which he said that the school board was not accepting Covington's resignation or appointing an interim superintendent. Yet Covington's contract allows him to resign at any time, regardless of whether or not the board accepts it. "I feel that I am obligated to reiterate that I have resigned as Superintendent of Schools for the Kansas City, Missouri School District, and do not plan to retract my resignation," Covington said after the press conference.
The beleaguered schools of Kansas City serve 50,000 students and have seen six superintendents since 1999 -- on average, a departure every two years. Covington's appointment in 2009 marked the beginning of a new plan for the system to set higher standards and "right size" Kansas City's schools, a plan that involved closing half its school buildings and reassigning half its employees. At first, the plan was met with outrage from parents and civic leaders, but Covington eventually won them over.
The U.S. Education Department has encouraged school districts around the country to use school turnaround plans to shake up staffs, in an attempt to ameliorate failing schools. These plans are wildly unpopular among parents and children, according to Brown University Education professor Kenneth Wong, because they foster uncertainty.
"School closures create logistical and emotional reactions -- whether it's finding bus routes or new friendships," Wong said.
While the current dispute in Kansas City has little to do with school closures, it shows how school board politics can affect the implementation of such plans. According to state school board member the Rev. Stan Archie, Kansas City schools have largely failed because every superintendent brought along a new one.
"We've been changing plans for the last ten years and we've suffered," Archie said. This year, the schools posted dismal test scores, but the district attributes that to the initial trauma of the shakeup.
Civic leaders are trying to get Covington to stay, but Benson said Covington would refuse to do so unless West resigns. Regardless of how the saga ends, the drama has alerted the Missouri board of education to the volatile state of affairs in Kansas City. The district is currently under review for reaccreditation, and could face state takeover in 2014 as a result of the episode.
"We have had concerns about the stability of their leadership and superintendency," Chris Nicastro, Missouri commissioner of education, told The Huffington Post. "Those concerns have resurfaced now with the resignation."
Jeff Henig, a Teachers College, Columbia University professor who consulted for the district in 2001, said Benson got involved in the school system partly in response to fears of a state takeover. "There's a sense that elected school boards micromanage and make it hard for school leaders to undertake substantial changes," Henig said. "I don't think those takeovers have a particularly good record."
Henig predicted that given its history, the Kansas City school district may have a problem recruiting a new superintendent. "Top people don't want to come into a situation if there's a nest of vipers there," Henig said.
Wong added that pervasive budget cuts and layoffs make 2011 a difficult time to be an urban superintendent.
"I don't remember the last time school superintendents have had to deal with so many challenging issues coming at them at the same time," he said.
Benson said he sees Covington's resignation as a loss for the city. "Covington was brought here because he deeply believed in our vision about coaching kids to their own deep understanding rather than teaching to tests and using authentic assessments," Benson said in a phone interview.
He added that West had called him on Thursday, asking them to resign together. Benson cursed him out, saying West had lied to him in front of the school board.
"I apologize for the profanity, but not anything else," Benson said.
School board member Arthur Benson will hold a press conference to discuss the rumor in Kansas City at 2:15 p.m. EST.
Sources tell The Huffington Post that Covington may have manufactured the dispute with West to get out of his contract in Kansas City.
UPDATE: 3:35 p.m. -- The announcement of Covington's job offer and interview in Detroit will reportedly be broadcast at http://detroitk12.org/ when the state's special authority committee exists a closed-door meeting.
Kansas City school board member Benson has withdrawn his resignation.
UPDATE: 4:35 p.m. -- In a public appearance in Detroit, Covington said he is "extremely excited" about the Michigan opportunity.
"Dr. Covington, welcome to Michigan," said Detroit's Emergency Manager Roy Roberts. Roberts also heads the special district.
Meanwhile, the Kansas City school board has named Chace Ramey, Covington's chief of staff, as the interim superintendent.
UPDATE: 5:10 p.m. -- Detroit Public Schools released a statement confirming Covington's new job and touting his accomplishments. "There may be no greater opportunity to make a dramatic shift in the lives of many, many deserving young people than through this new system," Covington said. But Kansas City locals continue to question Covington's motives and track record there.
According to the statement:
John Wm. Covington, Ed.D., an education innovator and creative problem solver with a track record of success in urban school districts, has been selected as the first Chancellor of the Education Achievement Authority, based on action by the Authority's Board this afternoon.

...

Covington has one of the strongest track records in the nation of initiating district-wide reforms that make it possible for students and teachers to succeed. When he became Kansas City Schools superintendent in 2009, the schools were half-empty, the district had a $50 million deficit and was facing potential bankruptcy, and barely 25 percent of students scored proficient on the state exams. By the end of Covington's first year, the district posted the greatest academic student performance gains on the state assessment since the development of the current Missouri test.

Additional reforms undertaken by Covington in Kansas City include the right-sizing process, the presentation of a balanced budget for the 2011 fiscal year (the first time in several decades), the initiation and completion of a community-wide strategic planning effort, and the development and implementation of student centered education designed to address the individual and diverse learning needs of all students enrolled in KCMSD. The district eliminated wasteful spending and called for greater fiscal accountability by reducing vendor contracts from more than 6,000 to approximately 800, saving $35 million.

...

Roy Roberts, Detroit Public Schools Emergency Manager and Chairman of the EAA Executive Committee, said, "Dr. Covington brings not just great experience and skill but one of the strongest track records in raising student achievement in the nation. Detroit – in fact all of Michigan – is very fortunate that such a leader has agreed to join us on this important work."

"There may be no greater opportunity to make a dramatic shift in the lives of many, many deserving young people than through this new system," Covington said. "We know what we need to do to produce far better opportunities and outcomes for students and we certainly know how great the need is here in Detroit and in the rest of Michigan. With support for major change coming both from the Detroit community and the state, I am confident that we can succeed. I truly believe we will create a modern, nationally acclaimed system of public schools that puts students on the path to graduate prepared for college, careers and anything to which they aspire. We are talking about academic change the likes of which Detroit and Michigan has never seen."

"The future of Detroit and Michigan depends on making our education system a success for our students, our teachers, our parents and our economy," said Michigan Gov. Rick Snyder. "Dr. Covington's record of achievement is just the right fit to ensure that our children get the education they so richly need and deserve. Coupled with the leadership of Roy Roberts, the EAA, and tremendous community and business support, challenged Detroit and Michigan schools are on track for a dramatic turnaround. The time and opportunity are truly now.".
The statement does not address the controversial circumstances of Covington's departure.

Popular in the Community