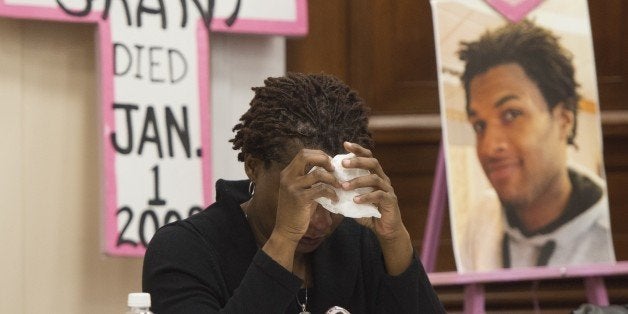 John Crawford III was the twenty-two-year old father of John IV and Jayden. Partner of Tasha Thomas. Son of Tressa Sherrod and John Crawford, Junior. Prospective university enrollee. But, above all, John Crawford III was a human being. Not a petty criminal, not a statistic. A human being.
A man whose two sons, aged one and six months, are left fatherless. A man whose girlfriend was subjected to hours of verbal abuse and threats from Beavercreek Police before officers alerted her to the death of her partner, and died, tragically, less than a month after videotape of her ordeal went public. A man whose mother smiled at his plans to return to school and pursue his dream of becoming a meteorologist. A man whose father, upon learning of the passing of his namesake, said in response:
"I worked under this system off and on for almost 20 years, under the criminal justice umbrella, and never before have I been so ashamed - that the same system that I carry out my duties is the same system that I'm receiving injustice from, the same system that we all are receiving injustice from."
Tamir Rice, like John Crawford at one time, was a child. Tamir Rice, like John Crawford, was the boundless potential of youth. Most fatefully, Tamir Rice, like John Crawford, was an African-American with a toy gun in a public place in Ohio. A victim of incomplete or wholly inaccurate information provided to police, and of a bias older than the nation itself.
What does it say about our nation when these facts alone are not enough to merit universal outrage? When a man can lie to the police and suffer no penalty, even as a toddler and infant are left fatherless as a result of his prevarications? When thought leaders suggest that protesters ignore the slaying of an 18-year-old college freshman to take up the defense of a slain 12-year-old child, because the optics are more disagreeable to the American mainstream? When video of a man being choked to death by a police officer is not strong enough evidence to warrant even a simple charge of reckless endangerment, though chokeholds have been outlawed by the police force in question for over twenty years? What does it say about our priorities? Our desires? Our values?
It says that the premium paid to ensure our security is Black and Brown life. That wrongful death at the hands of law enforcement is simply the "cost of doing business," to be shrugged off as abstract. That those who believe that this violence is a very real and present concern that must be addressed are extremists who must be silenced to preserve social order. That there are issues more pressing than the inability of a large swath of the American population to build and protect that which is most sacred, the foundation upon which our society is built -- a family, a community, a life.
And so, the question becomes: what is left to say?
I don't know that there's a quick and easy answer, or even a hope for an end to the perpetual state of terror under which Black women and men exist -- that is, no answer beyond the immediate and irrevocable end of White supremacy in the Western world. No discussion of "privilege" can adequately convey the state of the world, or the state of our Union, because so many White Americans can truthfully lay claim to being "underprivileged" in a social and economic sense, and thus ignore our plea for empathy. And so we must address our enemy by its name, clearly and openly. It is White supremacy that tells us that John Crawford's killer is not worth prosecuting. It is White supremacy that tells us that he and his girlfriend were on drugs at the time of the shooting. It is White supremacy that tells us that he pointed the BB gun at children in the store as shoppers ran, terrified. It is White supremacy that tells us that a Black man exercising his Second Amendment right in an open-carry state is a threat that must be neutralized with extreme prejudice, or that the law's suspicion and suppression of Black and Brown bodies is necessary to preserve order and liberty. It is White supremacy that we must combat -- and defeat -- in order for justice, in John Crawford's name, to truly be served. And, cliché as it sounds, this is only achievable through radical, defiant, revolutionary love.
Genuine compassion for, and communion with, the families of our fallen must take place, and it must be universal. We must acknowledge and affirm the basic humanity of every living soul. We must stand together as one and proclaim loudly and honestly: Black lives matter. We need to believe it, and we need to follow through with it. Because only after Black life is loved, respected, and valued will Black life finally be allowed to flourish. Only then can our nation be made whole.
This post is part of the "28 Black Lives That Matter" series produced by The Huffington Post for Black History Month. Each day in February, this series will shine a spotlight on one African-American individual who made headlines in 2014 -- mostly in circumstances we all wished had not taken place. This series will pay tribute to these individuals and address the underlying circumstances that led to their unfortunate outcomes. To follow the conversation on Twitter, view #28BlackLives -- and to see all the posts as part of our Black History Month coverage, read here.
Calling all HuffPost superfans!
Sign up for membership to become a founding member and help shape HuffPost's next chapter