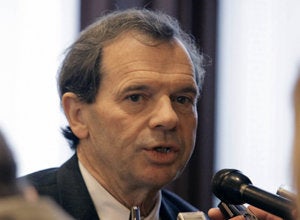 llinois Senate Democrats picked Chicagoan John Cullerton to become the next Senate president, part of a shake-up Wednesday that could change the atmosphere at a statehouse crippled by feuds and rivalries.
While the Democratic majority selected Cullerton, Senate Republicans resolved a leadership battle of their own. They elected Christine Radogno of Lemont, making her the first woman to win one of the Legislature's top leadership posts.
"My whole goal and one of the reasons I wanted to run was to get out of this gridlock that we have," Cullerton said, adding that his top priority will be passing a statewide construction program.
Cullerton and Radogno will start their new jobs in January when a new General Assembly is sworn in. With Democrats holding a 37-22 majority, Cullerton's election as Senate president should be a formality.
The new Senate leaders represent the first major changes in the Springfield cast of characters since 2003, when Gov. Rod Blagojevich took office and three of the four legislative leaders entered their current positions. Only House Speaker Michael Madigan, D-Chicago, was already in place.
Cullerton, from Chicago's North Side, has served in the Legislature since 1979, developing a reputation for handling complex legal issues. He was a leader in overhauling the state's death penalty system and in mandating seat belt use.
He is considered an ally of Chicago Mayor Richard Daley and friendly with Madigan - a sharp contrast with current President Emil Jones, who has clashed repeatedly with Madigan.
Cullerton, 60, defeated James Clayborne of Belleville on the second ballot, lawmakers said as they left a two-hour meeting behind closed doors. The first vote was 20-13, with three other votes going to Sen. Terry Link of Waukegan.
Rather than risk a bitter, protracted fight, Cullerton's rivals agreed to make the second vote unanimous.
Clayborne is widely expected to be named majority leader, the No. 2 Democratic position, partly as a reward for dropping the leadership fight and partly because he lives downstate.
"You have to have a downstater in the mix," said Sen. Mike Jacobs, D-East Moline. "My friends in Chicago aren't going to give us anything unless we fight and kick and crawl for it."
Cullerton wouldn't comment, but Clayborne said he has been promised the job of majority leader as a way of "making sure we came together and those who supported me did have a voice in the process."
Clayborne has been a lawmaker since 1995 and is best known for his work on electric rates and other utility issues.
Relationships with other state officials are important in the race for Senate president because many senators feel Jones allied himself too closely with the governor. Several senators have said they want a president who will resist the influence of other state leaders, whether it's Blagojevich, Madigan or Daley.
Cullerton, who lives just blocks from the governor, said he will try to improve the relationship between Blagojevich and Madigan.
"If I can get the speaker and the governor together, then I'm going to go to the Middle East and solve that crisis," he joked.
Republicans had a leadership opening because current Minority Leader Frank Watson is stepping down from the post after suffering a stroke.
Radogno, 55, defeated Kirk Dillard of Hinsdale for the job. A spokeswoman said the final vote was unanimous but didn't know the caucus was divided in earlier votes.
Radogno is a moderate on social issues, supporting abortion access and gay rights. But her legislative focus has been on the state budget and she has become the top fiscal expert within the GOP caucus.
Dillard is the former GOP chairman in DuPage County, the unofficial heart of Republican Illinois. Although conservative, he comes from a background of compromise and dealmaking rather than rigid ideology.
Calling all HuffPost superfans!
Sign up for membership to become a founding member and help shape HuffPost's next chapter