Dean cooperated with prosecutors during the Watergate investigation in the early 1970s in exchange for a reduced prison sentence for his involvement in the burglaries and subsequent cover-up by the Nixon administration.
He testified before the House Judiciary Committee on Monday, saying that special counsel Robert Mueller's report ― which outlines 10 instances of potential obstruction of justice by the president ― is to Trump what the Watergate grand jury report was to Nixon.
"In many ways the Mueller report is to President Trump what the so-called 'Watergate road map'... was to President Richard Nixon," Dean said. "Mueller has provided this committee with a road map."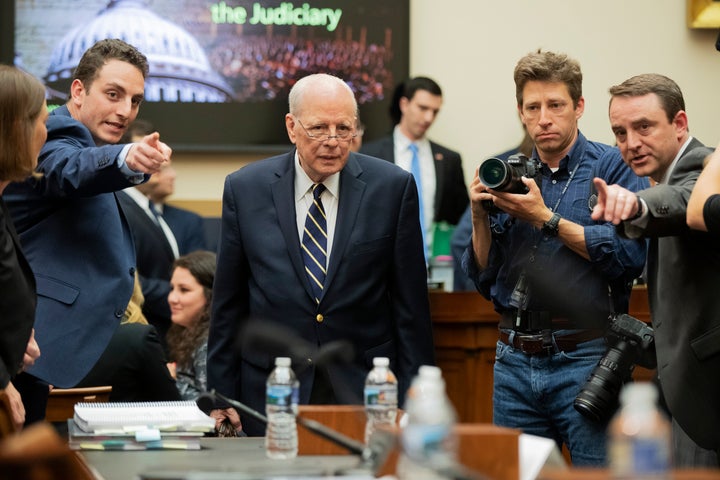 Dean said the House panel has a crucial role to play in educating the public about the conclusions drawn from the special counsel's 448-page report.
"This report has not been widely read in the United States," he said. "It's not even been widely read in the Congress."
The former attorney also said he believes the Mueller report contains evidence of collusion between Trump's 2016 presidential campaign and Russia. Mueller, in his report, said his office did not find enough evidence to establish a conspiracy between the two parties.
In his prepared testimony, Dean cited six examples of what he believes was obstruction of justice committed by Trump, and compared them with Nixon's actions in the Watergate scandal.
Dean called on former Trump White House counsel Don McGahn to testify before the House Judiciary Committee, despite the president directing McGahn not to do so.
"Mr. McGahn represents not Donald Trump but the office of the president," Dean told the House panel Monday. "His client is the office of the president, and I think he owes that office his testimony before the committee."
Trump had bashed House Democrats earlier on Monday for inviting Dean to testify.
"Can't believe they are bringing in John Dean, the disgraced Nixon White House Counsel who is a paid CNN contributor," the president tweeted. "No Collusion - No Obstruction! Democrats just want a do-over which they'll never get!"
Rep. Matt Gaetz (R-Fla.) also took aim at Dean for comparing other presidents to Nixon.
"Throughout history, you accuse presidents of acting like Richard Nixon and you make money off of it, right?" Gaetz charged. Dean, he claimed, had made a "cottage industry" out of comparing presidents to Nixon.
"Those who do act like him, I point it out," Dean responded after some back and forth. In 2004, Dean published a book arguing that former President George W. Bush's administration was employing the same secrecy tactics that Nixon did. 
John Malcolm, a senior legal fellow at the Heritage Foundation, also testified before the House panel on Monday, as did Barbara McQuade, former U.S. attorney for the Eastern District of Michigan, and Joyce White Vance, former U.S. attorney for the Northern District of Alabama.
"If I was assessing that evidence as to a person other than a sitting president, the facts contained in [the Mueller] report would be sufficient to prove all of the elements necessary to charge multiple counts of obstruction of justice," Vance said.
This article has been updated with the questioning by Rep. Matt Gaetz.
Lydia O'Connor contributed to this report.
REAL LIFE. REAL NEWS. REAL VOICES.
Help us tell more of the stories that matter from voices that too often remain unheard.