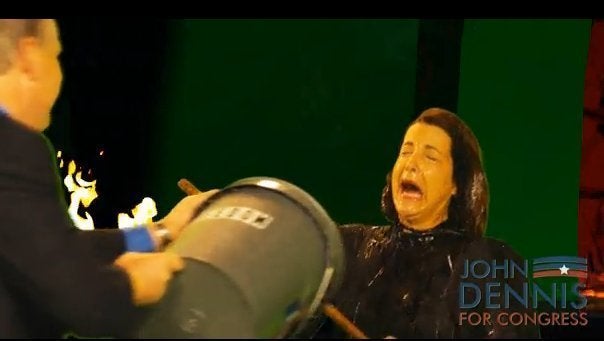 John Dennis, a longshot Republican challenger to House Speaker Nancy Pelosi (D-Calif.), has brought technicolor to the tea party with a new ad, recently uncovered by a HuffPost citizen journalist on assignment for the Eyes & Ears 2010 program, that seeks to paint his opponent as the "Wicked Witch of the West," the infamous villain in 'The Wizard Of Oz.'
In the ad, directed by Ladd Ehlinger, Jr., the mind behind Dale Peterson's rapid rise to fame, a motley crew of Frank Baumian characters -- a John Boehner-hued scarecrow, a lion (we guess), a chubby tin man, and of course the innocent young Dorothy -- lament the current state of political parties and the heavy taxes brought on by former treasury secretary and "Wizard of Oz" Hank Paulson.
In comes Nancy Pelosi, the "Wicked Witch of the West," piloting what appears to be a flaming airliner, making the innocent "pretties" pay for her expensive San Francisco offices, throwing debt around with "Wall Street bailouts" and sicing her flying IRS tax monkeys on the American taxpayers.
Don't despair however, John Dennis, a tea party-backed Republican candidate running against Pelosi in 8th Congressional District, enters stage-left to throw a scream-inducing bucket of "freedom" all over the Witch's face.
Watch John Dennis's "Wicked Witch of the West" Ad:
Popular in the Community