JOHN DOE'S "SUNLIGHT" EXCLUSIVE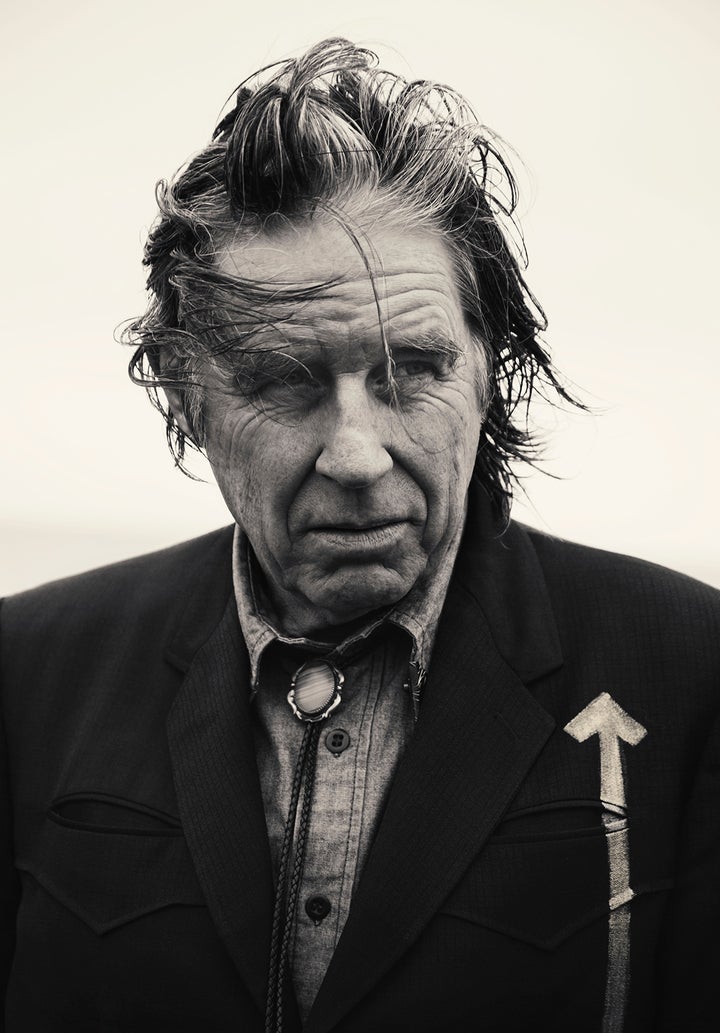 "Sunlight" is artist John Doe's latest music video and new track from The Westerner that drops April 29th on Cool Rock Records/Thirty Tigers. It features ten new tracks from Doe with guest appearances from Chan Marshall of Cat Power, Debbie Harry of Blondie, Cindy Wasserman of Dead Rock West and Tom Brosseau. The Westerner was produced by Howe Gelb (Neko Case, M. Ward), Dave Way (Fiona Apple) and Mr. Doe.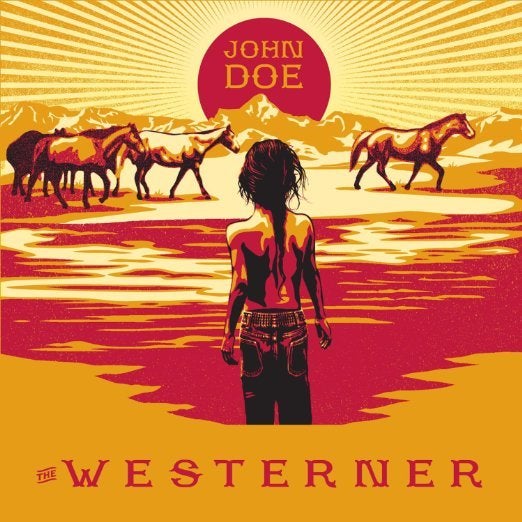 About The Westerner, John calls it his "psychedelic soul record from the Arizona desert," and offers the following...
"The song 'Sunlight' tells the story of someone who has had a rough & long life but only wishes for a moment's peace. Looking out the window of a car may be the best way to listen to music. This why we shot the side of a dirt road in Joshua Tree, California. The nothingness allows you to listen to the song. Everyone feels mysterious & expanded in the desert. The last shot of a crow flying is my favorite. Is it someone's spirit?"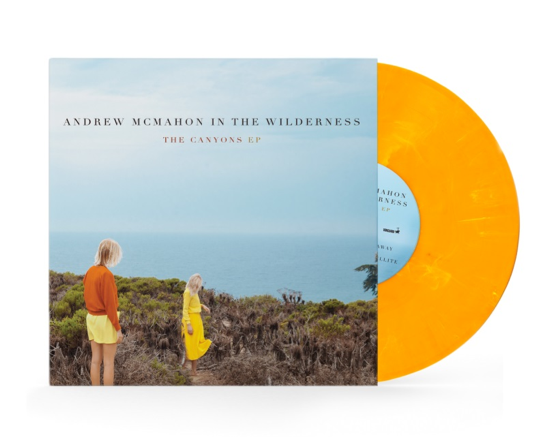 Andrew McMahon is back, so if you see Jordan, you might want to tell him the former Jack's Mannequin and Something Corporateer's new 10" vinyl drops tomorrow, April 16, for yet another Record Store Day. It's titled The Canyons EP and features four newly recorded versions of tracks from Andrew's self-titled album (add "...In The Wilderness"), one of the great projects of the year of its release, which included the perpetual hit/modern classic "Cecilia And The Satellite." By the way, "High Dive"--from the original AMITW album--is the latest single.
The Canyons EP - Tracklist:
2. Cecilia And The Satellite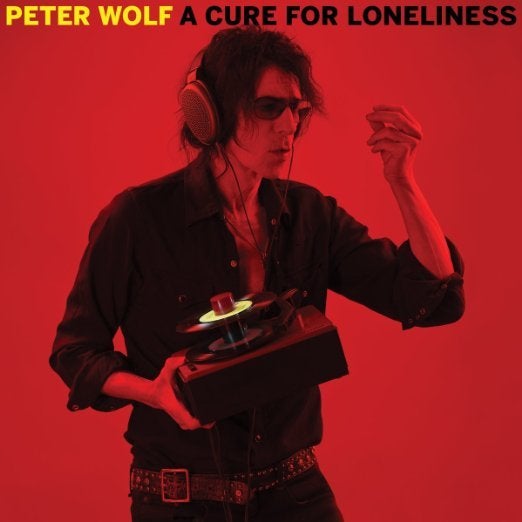 A Conversation with Peter Wolf
Mike Ragogna: Peter, your new project is titled A Cure For Loneliness. Is it truly a cure?
Peter Wolf: There are many things that could be a cure for loneliness, but one of them for me has definitely been music, and the process of making a new recording with people I really love to work with. Coming in every day and spending late hours going through the process of writing and getting something done, that's my cure. Music has been my cure throughout my life.
MR: When was the cure administered?
PW: I was baptized into rock 'n' roll at a very early age. My sister was a dancer on the Alan Freed Big Beat show on TV. My first rock 'n' roll concert had Chuck Berry, Little Richard, Jerry Lee Lewis, Buddy Holly, Screamin' Jay Hawkins, The Everly Brothers, Dion & The Belmonts, The Chantels and several more acts. As a ten year old, I saw the crème de la crème.
MR: When did you decide to become a musician?
PW: When I was ten years old, the idea of actually becoming a performing musician never occurred to me. What happened was I got so involved as a music fan early on that after that concert I went out and got all the Little Richard records I could get my hands on, then Elvis was big at that point--I was a constant consumer at the record store. If it was collecting soda pop bottles, whatever, I had to get certain records. It became my drug.
PW: Right. When I was growing up, radio was very powerful media. There were some really fantastic characters who were DJs. They played what they liked, and what they liked really created the history of rock 'n' roll, and I happened to be there to absorb it.
MR: What was it like picking up a musical instrument for the first time? Was it a hypnotic thing teaching yourself to play?
PW: There was a painful thing, because I am extremely dyslexic. They started me off on piano and the piano teacher told my mother, "He's hopeless." I fooled around on guitar and the guitar teacher told my mother, "He's hopeless." But I am pretty hopeless; I play chords and write songs, but I don't consider myself a musician, per se, and that's why I find myself working with an A-team of people. They're the ones that really create the musical aspect of it. I feel very blessed having such great musicians surround me.
MR: You co-wrote songs on A Cure For Lonliness. Which are you more comfortable with, writing or co-writing?
PW: I really prefer collaboration. When you sit in with somebody who has great contributions to give you, there's a discipline. You're spending three or four hours, you can't wander, there's a give and take. Somebody like Will Jennings, who's like no other--Will is such a gifted, incredible musician--I feel so honored being able to work with him, and triply honored by being able to consider him an important friend. We're sort of like kindred spirits. For people who don't know Will's stuff, the things he did with Steve Winwood, "Higher Love," Eric Clapton, "Tears In Heaven," he's won multiple Grammys and Academy Awards, he's worked with people like Henry Mancini, his artistry is vast. When you're working with someone that brilliant and that talented, it definitely rubs off.
MR: What's the chemistry like when you write with him? Does it get a little rough sometimes writing with somebody who you look up to, and who's as classic a songwriter?
PW: Will is so talented, when you're with someone that is as gifted as him, you just feel very blessed that you're working together.
MR: How do you write? What is the zone like for you?
PW: There's really not one formula. Like yourself, I'm always curious when I hear a song that I love. "How did that come about?" There's the cliché that someone asked Sammy Cahn, the great songwriter who wrote a lot of songs for [Frank] Sinatra, "What comes first, the music or the lyrics?" and Sammy said, "The phone call." For me, some songs have come with music, some songs have come with lyrics, some were inspired by a combination thereof, but there's no set way, and there's no rigid way. I think you sort of play it by ear. Each song has its own kind of history, really. I'm always amazed at people who say, "I don't know who wrote the song, it seemed to just come through me." Songwriting has a certain craft to it, but there's a great mysterious process to it. I guess the answer is there is no answer.
MR: What was it like recording A Cure For Loneliness?
PW: Well, we did some in the studio and we recorded all the songs live and we picked ones that we felt had the best emotional quality to them. But all the songs that you hear that were in the studio were also recorded live. For something like "Love Stinks," I got to meet Bill Monroe, who many consider the father of bluegrass, several times. Sometimes we do acoustic shows, and we were backstage fooling around with some Bill Monroe song and I just started kidding around singing "Love Stinks." Later that night, I just called it on stage and it went down so well, and since we happened to record it, when we were going through the songs people always had a big smile on their face when they listened to it. "That's so great, you've got to include that." At first, I didn't want to, but then I realized, "You know, they might be right. People do enjoy it." So I included it.
MR: A bluegrass version of "Love Stinks" is pretty surprising.
PW: Well, everybody was having such a good time playing it, I hope that comes through in the recording.
MR: It also speaks to the quality and the timelessness of the song. You know you have a good song when you can put it into a different genre and it still pops out like that.
PW: It's true. Look at how many country songs Ray Charles recorded and turned into soul songs. Look how many standards there were that doo-wop bands picked up. The Platters did "Smoke Gets In Your Eyes" and "I Only Have Eyes For You." Certain songs just live on forever, and can be reinterpreted in different ways. So many show tunes become jazz standards. You're right, songs take on their own lives.
MR: And speaking of future classics, you recorded "It's Raining."
PW: "It's Raining" was a song that I wrote with Don Covay. Don wrote "Chain Of Fools" for Aretha, he and I wrote "Lights Out" which is my first single as a soloist, he wrote many great songs for Otis Redding, he was a protégé of Sam Cooke, he wrote "Mercy Mercy" that the Stones recorded, he was very close with Bobby Womack who I was a great fan of. I was going to have Bobby Womack do a duet with me, but the day we finished the track, I found out that Bobby passed away, so I went back in the studio and put on that introduction. Don Covay and Womack were very close. Bobby Womack recorded the first version of "Looking For Love," which became a stable of the Geils repertoire.
MR: I've sometimes confused you with the other musical Peter Wolf...maybe even during this interview!
PW: I have to help you out here. There are two Peter Wolfs: The Peter Wolf who did Jefferson Starship and Wang Chung, is a piano player and producer, and that's not me. The only records that I've produced have been things for J. Geils and my solo stuff. It's a very confusing situation. The lead singer for Kool & The Gang was a guy by the name of James Taylor, and he had to change his name to JT because when he was doing a solo tour, they would book him at a club as James Taylor and it caused a lot of confusion.
MR: The album explores a few genres and has the live material. Why is it so varied?
PW: It's my musical taste. If you were over at my house, I might be playing a Merle Haggard song followed by a Muddy Waters song followed by a Stones track. All those are influences and roots to me. If you look at an album like Exile On Main Street it's filled with country stuff, rock stuff, blues--as a musician I don't look at these different styles as a classified genre. "If you're a rock 'n' roller you can't listen to jazz." I find them as just music. People can go to the Louvre and see a Raphael or a Da Vinci and then go to another room and see a Van Gogh. They're from different eras, they have different histories to them, but they're still masterpieces. I guess my tastes are very eclectic, and I think that's why my album might showcase many different styles.
MR: Peter, what advice do you have for new artists?
PW: The only thing I could say is keep at it. Through the thick and the thin. The landscape is always changing. There was a time there was no radios, then came radios. Then after radio, motion pictures, and after motion pictures came TV and after TV came the internet. Change is constant, but if you have the desire and the passion, just stay with it and hopefully, things might come your way. When I started playing music, it came at a period when there were lots of clubs, lots of good radio. I think there was lots of time to develop. That's why I stayed in Boston. But I think today, there's the internet where people can make something in their bedroom and post it that night and the next day, who knows, three million people could have watched it. There are advantages and disadvantages to change all the time.
MR: How are you living in those worlds?
PW: They exist, and one uses them or avoids them to what they feel comfortable with. That's the case, as I said before, with artists who toured around the country and then along came radio. They either embrace it or don't embrace it. There's some things about new media that I like and some things about new media that I don't like. I pick and choose it in the way that I feel most comfortable with.
MR: It's been a while between albums for you. Is that because you just saved it up?
PW: I want to write, I've been touring a lot, I still do a lot of painting. It's also harder to find a new home for the recordings you have, so if you make something, it's not just making it. You also want it to have a good home and do it at a time where it makes sense. I don't think of the amount of time between things, because if I'm reading a book by an author that I like, Raymond Chandler or Faulkner, I don't know how long it took between their novels. You want the work to be good and however long it takes, that's how long it takes.
MR: Nice. The last time I spoke with David Lynch he referenced you. Do you stay in contact with him?
PW: The last time I was in contact with him, we went out and had a very enjoyable lunch. I think I still owe him thirty-seven dollars for rent, so I think the next time I see him, I'll give it to him in cash.
Transcribed by Galen Hawthorne
CALIFORNIA ROOTS FESTIVAL MINI-DOCUMENTARY EXCLUSIVE / FULL 30 MINUTE VERSION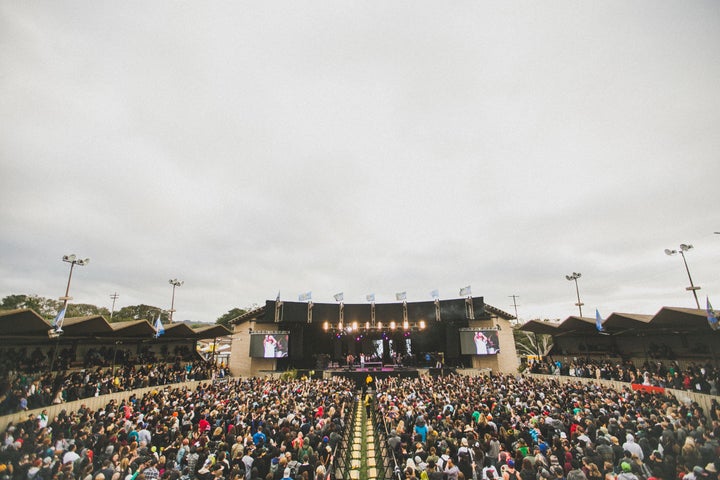 According to California Roots Festival Co-Producer, Dan Sheehan...
"This event is much more to me and the team than just another event. We work year round on this festival and to see it in a 30 minute mini-movie gives me butterflies. This is really something special. The 2016 version of Cali Roots is proving to the biggest and baddest version yet. Sales and buzz are at an all time high. Our fans and community have come to expect top notch music alongside a unique experience that supports green initiatives, while embracing beautiful art, delicious food and spirits, and positive vibes. This year is no exception and promises to raise the bar in all the details that makes our festival successful."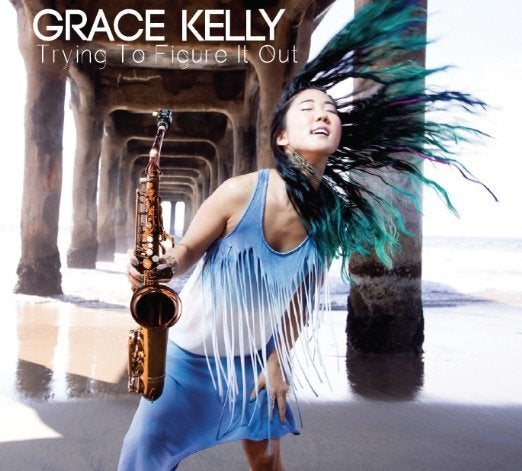 A Conversation with Grace Kelly
Mike Ragogna: Grace, your new album is titled Trying To Figure It Out. So? Did you?
Grace Kelly: Ha! I think I've figured part of it out. I hope the other part will continually be evolving until my last days on earth. There was a lot of learning and growing through this album. The way I view music and artistry is a constant evolution of discovery, trying things out, experimenting and ultimately always growing. Otherwise what's the point, right? It has to continue being fun, and in my eyes, something new.
MR: The album includes a track "Blues For Harry Bosch" that was used in the Bosch detective TV series. What do you think of how it was used and how did you like your acting stint playing yourself? Makes you want to be a full time actor now, right?
GK: I am honestly so honored the author Michael Connelly and his fictional character, Harry Bosch are fans of my music. I was delighted with how the song was used in the TV show and even more delighted to actually make an appearance with my band in front of Harry.
I used to act a lot when I was younger, so it was a nice transition into the TV world to play myself. I knew I could pull that off well... It really tickled me to have a room full of extras be my audience. I mentioned to them that day, "It would awesome, if only you guys could travel with me everywhere and be my audience!"
In all seriousness, I would love to do some acting in the future. It's always been a dream of mine, since I was little and obsessed with becoming a Broadway actress. My chops are a bit rusty but Bosch was a nice entry into that world. However, the music world currently has my hands very full, doesn't leave much time to go to casting calls. Ha! But it sure is nice to get a special request to play myself. I'd be up for doing more of those!
MR: Among your guest artists are Snarky Puppy's Michael League and Jon Batiste, now the musical director for The Late Show with Stephen Colbert. Are you all pals or something?
GK: I actually met Jon Batiste through his lead saxophonist Eddie Barbash. Eddie and I met at a invite program called the Brubeck Jazz Colony when I was 14 and Eddie was 16. A few years ago I reconnected with Eddie and he invited me to come to a private party he was playing at with Jon Batiste and told me to bring my axe. That's the first time I sat in with them; it was a crazy cool night. Questlove was also there hanging and playing. I'm such a fan of Jon's music and his shows that I would often go to just to see the band and be a fan. Soon after we met, Jon started asking me to do certain gigs with them as a special guest or an extended part of the band. Last December, he called me for the Late Show gig which has been such a thrill. He's an inspiring dude and a beautiful spirit.
MR: Your "Somewhere Over The Rainbow" is featured in the bio-flick on the late saxophonist Frank Morgan, Sound Of Redemption. What are your thoughts about his music and legacy? What are your favorite recordings by him?
GK: Frank Morgan is one of my favorite alto players period. His playing reaches deep into my soul and touches my heart. When he plays, I hear pure emotion, whether he is "singing" a beautiful ballad through his horn or he plays a flurry of notes and wails, it sounds like someone is crying out. He really knew how to play emotion and tell his story through his horn. And boy, does he have a story, and a big part of that story is how he was in and out of San Quentin prison for many years. This answer would be 5 pages long if I went into that, but people can find out about Frank and his life through his documentary!
Some of my favorite recordings are actually Frank's later stuff. His album City Nights: Live at the Jazz Standard is so damn good. His version of "Georgia on My Mind" gets right into my heart and what an incredible version of "Cherokee" on there!
MR: Who else influenced your style of playing? Who are your "greats" and what is the short version of your musical history?
GK: Ah... there are so many influences. I've always been attracted to music and players who are real melody players. Stan Getz, the reason I picked up the saxophone; Lee Konitz, my teacher and friend since age 13 and recorded "GracefulLee" together at 15; Phil Woods, mentor, collaborator and recorded "Man With The Hat" at age 17. I listened to many recordings of Charlie Parker, Paul Desmond, Dave Brubeck, Cannonball Adderly, Frank Morgan, Sonny Stitt, John Coltrane, Lester Young, Johnny Hodges and many many others. Tone and melody are everything to me. And another major influence were great singers, like Frank Sinatra, Ella Fitzgerald, Sarah Vaughn, Billy Holiday and more. I learned the American Songbook through them.
It's critical that even when I am playing saxophone, I know the lyrics to be able to properly express the song. When I'm playing saxophone, I'm singing in my head at the same time. And when I'm singing, I'm playing sax in my head. Someone once told me that I sound like a horn player, and that makes sense to me!
Let me take you back to small Grace and my musical history. I started singing, acting, and piano at age 6, wrote my first song at 7, started saxophone at 10, recorded my first CD at 12, arranged and performed my composition with Keith Lockhart and the Boston Pops at 14.I met and performed with Wynton Marsalis and LCJO for three nights. Then performed with Dave Brubeck at the Kennedy Center surrounding President Obama's first Inauguration celebration. While attending Brookline Public Schools I also attended New England Conservatory Prep School from age 11-15, left Brookline High School early to attend Berklee College of Music at 16, graduating at 19. Was voted seven-times to the Downbeat Critics Poll--youngest ever at age 16--five-time winner of ASCAP Young Jazz Composers Award, and headlined over 700 shows in 30 countries as well as releasing 10 albums on my own label, PAZZ.
MR: Your style of jazz is based more on traditional than the smooth jazz genre. I guess because of this, you're considered a more "serious" player. What do you think of that suggestion?
GK: I honestly feel throughout my career so far, I've dabbled in a number of different styles musically. Sometimes people know me as "the straight ahead be-bop serious player," others a blues or rock player--playing with James Cotton or Huey Lewis--others through my gospel jazz album, some through my singer-songwriter tunes, and some know me to play more genre bending stuff… and it's all me. You are correct in saying my style of jazz is def based more on traditional jazz. That's the music I studied… Diving straight into Charlie Parker from Day One gave me the ears and understanding of what "be bop" is made up of. The tradition of be-bop will forever be there in my playing. Now, I'm really trying to integrate that history with other musical styles I love, whether it be electronic production, groove, songwriting... That's what's exciting about writing songs and making music. It's all a blank canvas until you start painting.
MR: What do you think of the states of jazz right now, both traditional and smooth jazz?
GK: I think the more people can listen to the music and not be so concerned with boxing it in a genre, the better off the jazz community can be. There is so much cool music being made right now by jazz based millennials, such as Snarky Puppy, Jon Batiste, Esperanza Spalding, who are really blurring the lines between traditional jazz and something I call "jazz and beyond." I feel this is a very exciting place for jazz right now and I intuitively feel the passion for mixing up styles by taking a little bit from all my influences so that I can express my own unique voice.
Of course, there is still very much an audience for both straight ahead jazz and smooth jazz. I just feel the area that is the most exciting and has most room to grow musically as well as expanding the audience is the genre-bending place, jazz and beyond.
MR: Are there any contemporaries who you admire and play their music casually?
GK: Yes! I named a few in the previous answer. I'm in love with Jon Batiste's music, it's so joyful, melodic and upbeat. It's really been such a true honor to work with him daily on the Late Show with Stephen Colbert. I've told Jon before that I'd still be in the front row watching him as a fan, if I weren't on stage with him.
Other cats who I think are doing really cool things include Lianne La Havas, Jamie Cullum, Forq, a few of my buddies based in NYC "Sammy Miller and the Congregation," the "Huntertones" and many more.
MR: What advice do you have for new artists?
GK: Follow your bliss. Accentuate the positive. Celebrate your uniqueness. There's a lot of artists out there, so it's important to bring something to the table that's really YOU and only YOU. Create something new, take risks, have fun!
MR: Is there a musical direction beyond jazz that you might want to experiment with, for instance, something more classical or world music?
GK: Absolutely. I would love to dive more into world music and one day maybe even write a Broadway musical. I'd also love to get more into Funk. I recently played with George Clinton and Parliament-Funkadelic. It was so inspiring and such an awesome musical party on stage!
MR: Beyond having a successful career, what does making music do for you on a personal or spiritual level?
GK: Music says the things that I can't say with words. Whether I'm playing it or listening to it, music feeds my soul. I'm a very happy person and there's nothing more that I love than spreading the sunshine and making other people smile. The personal expression of my latest album, "Trying To Figure It Out," explores an emotional and spiritual journey from darkness to light, from despair to joy. I know that when I write songs, sing, or play my horn, I'm pouring those emotions into my music hoping to touch and heal the listener. That's what matters to me the most, touching hearts and being a healer through sound and vibration. I believe trying to raise my vibrational energy is a daily spiritual practice. And music is my guide.
MR: Are you sure you don't want to be a full time actor now? Come on, it's just us, I won't tell anyone.
GK: Hahahah!!! I mean….. lemme just say if Louie CK wanted me to be a new character on his TV show I would be SO down. Love that dude and love the fact there's so much great jazz in the soundtrack of his show.
Okay…and yeah…you got me... If Lena Dunham came knocking and asked me to be a new friend on her show "GIRLS" I would basically be screaming, so excited and definitely say YES! But even as a full time actor, the saxophone would hopefully be making some cameo appearances! So anyone out there want to put in a good word for me?
ALEX GOODMAN'S BORDER CROSSING FULL ALBUM EXCLUSIVE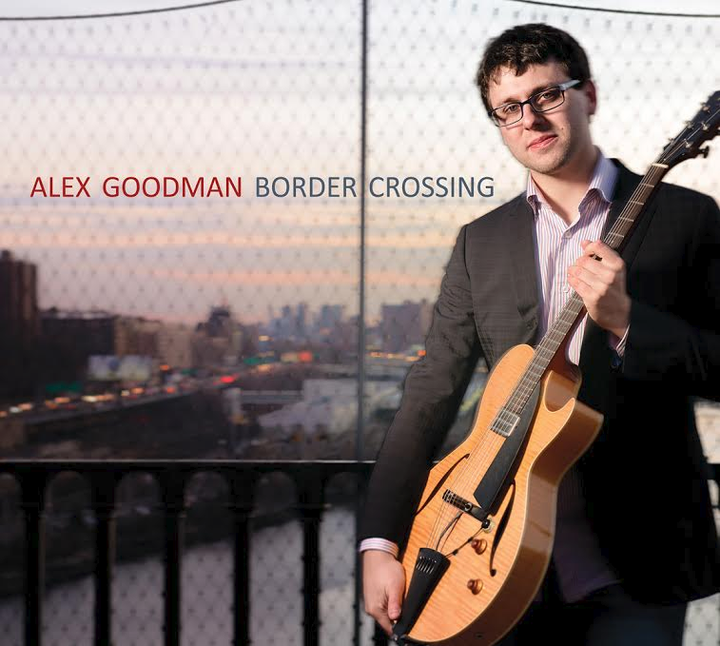 According to Alex Goodman...
"Border Crossing started in Toronto, Canada as a chamber quartet comprised of vocals, guitar, cello and vibraphone. After relocating to New York City in 2012, I started composing new music inspired by my transition to the new city. At the time I was composing for chamber groups and orchestra and used this project to fuse my work as a composer with my identity as a jazz peformer. The project grew to include fantastic musicians from both New York and Toronto when adding Rogerio Boccato on percussion and Fabio Ragnelli on drums."
SHOTGUN WEDDING'S "CITY BOY" EXCLUSIVE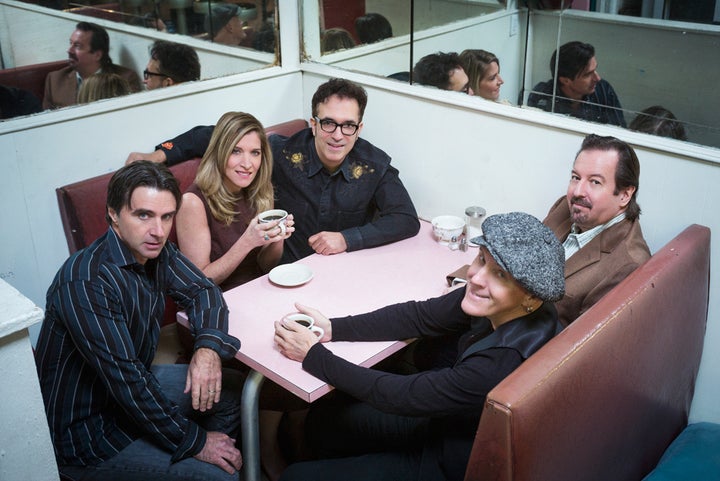 According to Shotgun Wedding's Dennis DelGaudio...
"'City Boy' is the first single from our debut album South of Somewhere, which embodies all the elements that represent our city/country sound, and that as our flagship song. The video delivers with serious kinetic energy; a sonic snapshot of life in any big city. The video for 'City Boy' explodes onto the screen with the same attitude and intensity. Lovingly crafted by the genius team at Screaming Shi-Itzu Productions, it tells our story with luscious graphics, bringing the city to life with dizzying visuals and urban humor. We are blessed to have such a beautiful piece of art to represent our first single and more importantly, our band, Shotgun Wedding."
JONAS FRIDDLE'S "LIVE IN THE WORLD" EXCLUSIVE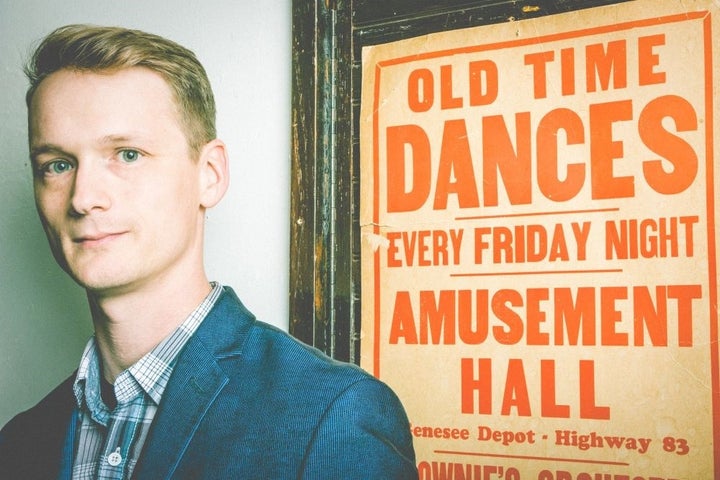 According to Jonas Friddle...
"'Live in this World' is my take on a Bluegrass Gospel sound. I hear a lot of music that is focused inward on an individual's personal thoughts and feelings. I wanted to write something that encourages people to look outward and take on the problems they see in the world."
SNAKE! SNAKE! SNAKES!'S "WASHED OUT" EXCLUSIVE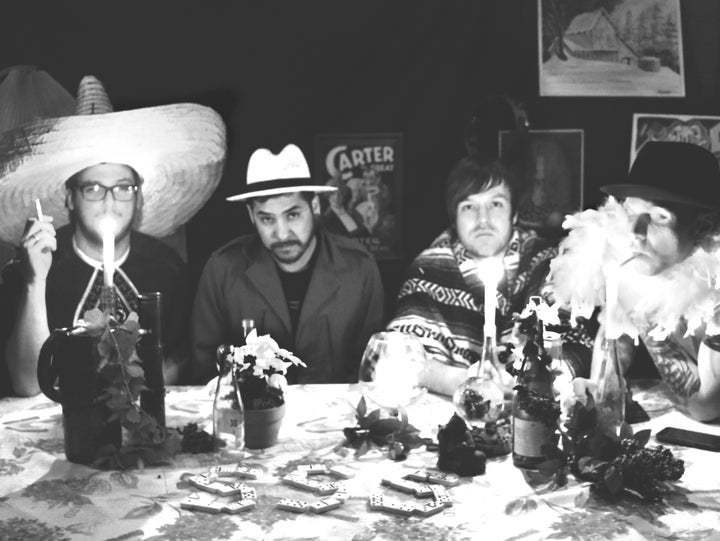 According to Snak! Snake! Snakes!'s Jon Messenger...
"This song originally was a fast, all-chaos tune, but we were messing around and David--our drummer--changed up the beat and the song came together out of nowhere. Easily one of my favorite tracks on the album."
ALEX PINTO'S "PARKSIDE" EXCLUSIVE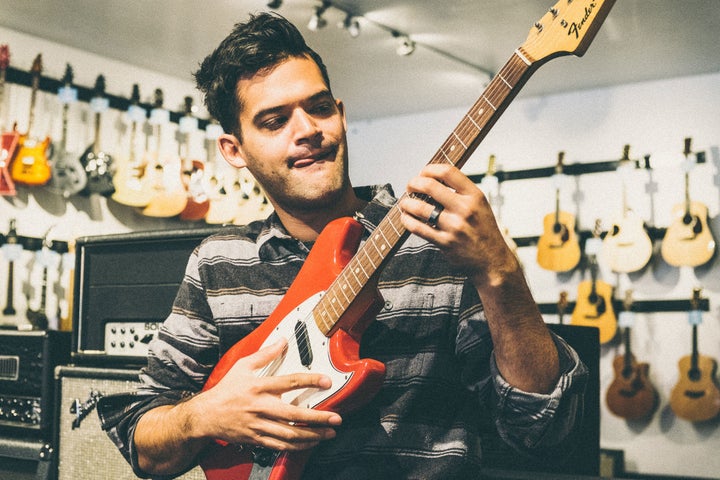 According to Alex Pinto...
"This song is for my wife. The video is how I see her. A friend told me that I should only write songs for her because they sound the most beautiful, graceful and effortless. Junior Kimbrough's music had a huge influence over me at that time and still does. His drone approach to the blues, along with my study and practice of Indian classical musical, came together pretty seamlessly on this piece."
Popular in the Community