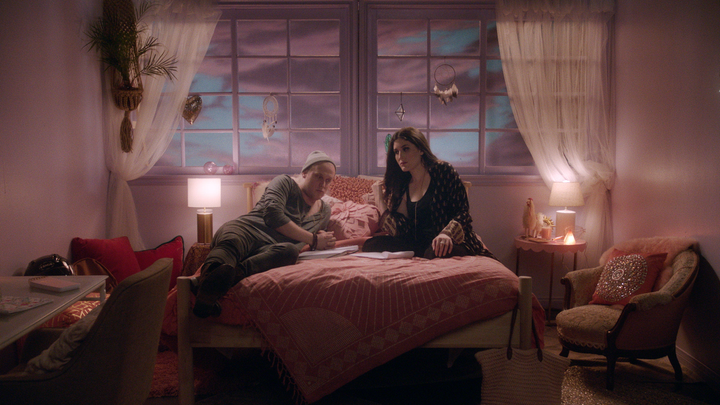 In times of political and social turmoil, the role of artists and entertainers in our society becomes clear. Creatives can distract us from reality and help us process collective trauma and grief through a comedic lens.
Cue John Early and Kate Berlant, two young, emerging comedic talents ― and best friends ― who have won over the hearts of audiences throughout their partnership of many years.
The pair made a large foray into mainstream comedy in 2016 through their individual episodes of Netflix's "The Characters," a series that brought together eight emerging comedians and gave them each 30-minute slots to showcase a broad range of their own characters.
Now, Early and Berlant are involved in a new project: a Vimeo five-part anthology series "555" directed by Andrew DeYoung that showcases their range of talents through a more absurdist, unorthodox perspective than we've seen in the past. Made up of 12-minute shorts, the project comes off as a darkly comedic critique of different elements of Hollywood and the entertainment industry.
But while each of the "555" shorts may come off as pointed critiques of the superficiality of Hollywood, Berlant and Early say that certainly wasn't the initial intention.
"Obviously everyone already knows the critique of Hollywood and we weren't trying to be 'Hollywood's fake!' We're not like Banksy making Dismaland," Berlant told HuffPost. "To me that's the most embarrassing non-critique of all time. Disneyland itself is more complicated and interesting and subtextual than Dismaland."
Nonetheless, "555" definitely hits industry-focused critiques of the Hollywood culture through over-the-top characters like an overzealous, abusive stage mom and her traumatized son or archetypes of monstrous Hollywood agents.
In the eyes of Early, who laughed in response to Berlant's "Dismaland" reference, "555" is an opportunity for the pair to enjoy the process of filmmaking without the pressure of proving themselves in a highly-pressurized framework like "The Characters."
"'The Characters' had this kind of very – the energy behind it was more dominant," Early told The Huffington Post. "And what was so nice about doing this project after the beautiful experience we both had individually with 'The Characters', was like relaxing a little more into these rather than being like 'this is my Southern character!' We actually got to do 12 minutes with each set of characters rather than like four. And we were trying to prove ourselves less, so we just got to relax a little bit and enjoy these short films and what they needed to be."
While the "555" project isn't the most political work to come from Early and Berlant, the pair are both extremely political artists ― vocal about the dire current state of affairs for our country not only in their comedy shows, but in their day to day lives as well.
Using their social media platforms, they both embody the idea of artists and entertainers who understand the nature of social responsibility that comes with having large, committed followings. The pair speaks directly to the current tumultuous climate of our government on social media and they also make space for politics in their stand-up. 
"We do stand up so we have a a captive audience potentially every night to whom we can offer solidarity and offer catharsis and be with people who are also scared and upset and angry," Berlant said. "And [we] make that anger generative and funny and something you can share. I think that generally it's becoming pretty clear that the role of the artist is to also set aside time, delineate energy towards activism or doing things that probably aren't connected to the art."
Early echoed these sentiments, and has been overtly outspoken himself in the months since President Donald Trump won the election. Only four days after election night, Early appeared on "Late Night with Conan O'Brien" wearing a shirt that said "NOT MY PRESIDENT" on the back. The audience loved it.
"It honestly felt like the least I could do," Early said reflecting on the moment.
In terms of the "555" project and their work moving forward, the pair emphasized a commitment to making resistance and activism integral to their identity as comedians.
"We're really focused right now on using our platform to make certain ideas sexy and seductive and making as many marginalized people visible as possible. I think that's the goal of any project moving forward," Early said.
Berlant also mentioned that she and Early are currently working on a television show, and plan to continue to work together as collaborators ― and close friends ― moving forward. 
"I just think we have this remarkable shared sensibility and language I've never had with anyone else," Berlant admitted.
REAL LIFE. REAL NEWS. REAL VOICES.
Help us tell more of the stories that matter from voices that too often remain unheard.