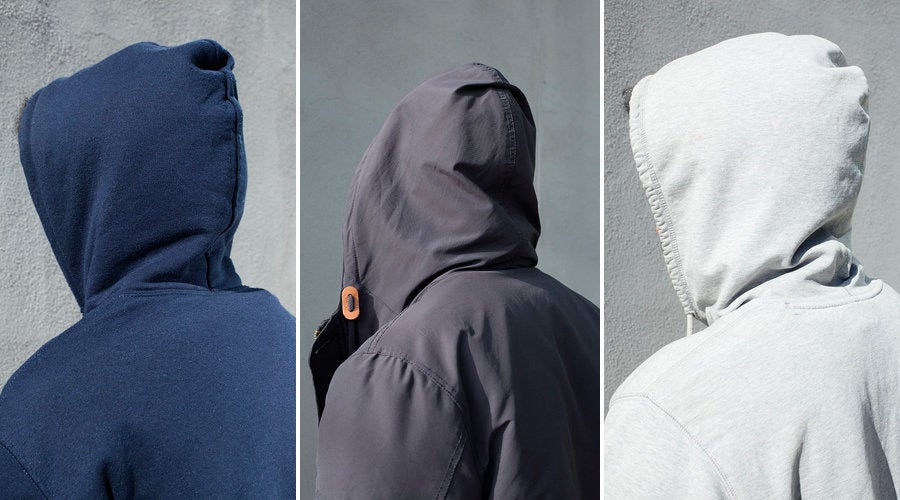 In John Edmonds' photograph above, a figure in a blue hooded sweatshirt turns away from a camera that hovers close by. There's a strange contradiction between the invisibility of the subject and the intensity with which the camera seems to stare. This state of invisibility and hyper-visibility ― of being constantly and vigilantly watched and yet never truly seen ― is one Edmonds identifies with. Many black men in America do.
Edmonds uses portraiture to explore the way black masculinity is performed in private and public spaces in a world where fashion choices, gestures and speech patterns aren't just modes of expression but matters of survival.
In his "Hoods" series, a string of faceless individuals in various colored hoodies can be seen from behind. From the angle, the subjects recall individuals like Trayvon Martin or Tamir Rice, young black men who were shot and killed after being deemed "suspicious-looking." Edmonds' photos dare you to repeat the initial mistakes of those involved in their deaths, who projected racist and fearful fantasies onto a hooded stranger.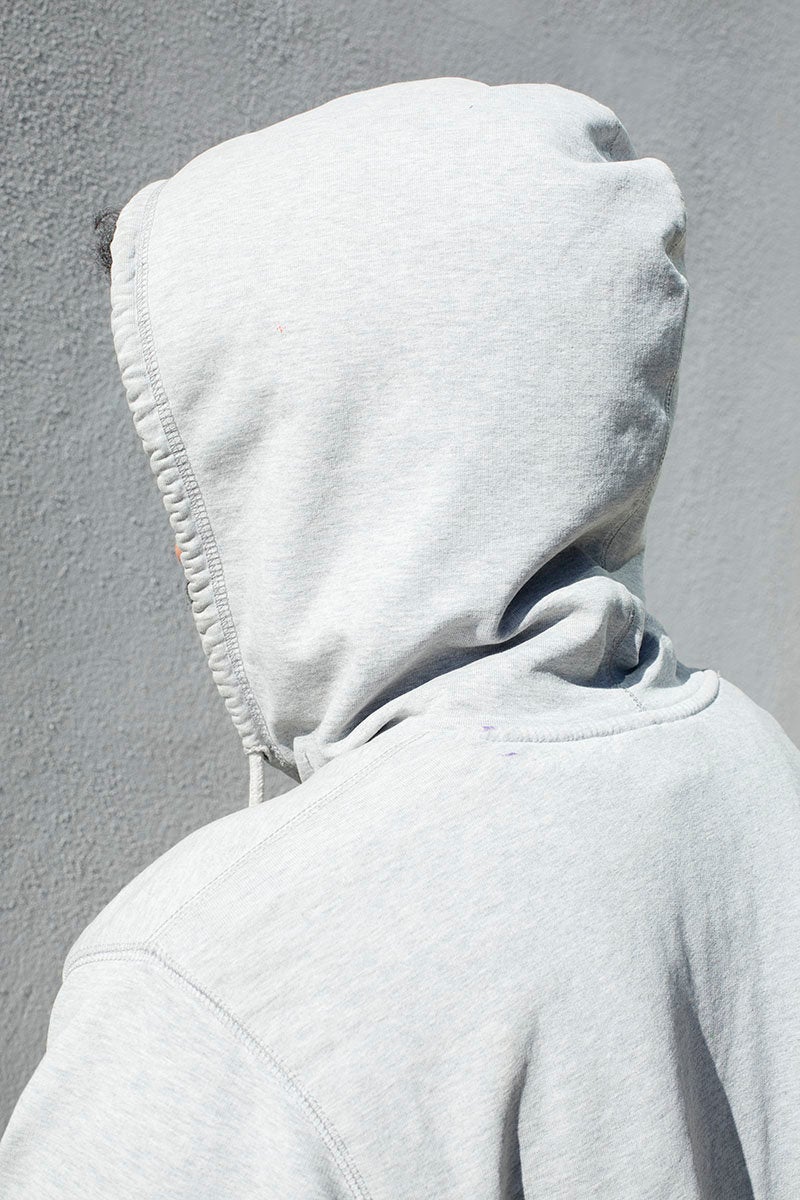 "Hoods" is part of a larger series called "Chameleons," which Edmonds began in 2014 when he moved to New Haven, Connecticut, to start studying at Yale. Right away, the photographer was struck by the way blackness was scrutinized and understood on and off campus. As he explained to The Huffington Post: "A major part of the influence of the work was the way my own body was being perceived between New Haven, the city ― a very black and latino community ― and Yale New Haven ― a very rigid, institutional space continually under surveillance."
Edmonds soon became aware of the complexity of performing blackness, and the necessary fluidity of an identity constantly adapting itself in order to stay alive. In a society where clothing has become complicit in the criminalization and unjust death of young black men, dressing oneself is about more than just self-expression. 
"A very good friend of mine sent me a talk Malcolm Gladwell did on 'Tokens, Pariahs and Pioneers' at NYU," Edmonds continued. "In this talk, Gladwell speaks a lot about the paradox of hyper-visibility and invisibility. This notion got me thinking a lot about my anxiety of being seen in places that are not for black people — and how that affects my own livelihood and wellness."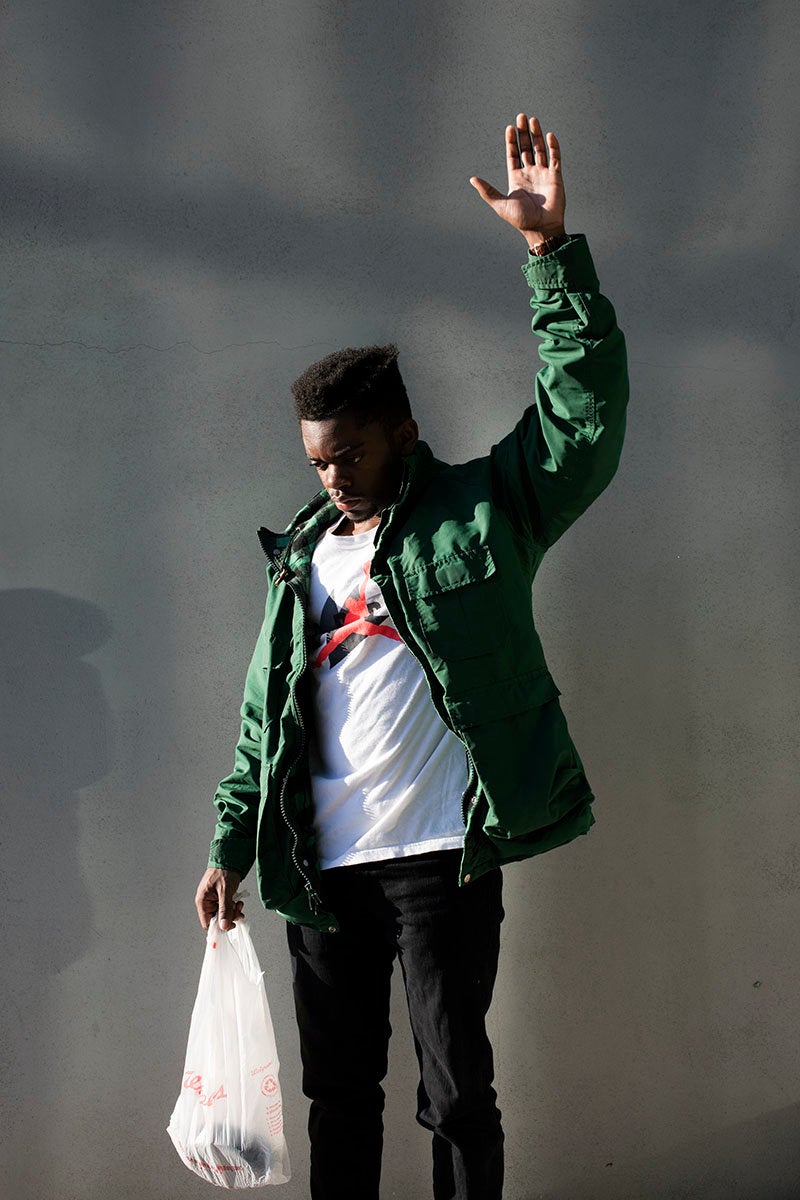 The "Chameleons" Edmonds captures don business suits, sport coats, sunglasses, beanies, raincoats and nothing at all. Each communicates clothing's ability to conjure a story about a stranger, to fill imaginations with characters and motives and truths based on little more than a split second vision.
Edmonds used to select strangers he felt an affinity for as subjects. Recently, however, he's begun photographing men he's built relationships with. Nonetheless, the physical interaction and collaboration between photographer and subject remains of the utmost importance.
"I love the idea of encounters," Edmonds said. "The stories that can come from meeting someone just for those brief moments and all that can come from those few minutes or hours you spend with someone you do not know, and only know through making their picture."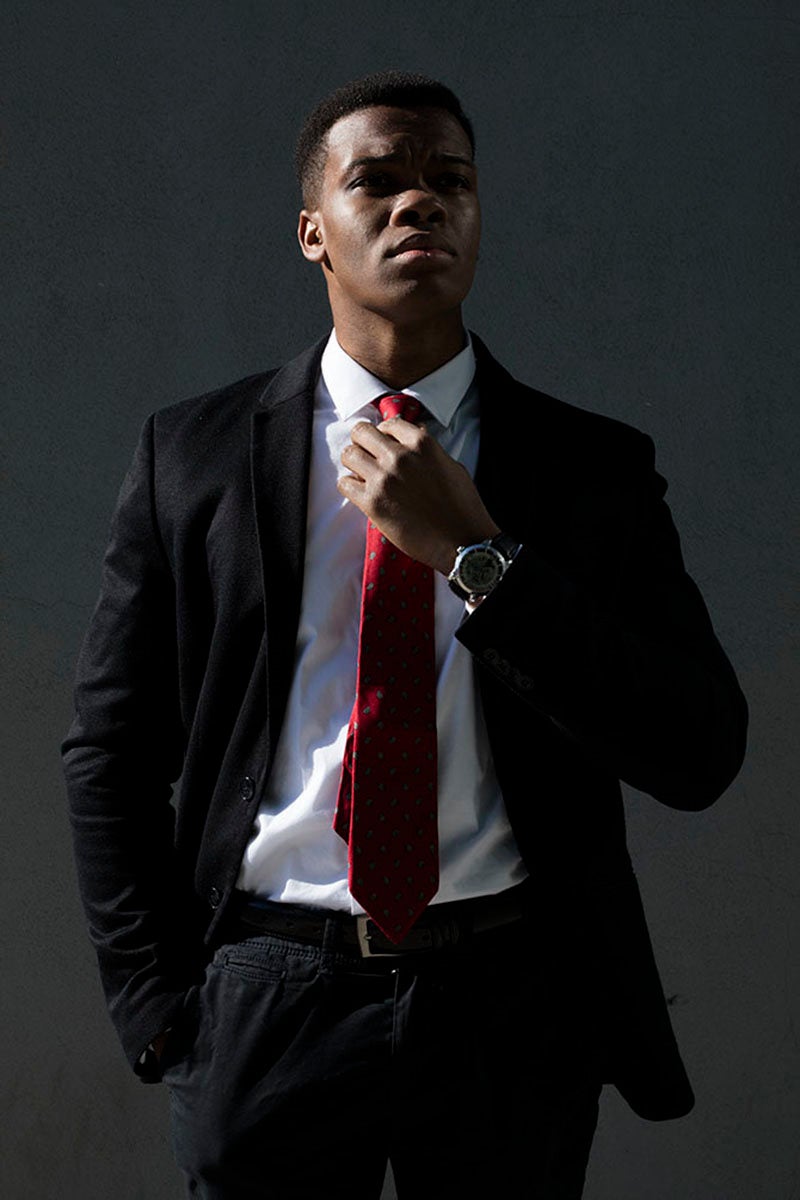 Edmonds hopes his photographs can help restructure the systematically racist world we occupy, where black men are arrested and killed in wildly disproportionate numbers, by illuminating simple patterns in what we look at and how. 
"I want to change the way that people see and speak," Edmonds said. "The violence we are currently seeing on a major scale right now is not new. Why does this violence happen? Mainly because we live in a culture of violence ― and, the micro-aggressive culture of representation and misidentification is part of that culture. The work, now, is as much about the audience as it is about the image being presented." 
What do you see when you look at Edmond's photo of a man in a hoodie? With a simple yet powerful image, Edmond not only presents a portrait of his subject, but a snapshot of his viewer as well. 
Calling all HuffPost superfans!
Sign up for membership to become a founding member and help shape HuffPost's next chapter
BEFORE YOU GO
PHOTO GALLERY
29 Inspiring Essays And Illustrations That Explore The State Of Black Future