The following piece was produced by the Huffington Post's OffTheBus.

John Edwards marched to Da Truth brass band this weekend at the Save New Orleans - Stop Global Warming second line, and I marched in for a gonzo interview. With the brass band behind us, audio wasn't an option so I kept it brief and asked why other candidates are not coming back to New Orleans as often as he does.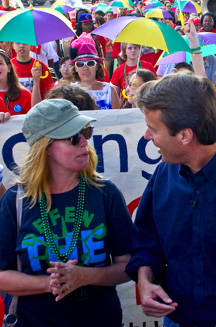 "Because the nation's attention has moved on," Edwards answered flatly.
Between asking voters to make personal sacrifices to save the environment, leading a poverty tour and making New Orleans' recovery a platform point, you get the feeling that Edwards can be that guy at a party, as are most evacuees if you get us started.
The national consciousness that moved on from the Minnesota bridge collapse is already veering away from the California wildfires, and America seems to have the collective rebuilding attention span of a fruit fly. Street signs are still handwritten throughout parts of the city, if they're there at all. This weekend, Paul Chan presented Waiting For Godot in the 9th Ward because he says the area looks like the play's barren setting and the play seems a metaphor for New Orleans' condition.
I talked with Edwards about his Habitat for Humanity Musicians Village work this weekend, and he said it was fun working on the home, which wasn't his first Habitat build. As we rounded the corner toward the Superdome, New Orleans musicians playing behind us, any further answer would have been "What?" so I marched on.
Step It Up ended its second line by forming a human chain spelling out No New Coal at the Superdome as a helicopter flew over. I was the tip of the W so the human chain wouldn't be gappy. Post-march, there were rumors a bus would pick us up at the Superdome, but we walked back to the parking lot instead, climbing through overgrown lots under the interstate to the building where Edwards kicked off the march.
In his speech, Edwards suggested that those polluting the environment should be required to fix the problems that they create. Local congressional representatives declined an invitation to the rally. Presenting big oil with a bill for restored wetlands, long suggested by environmentalist and Mr. Bill creator Walter Williams, turns legislators into wallflowers on the Gulf Coast.
Polling at third, Edwards seems to have Ron Paul candor potential on the other side of the aisle as he takes on more powers that be than you usually get in one campaign stop. If you like brass, stay tuned for second line footage at the end of the speech.
Step it Up! was hosted by the Gulf Restoration Network, fresh off a congressional text message campaign at Voodoo Music Experience; Global Green whose 9th Ward eco-friendly build is underway; Alliance for Affordable Energy; the Louisiana Bucket Brigade; the Peace Corps; Sierra Club; Sustainable Churches for South Louisiana; Advocates for Environmental Human Rights, and St. Bernard Citizens for Environmental Quality.
Photo by Brad Edelman
Calling all HuffPost superfans!
Sign up for membership to become a founding member and help shape HuffPost's next chapter