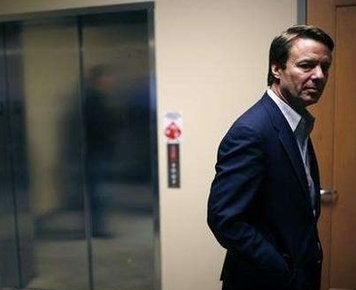 John Edwards made a false assertion about the nature of his extramarital affair with Rielle Hunter during an interview with ABC on Friday night.
Asked by correspondent Bob Woodruff to detail the beginnings of his romantic relationship, he said that it started after Hunter was hired to direct a series of documentary films for his One America Committee.
WOODRUFF: When you hired Ms. Hunter, that was back in 2006, the committee hired in July 2006, paid her $114,000 to make films for you... Uh was the affair going on when you hired her?

EDWARDS: No. No. And again, I always said this to you, I don't think I'm going to go through the details of this, I already did it with Elizabeth-- uh, she was hired to come in and produce films and that's the reason she was hired.

WOODRUFF: But this had nothing to do with the fact that you were having an affair with her?

EDWARDS: Same answer. Same answer -- no I did not.

WOODRUFF: So you hired her before it even started?

EDWARDS: That is correct.
A review of political action committee payments, contemporaneous reporting, and emails obtained by the Huffington Post reveal this statement to be false.
Edwards and Hunter initially met each other sometime during the winter of 2006 (either late December 2005 or early January) in a hotel restaurant in midtown Manhattan. It would be another seven months before Edwards would first pay her for the documentary work. As Woodruff rightfully noted, the initial check cut to Hunter's film company was written on July 5, 2006, for the cost of $12,500.
What happened in between that winter meeting and the start of filming? Emails sent by Hunter suggest that her romance with Edwards was in full bloom that spring. In early April, Hunter wrote about a trip she had taken to North Carolina to see the man whom she affectionately referred to as "my love lips."
A week later she wrote another email in which she described the mental anguish of "being in love with a (still somewhat dysfunctional) married man."
Indeed, the circumstances surrounding Hunter's professional life resoundingly suggest that Edwards hired her as a front to continue their relationship. For starters, she had virtually no film experience prior to being asked by the former Senator to make documentaries. Moreover, Hunter's film company, Midline Groove Productions, was started in the spring of 2006 - months after she and Edwards first met -- suggesting that it was created for the sole purpose of working with him.
As Colin Weil, a film consultant on the project told the Huffington Post back in October 2007: "Neither of them [Hunter and her business partner and friend Mimi Hockman] had done tons and tons of stuff before hand..."
In the context of admitting to an affair, it may seem innocent for Edwards to have misled ABC about the starting point. But the precise date is important. Over the course of nine months Edwards would spend more than $114,000 of the One America Committee's budget on Hunter's films. Whether he did that in an effort to have Hunter around or as a legitimate documentary project would likely make a difference to those who thought they were contributing to a poverty-eradication effort.
Support HuffPost
The Stakes Have Never Been Higher
Popular in the Community