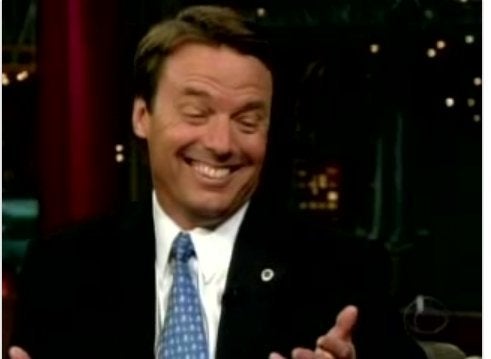 Former Senator John Edwards appeared on The Late Show, with David Letterman, last night, one day after the very heated Democratic debate in South Carolina. Letterman mentioned that the campaign had been going on for a long time, and asked Edwards if he was fatigued from it, and if such a lengthy campaign affected how the candidates all got along. Edwards stalled for a moment, and then made a joke about how we "can't stand each other."
Had it ended right there, the funny moment would simply have been one more in a long, grueling campaign. However, after smiling at his joke while the audience laughed, Edwards then gave an awkward shrug, as if to say there was nothing he could do about it. Edwards goes on to call Senators Obama and Clinton "good people," but the gesture sharpened what until then had been a harmless, late night quip.
Watch the video from The Late Show, with David Letterman, below, and tell HuffPost whether or not you think Edwards' joke had some real bite behind it.
REAL LIFE. REAL NEWS. REAL VOICES.
Help us tell more of the stories that matter from voices that too often remain unheard.