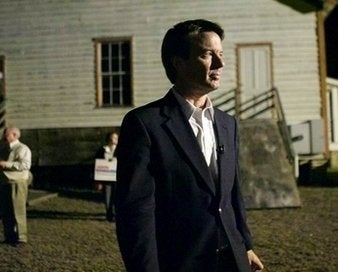 How unpopular is John Edwards? Though it seems obvious, the findings of a new poll on the former senator and vice presidential candidate John Edwards are still startling if only for the reflection of how far he has fallen in the world of public opinion.
The North Carolina Democrat is viewed positively by only 15 percent of voters in his home state, according to the firm Public Policy Polling. That total makes Edwards the "most unpopular person we've polled anywhere at any time," conclude the survey's authors.
He's still seen positively by 25% of Democrats but only 9% of independents and 3% of Republicans. Interestingly despite his new image as a philanderer men have a more unfavorable opinion of him (75%) than women (68%).
The numbers are what one would expect when polling the popularity of a politician who cheated on his cancer-stricken wife while possibly fathering a child out of wedlock, all while running for the presidency of the United States. And Edwards's horribly negative portrayal in the new 2008 campaign book, "Game Change," certainly didn't help matters.
And yet, to be historically unpopular is a real feat, considering all the loathed politicians. The Huffington Post asked PPP's pollster Tom Jensen to contrast Edwards's plight with those of others he's followed. Sen. Roland Burris (D-Ill) was the record holder before Edwards and "Jim Bunning (R) in Kentucky was in that territory as well," he replied
Other philanderers like Sen. David Vitter (R-La.) and John Ensign (R-Nev.) now have respectable approval ratings, Jensen relayed, in part because their political party was willing to stomach their transgressions.
"What we find is that Republicans will forgive you for cheating on your wife as long as you are a Republican," said Jensen. "Democrats are not forgiving Edwards."
Calling all HuffPost superfans!
Sign up for membership to become a founding member and help shape HuffPost's next chapter